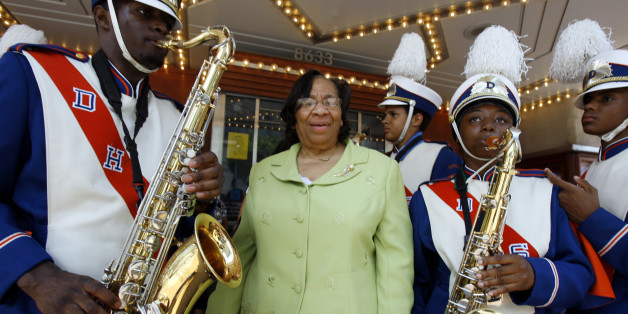 It's not easy and it's not common, but schools are sometimes able to make dramatic turnarounds in just a matter of years.
But what are the critical factors necessary to turn a struggling school into a success?
A brief published last week by the Center of American Progress looks at existing research on school turnarounds in an effort to answer this question. The brief highlights four schools -- Frederick Douglass High School in Maryland, Leslie County High School in Kentucky, Emerson Elementary School in Kansas and Rose Ferrero Elementary School in California -- and the work they have done to make striking progress over a short time.
Overall, CAP researchers say, schools must take dramatic action to get dramatic results.
"When schools' turnaround efforts have failed, they haven't taken that comprehensive approach, they've focused on one small subset of the population," Tiffany D. Miller, the director of education policy at CAP, told The Huffington Post. "But really, when you think about a larger picture or more comprehensive approach to reform, that's when you're more likely to be successful."
Here are some of the critical elements needed to improve failing schools, according to CAP researchers.
1. Resources, Resources, Resources
"When districts and schools are given targeted funding--either from philanthropic organizations or the government--they are better positioned to achieve significant change," the report notes.
The four schools highlighted in the brief all received a financial boost from the U.S. Department of Education prior to making major shifts in their academic trajectories. Each of these schools got money from the School Improvement Grants program, which has distributed billions of dollars to over 1,000 low-performing schools around the country in hopes of spurring progress.
In 2008, Frederick Douglass High School was the subject of a searing HBO documentary, "Hard Times At Douglass High," which portrayed it as a dangerous, chaotic dropout factory. But the school's reputation appears to be on the mend. After receiving a $4.2 million SIG grant in 2010, the high school has seen its graduation rate improve from 25 percent to 57 percent. Proficiency and attendance rates have jumped as well.
The overall success of the SIG program has been mixed, with some schools' scores actually declining after receiving funding. But the four schools CAP featured are examples of what can happen when schools take aggressive action and use resources in the right manner, researchers write.
2. Visionary Leadership
The strength of a school's leadership tends to influence the strength of its academics and culture, according to CAP researchers.
The four schools highlighted in the report all have "strong leaders with a strong vision who brought the staff and community in on what they're trying to do," Catherine Brown, CAP vice president of education policy, told HuffPost. "They've done the work and now they're on an upward trajectory."
Frederick Douglass High School replaced its principal and 50 percent of its staff before embarking on its turnaround efforts, and "teacher recruitment focused on staff members that were committed to creating a college-going culture," the brief says. Emerson Elementary School also replaced its principal in favor of one who "focused on retaining and hiring effective teachers."
This approach seems to be working for Emerson. In 2009, 37 percent of students were proficient in reading and 44 percent were proficient in math. In 2013, 71 percent of Emerson students were proficient in reading on statewide tests and 84 percent were proficient in math.
3. Data-driven Decision-making
Teachers who use data to guide instruction –- meaning they use test scores and other numbers to identify areas for improvement and focus -- tend to be especially effective, according to research referenced in the brief. In 2012, research from the Council of the Great City Schools found a "positive relationship between teachers' data use and student achievement in elementary and middle school math, and the use of data by principals was associated with higher student achievement in some grades and subjects."
Leslie County High School in rural Kentucky saw dramatic improvements after putting a new emphasis on data-driven decision-making, the school's principal, Robert Roark told CAP. Between the 2009-10 and 2010-11 school years, the school saw a 15 percent increase in students' reading proficiency.
"Data-based decision making allows us to create a greater sense of ownership for improving individual student performance among both students and teachers," he said, according to the brief.
4. A Focus On Supporting Disadvantaged Students In And Outside Of School
An overall focus on improving school culture and the lives of students in and outside of school is an important part of any school turnaround effort, researchers say. Part of the goal is to make students' lives at school so pleasant that they want to be there. The other goal is to provide students with enough support outside of school that they can come to class ready to learn.
"Schools that successfully turn around offer wrap-around services to help support all the needs of their students and, where possible, their families and communities," the brief says.
Calling all HuffPost superfans!
Sign up for membership to become a founding member and help shape HuffPost's next chapter
BEFORE YOU GO
PHOTO GALLERY
14 Outrageous Statements About The Common Core Standards