Don't be fooled by what you see on shows such as House Hunters. They definitely make it look easy.
The entire home buying process is very long and tedious, but I kind of knew that going in so I expected much worse than what we experienced. I'm getting questions from people asking if our decision to move was a sudden decision because not long ago, I was talking about painting my white cabinets and my kitchen renovation.
No. It was not sudden. Matter of fact, this is something we'd been planning for the past year and a half or so. It was put on a brief hold at one point, but moving was always in the back of our minds.
So what was wrong with the first home? It's not so much about what was "wrong" with it. It was a nice starter, cozy home with beautiful memories I will forever hold on to. We painted walls together and renovated our kitchen cabinets and etc, but deep down I always knew that it was not the home I wanted our children to grow up in for many reasons, but mainly, because of the school district. Those are things you do not think much about before having kids, but once children are in the picture, these things become a priority. So I wanted a new home in a specific school district. Also, there were many things here and there that I wanted to change or renovate that made more sense if we just moved and "upgraded."
Many other reasons to add to the list that I will not go into details, but long story short, we decided that if we moved, the house had to be it-The Forever Home. I wanted something move in ready that did not need much work. We had a very specific list, and I'm glad to say that we checked off everything on that list and then some.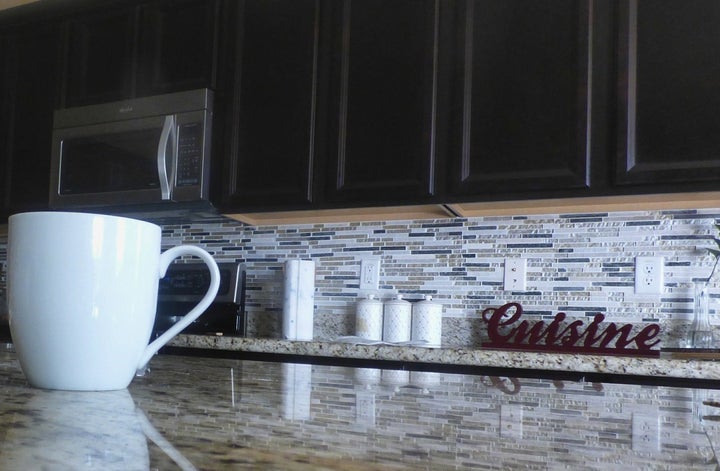 If you are in the process of buying a new home, here are a few tips, from my experience, that I want to share with you:
Talking to one doesn't mean that you're ready to buy. It simply means that you are getting yourself ready to buy! Before we started working with a LO, we were pretty much doing things ourselves and paying off collection bills that were actually hurting us, for example. The LO was able to tell us what to do to bring our credit scores up to where they should be. She gave us a long list, and we tackled each task. And once we made an offer on our home, we closed within three weeks! Top Notch. If you're in AZ, Cathy Byrd of Prime Lending is the one for you! So yeah, let me be specific, don't work with any Loan Officer, work with one who knows her stuff.

Don't be in such a hurry. There was a time last year around November, where I saw a listing of a home less than two miles from our old house. The house was beautiful and the kitchen was updated and everything. I fell in love instantly and sort of (hehe) started pressuring hubby about it. It was not the right time or the right house. God knew! I'm so glad that my husband shut down that idea. It was hard to let go though. I had to stop myself from driving by the house a few times. Especially when I saw that it was SOLD. Eventually, I let go.

Not a Lazy Realtor or a Peer Pressure Realtor. The first realtor we were considering working with–boy, was she full of peer pressure! I remember telling her that we would be in touch within a couple of days to let her know whether or not we wanted to proceed with the house I was jut referring above to in (2), but the very next morning, she was already asking about our final decision etc. She often called me and emailed even though I'd tell her that I'd be in touch. Eventually I never got back to her because she never let me breathe. Fast forward months later when we were actually ready to buy, our Loan Officer recommended an amazing realtor who was patient, funny, and a hard worker! If you're in AZ, I recommend Kim Drogosz of Coldwell Banker.

Make a list of everything you want in your new home and label them as most important to least important. That really helped out when we had to make a final decision between three homes.

Don't settle, but at the same time be realistic! On one busy and hot Arizona summer day, I believe it was 104 degrees, we had looked at over six homes that day (with an infant), and eight the previous weekend. I was really disappointed because I had not had that feeling. You know? The feeling you're supposed to get when you walk into your Dream (future) Home. Then finally… when we walked into what is now our current home, I felt it instantly. I didn't have to look at the rest of the home, which I eventually did, but my point is that from the moment we walked in, I knew this was it….

You may live in it for three years or even ten years before you're ready for The Home, and that's okay. Everyone is different. So don't compare your process to someone else's, no matter how hard that can be sometimes.
There you have it, ladies and gents! I hope this list will be useful to those in the process of buying a new home. I know things are different in every state, but I believe most of this could apply to anyone.
ABOUT THE AUTHOR:
I am a wife, mother, believer, blogger & writer living in Arizona. Lover of coffee, books, Pilates, and all things home/decor. I love to share my thoughts, to inspire women, and to capture beautiful moments with my camera. I blog and document my days on my Lifestyle Blog: Chez Debz
Related
Popular in the Community