If you're over a certain age, you're usually between old school and new school when it comes to online dating. Some of you communicate on social media platforms such as Facebook and Instagram for connecting. You might even do the occasional 'poke' or 'dm' a member of the opposite sex who caught your attention. But what about online dating sites such as Match and Tinder? If you're old school you don't. You want to meet a mate in person through a random act of fate. You don't want to fill out profiles and answer questions and put yourself out there for the whole cyber-world to see. So the question to the old school people is: How many dates has that gotten you in the last five years? How many of you have gotten married from random meetings of fate?
Now let's move on to the new school folks. You have no problem sitting down and writing your likes and dislikes for your potential mate to see. You upload your best picture, and you wait for someone to give you a 'wink.' You check out the picture and the profile and, by George, we've got a match! You agree to meet up with your wink, who turns out to be 15 years older than their profile picture. Their demeanor and general likes are nothing like they described on the dating site. You leave the situation pissed off because of their lack of honesty. You wish you could meet an online fairy godmother to deliver you to the Land of online Oz.
Now let me introduce you to the online Oz fairy godmother of this article, L.A. Dawson, who is the author of the online dating book Waiting OnLine for Love.
Question: Godmother, what's the best way to write an impressive profile?
Answer: Online dating is exciting and sexy and flirty and intimidating, but it doesn't have to be intimidating. There are, however, a few things that you need to decide before you begin the process. Most importantly, keep your sense of humor! In order to find true love, you are going to have to dip your feet into the rough seas of uncertainty. It will definitely push your boundaries, but that is not a reason to back off from online dating. So put on your tallest waders and have at it.
Q: What should you be looking for when you decide to embark on online dating?
A: Know exactly what it is you are looking for before you jump into the dating world. Are you interested in a long-term relationship possibly leading to marriage? Do you want a casual relationship that you navigate gently, hoping for a slow burn to love? Once you figure this important piece out, you can move on to your profile.
Q: What if you are completely honest on your profile, and you show up on a date and find the other person is not?
A: One of the pitfalls is that the anonymity of online dating is a perfect hiding place for the world's most deceptive personalities. If the person of your dreams on paper shows up looking like your one of your parents, it sets the tone for the rest of your date. Personally, I would tell the person that his profile and pictures are deceptive and that you are uncomfortable sitting through a date. I would excuse myself politely and leave.
A very good friend of David Gershaw of Portland, Oregon recently met a women and married her within 45 days of meeting her online. Prior to this he had met and spoken with a few hundred women. He physically went out with about 20. One lasted a few months, the other lasted one date. When I asked David how he knew the woman he married was the 'one,' here is what he had to say:
I knew from the first phone call by her voice, vocabulary, and expressiveness. She spoke of her father as being the best male role model in her life. She spoke lovingly of her mother and family. She described each of her brothers/sisters and their spouses, which made me realize what she valued. She spoke of her 3 children as the best things that have happened to her and about enjoying being pregnant and the birth of each. She then spoke of her transformation into the person she aspired to be, which involves career, family, and personal matters. She was the only one to ask me about goals for the future and didn't dwell on the past. We spoke for a period of three days before meeting. This amounted to about 10 hours of talk time. She felt like someone I already knew. She was someone who I already understood and was comfortable with interacting, being open, and sharing personal details of me. I already knew during these lengthy talks that she would be the one. The only question was whether she would feel the same, but of course I hadn't even met her yet.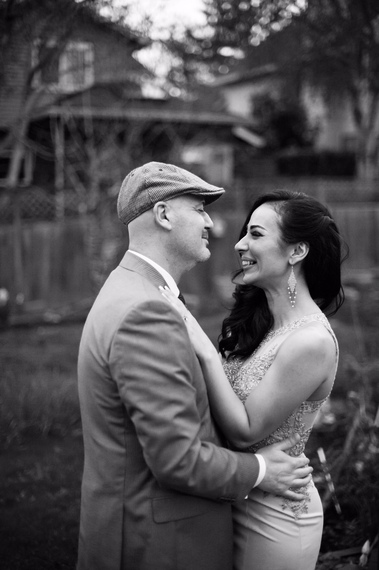 Stay tuned for part two of this amazing online dating love story and more advice from L.A. Dawson.