While obesity may be on the rise in the United States so is the rise of health-consciousness individuals. It's not just about exercising anymore, but rather eating wholesome, high-quality food. In fact, noted in a recent USA Today article:
The Nielsen's Global Health and Wellness Survey offers compelling statistical evidence that younger consumers worldwide are far more concerned about everything from food ingredients to genetically modified food to organic foods than are their parents and grandparents, according to the survey of 30,000 consumers in 60 countries.
Why? Well, because the desire to live longer, healthier lives is a priority. With 90 percent of U.S. adults owning and using smartphones, the rise of health and fitness apps has made it easier for us to access relevant information to make smart decisions.
The following apps will provide you the education you need to make healthier choices:
Fooducate: Fooducate's motto is to eat better, lose weight, be healthy. Whether you're at the grocery or online grocery shopping, you can use Fooducate's database to access nutrition grades on thousands of products as it analyzes information found in product nutrition panels and ingredient lists allowing us to track the quality of calories, not just the quantity. Jackie Topol, registered dietitian and Culinary Nutritionist based in New York City, states, "Fooducate takes a lot of guesswork out of the equation by quickly telling you whether a food is healthy or not through it's letter scoring system."
Most recently, the app launched a new feature that allows users to track added sugars. People are often surprised to learn how much sugar has been added to their food," said Fooducate CEO, Hemi Weingarten. "By pinpointing the foods that contain excessive amounts of added sugars and swapping them with healthier choices, Fooducate helps individuals take a simple, yet significant, step towards improving their health."
Fun fact: The most searched categories are cereal, yogurt and snack bars and the top searched products are peanut butter and Nutella.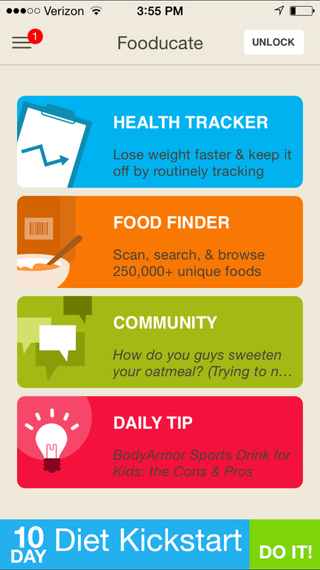 Health IQ: This app just recently launched in December 2014, and their mission is to increase health literacy all across the world. The app is full of quizzes on a multitude of topics. Interestingly enough the top food related topics include:
Food nutrients: best sources
Calorie counting: Nutrient Dense Foods
Food Nutrients: Best Way to Eat Greens
Even though Health IQ has only been available for less than two months, it is pretty interesting to note 40.3 percent of users are aged between 20 to 32 and their quiz content offers 137 nutrition topics out of 300 topics in total. Munjal Shah, founder of Health IQ, says "While knowing is not the same as doing, you can do what you don't know." As a health care professional, I've found that these quizzes are extremely interesting and positively addicting!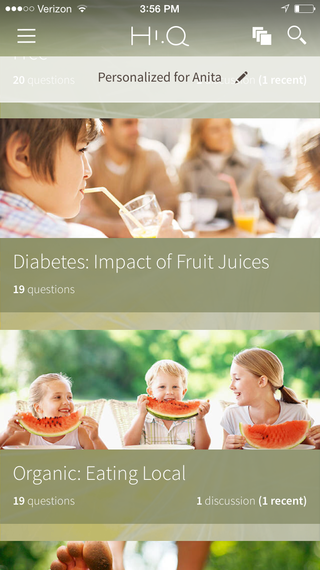 iHealth: iHealth offers a series of wireless devices that connect to your smartphone via their app. Their popularity can be credited to the growth of remote patient-monitoring devices with the goal of making it easier to not only manage your own health but also communicate important metrics such as blood pressure and blood sugars to your provider.
Why is this important? Given the significant presence of diabetes and hypertension, their technology-focused products enable users to see the real-time impact of their food choices. So while the app doesn't provide real-time knowledge, it demonstrates the impact of one's dietary habits. Products include wireless blood pressure monitors, wireless scales and wireless glucose monitoring systems.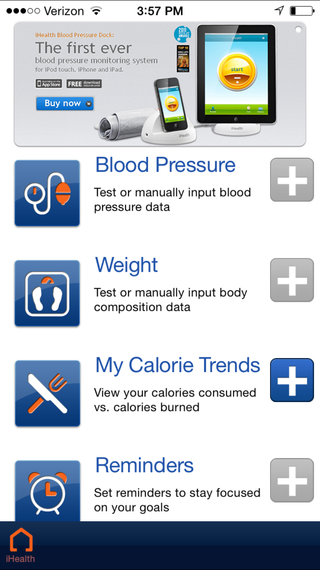 Familiar with these apps? Let us know your thoughts!