For years I've been under the impression that June was considered the busiest month for the wedding industry. I wondered if this was true, so I checked with my friends, Kim and Alan DeVaughn, who own House of DeVaughn Bridal in Jackson, Michigan.
"Yes," Alan informed me, "Our busiest wedding day this year will be June 20."
Alan speculated that the reason it's such a popular month, at least in Michigan, is because it's not too cold, or too hot. "Plus," he added, "A lot of couples get engaged on Valentine's Day, and want to get married as soon as they can."
I got married over Labor Day weekend in 1994, and had over a year of planning time, which allowed for my wedding gown shopping to go smoothly; including escaping a potentially awkward situation.
I asked the bridal storeowner where I purchased my gown to take a Polaroid of me in my dress. She was taller than me so when the photo developed what I saw was a lot more cleavage than when I looked at myself in the mirror, yikes!
Thankfully we had time to add some beading to make the dress more appropriate for a church wedding. Otherwise, I could have been stuck with some very embarrassing photos for the rest of my life.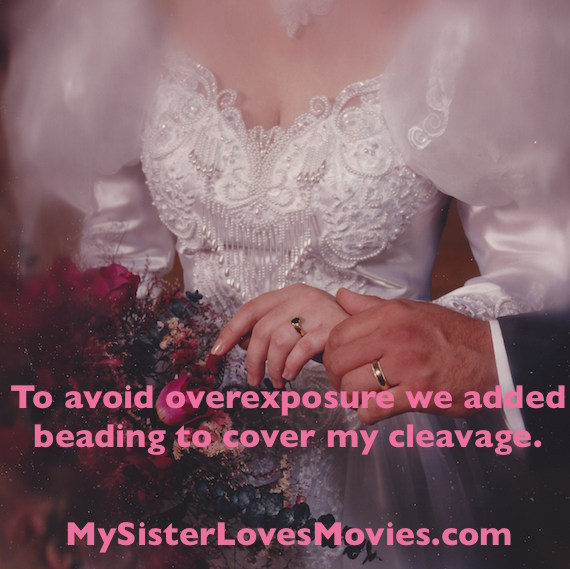 This is a tip I now suggest to any bride I know getting married. Have someone else take a photo of you in your gown before the big day. Don't just rely on selfies. You don't know what you might catch.
My favorite fairy tale growing up was Cinderella, and I loved Disney's 1950 animated classic full of romance and beautiful gowns. For my wedding I wanted to feel like Cinderella and to accomplish this my dress had every bell and whistle you could possibly imagine.
My dress was made of satin and tulle, and had bows, pearls, and lace wherever it could. With poof sleeves that looked like cotton candy on either shoulder, and a bustle that extended my rear, I was lucky I didn't knock someone out at the reception with the size of my gown.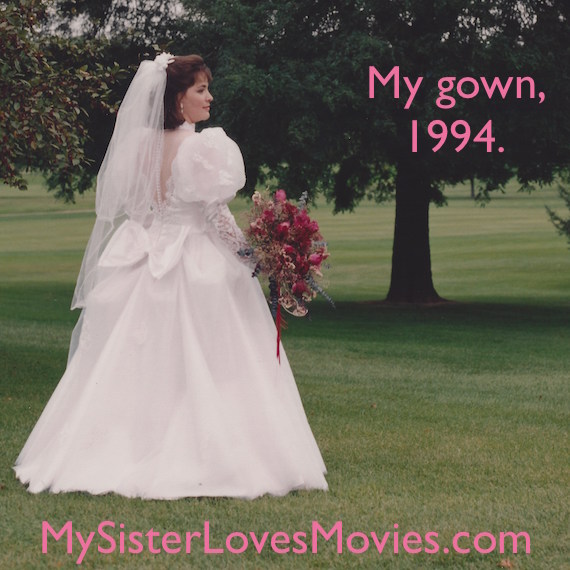 One of the funniest moments at my wedding reception came in the bathroom when I needed the aid of my bridesmaids to hold up my gown, just so I could go. It's become another tip I have for brides. Consider how you will go to the bathroom in your dress if you are wanting to buy a big gown.
Are you close with your bridesmaids? Thankfully, when they weren't laughing at my predicament, mine were there for me when I needed them.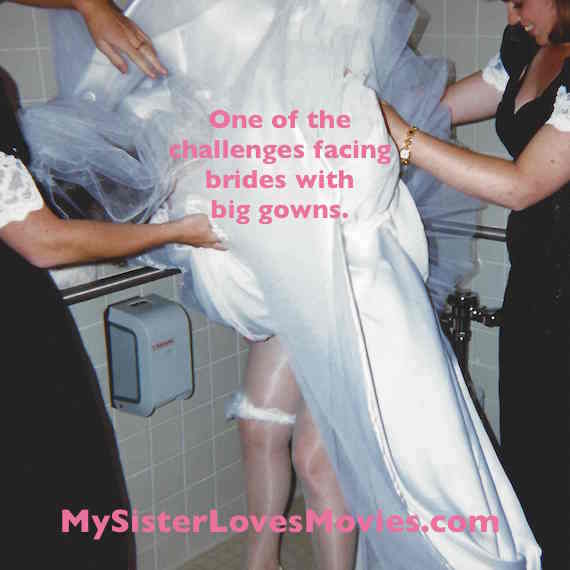 I love to watch movies and if it's got a wedding scene in it that's a bonus for me. My favorite movie wedding gown is the one worn by Maria, played by Julie Andrews, in 1965's Sound of Music. Hers was a satin, high-necked, long-sleeved gown, with a veil that trailed far behind her. It was sophisticated, sleek, and elegant, and has stood the test of time.
When I watched Disney's recent, 2015 live action version of Cinderella, I noticed that the wedding gown had beautiful, brightly colored flowers embroidered on it. I asked Kim if she'd seen this as a trend in her business.
"We carry Alfred Angelo gowns who has exclusive rights to the Disney Fairy Tale dresses," she informed me. "I've seen that gown in person. It's beautiful. We haven't sold that one, but we have sold others in the princess line, mostly the white and ivory versions of the gowns."
"Flower embellishments are definitely in. Over the last couple of years I've noticed a large number of chiffon embroidered rose patterns. Mostly in traditional colors like blush, peach and rose pink," she noted.
Kim loves helping brides pick out their gowns, and fulfill their wedding dreams. In fact, she ends up building a strong relationship with each of them.
"We see a bride at least five times before her wedding day," explained Kim. "First she comes in for an initial look at the gowns, then returns to make her purchase. She's back again when the dress arrives to start the alteration process, with two more fittings after that. And that doesn't include bridesmaid gown shopping."
"Plus," she added, "About twenty-five percent of our gals go up or down in size before their wedding day due to all the stress. So we may see her a few more times."
I inquired if Kim had any last minute bridal gown tips. She was quick to say that brides wanting to to observe the "Something Old, Something New, Something Borrowed, Something Blue" tradition often forget until about two weeks before the wedding.
"We can easily sew items into the gown. For something borrowed I suggest the girls ask for a piece of grandma's jewelry that's been handed down through the generations. For something blue, we can embroider the couple's name and wedding date in blue in the shape of a heart or diamond in the underside of the dress. Or, the bride can wear two garters with blue ribbons, one to keep and one to throw. Something new is the dress itself, and borrowed is often a necklace or a bracelet they may wear, or even the handbag they use at the reception," she suggested.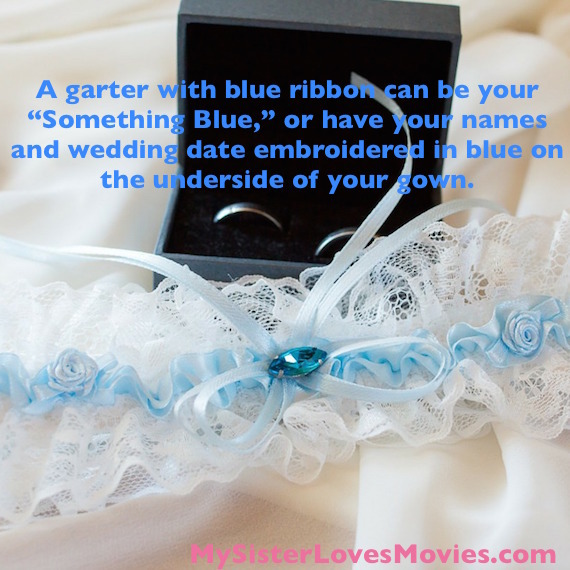 Finally, I had to ask Kim, what was her favorite movie wedding dress? "Runaway Bride," she replied easily, "I love the 'bell' dress she found in the window."
Unless it's featured in a film that takes place in the 1990s, my wedding gown won't be back in fashion anytime soon, but I wouldn't trade it for the world. I felt like a princess on my wedding day, and hope you will too.
And if wedding planning starts to get you stressed, watch a favorite movie. That always works for me.
Shannon Wrzesinski is a Southern California native mis-planted in the Midwest. Two kids later, this mom is reconnecting with the touchstone of her SoCal life, movies. She is not a movie expert, but a movie fan who shares stories about how movies intertwine with her life. Sign up for her MySisterLovesMovie.com blog here.