Five-year-old Alice Jacob loves race cars, superheroes and science, and like many kids, she wants her clothing to reflect that. That's why she wrote a letter to The Gap Inc. asking for "cool girls' shirts."
Alice's mom, Beth Jacob, wrote for The Washington Post about how she has a difficult time finding clothes that her daughter wants to wear in the so-called "girls' section" of stores. While Beth was doing some early spring shopping for her kids, she picked out some shirts online from the Gap for her son. Alice saw her mom's selections and realized that the girls' category has vastly different options.
"She said it wasn't fair that all her favorite stuff was only in the boys' section, and when we looked in the girls' section, the options were totally different," Beth told The Huffington Post. "No 'Star Wars,' no superheroes, no race cars, wild animals or danger. Alice loves that stuff, and she's a girl. She doesn't get why the things she's into have to be labeled for boys, when the things labeled for girls are nothing like her."
This prompted Alice to send a letter to the Gap. She dictated it while her mother typed. In it, she explained that she is almost 5-and-a-half years old and that she likes "Superman and Batman shirts and race car shirts, too." But she can only find those kinds of shirts in the boys' section.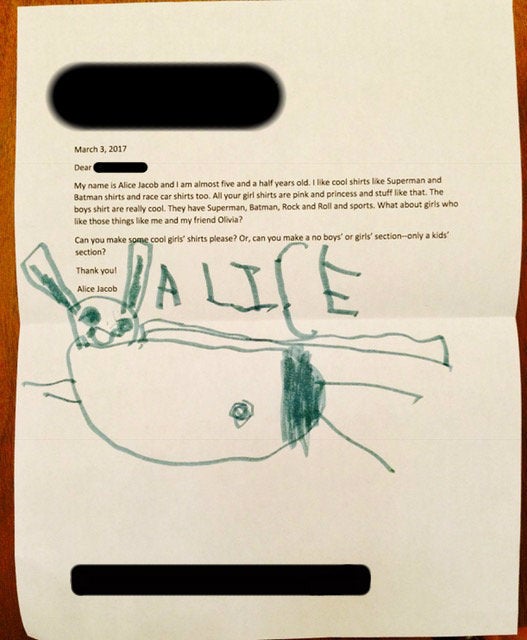 "All your girl shirts are pink and princesses and stuff like that," the letter reads. "The boys' shirts are really cool. They have Superman, Batman, rock-and-roll and sports. What about girls who like those things like me, and my friend Olivia?"
Then, Alice made two important suggestions:
"Can you make some cool girls' shirts please? Or, can you make a no boys' or girls' section — only a kids' section?"
Beth stressed to The Huffington Post that Alice doesn't care about a specific brand over another. She simply wants clothes that "are comfortable and let her run" and also reflect what she likes. She loves bright colors like red, blue and orange and wants pictures of things "she thinks are cool" on her clothes.
"Every parent has a story of their kid's obsession with something ― dinosaurs, trucks, sea animals, rock 'n' roll, Batman," Beth told HuffPost. "These passions aren't divided by gender ― why do their clothes have to be?"
Alice sent the Gap two copies of her letter: one to corporate and one to its foundation. Each letter included a personalized drawing from Alice and her signature. Beth told HuffPost she heard from the Gap that the company has not received the hard copy of Alice's letter yet, but she has not otherwise spoken with anyone from the company yet.
In August, the Gap came under fire for a promotional email it sent to customers in the United Kingdom. The email included a photo of a boy wearing a shirt with Albert Einstein's face (and misspelled name) on it and a girl wearing a logo sweater. The ad labeled the boy as a "little scholar" and the girl as a "social butterfly." Many parents spoke out and tweeted their disappointment with the ad.
Beth is proud of her daughter for speaking out about gender stereotypes. Their family loves superheroes, and Beth has taken this opportunity to show her kids to "be brave enough not to be like everyone else."
"As a mom, I want both my kids to be unafraid of liking what they like, being who they are and speaking up when things are unfair," she said. "I'd say Alice wanting to send that letter accomplishes all three."
The Huffington Post has reached out to the Gap for comment and will update this post accordingly.
Support HuffPost
A No-B.S. Guide To Life
Related
Popular in the Community