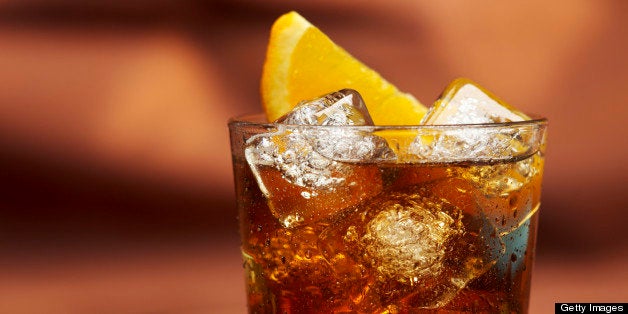 I just can't seem to get myself in sync for the big spirits-specific days this year. When St. Patrick's Day rolled around and everyone was quaffing Irish whiskey, all I could think about was Scotch. And now that Cinco de Mayo is almost upon us, I'm thrilling to new Canadian whiskey, rum, vodka, even cachaça -- anything except tequila.
I figure there must be others like me out there who are craving Manhattans or caipirinhas or a dram of single-malt whisky instead of a margarita or Paloma, no matter what the calendar says they should be drinking. And it is to them -- you? -- that I dedicate this round-up of the latest deliciousness in the spirits biz. All of these bottlings have either been released in the last few months or are about to hit your local liquor stores and bars. And all of them are worth your time, even if you wait until Seis de Mayo or later to check them out. ¡Saludos, amigos!
ANGEL'S ENVY RYE WHISKEY (50 percent alcohol by volume, age not stated, suggested retail price $80). Angel's Envy bourbon, introduced a couple of years ago to almost universal praise (including an unheard-of 98 point rating by Wine Enthusiast), is one of the most distinctive tasting bourbons around. Finished in port pipes, it's got a lush, rounded, fruity flavor that tastes like, well, port. That's what makes it distinctive. But underneath the finish, it's a very fine bourbon -- this is no gimmick, this is craft.
Angel's Envy's new rye whiskey, made from a mash of 95 percent rye and five percent malted barley, is just as distinctive, having been finished in Caribbean rum basks which had also been used to age cognac for up to 18 months. I had my doubts about this one. How would the rye's bold, spicy flavors harmonize with the sweet vanilla and caramel notes of the rum? Very well indeed -- both on the nose and the palate, the sweet notes alternate with the wood notes, which alternate with the dry flavors, creating a very smooth, easy drinking whiskey. Angel's Envy Rye is so unique that it's not necessarily the brand to go for when you're in the mood for standard rye whiskey. But once you've tried it, you'll get a taste for it quickly.
AVUA CACHAÇA AMBURANA (40 percent ABV, aged up to two years, $40). One of the highlights of my drinking career was my visit to the Academia de Cachaça in Rio last year. Several esteemed booze scribes/barmen and I imbibed what seems in retrospect to be about a hundred different brands of cachaça. I don't remember any specific one particularly well owing to jet lag and, well, drunkenness. It was more the revelation that there are so many brands and varieties of a spirit which is rarely seen Stateside and would be all but unknown were it not for its inclusion in the caipirinha.
The situation is starting to change as more adventurous imbibers start to seek out off-the-beaten-track spirits, cachaça among them. To generalize a little, it's a sugarcane-based spirit that's sort of similar to white rum only with an earthier, more untamed vibe. There are also aged cachaças that smooth out the more fiery notes of the un-aged spirit. Avua, a new brand started by three New Yorkers in conjunction with a Brazilian master distiller and a farm that "single-sources" all the sugarcane used in production, is a great place for the uninitiated to start. Avua Prata is un-aged, while Amburana, which has been aged in wood up to two years, is quite dry and elegant for a spirit that's often called "firewater." Amburana makes for an intriguing sipping spirit, but it's also great in cocktails from caipirinhas to, well, pretty much anything that calls for white rum.
BASEMENT BITTERS BITTER FROST (46 percent ABV, age not stated, $20). It's easy to take cocktail bitters for granted. Hey, what difference is a few dashes of the stuff going to make in your drink, anyway? Which makes it nice to try new brands and realize just how much bitters really do enhance a cocktail. Bitter Frost is the first bitters released by Tuthilltown Spirits, the New York State-based company which makes Hudson whiskeys and other fine booze. It has a base of new make (un-aged) rye whiskey, which is then married with a secret blend of herbs, roots and spices, along with maple syrup, and bottled at 92 proof. The blend of spicy, sweet and intense bitterness is fascinating -- if not quite palatable -- even if you just pour a couple of drops on your tongue. But in a Manhattan or an Old Fashioned, Bitter Frost is sheer genius. It's a little brighter than Angostura, the benchmark by which all bitters should be measured, but it adds a fullness and roundness and depth to whiskey cocktails, whether you're using bourbon, rye or even Scotch (check it out in a Rob Roy). In a word, fantastic.
BLUE CHAIR BAY WHITE RUM (40 percent ABV, not aged, $19). Kenny Chesney has carved out a fair-sized niche for himself in the country-pop beach bum style of music first established by Mr. Margaritaville himself, Jimmy Buffett. So it only makes sense for Chesney to follow Buffett from the beach chair to the distillery. And what Buffett is to tequila, Chesney aims to become with rum. (To be fair, Buffett makes a rum too, but how can you take "Margaritaville Rum" seriously? That's like calling your gin "Whiskey Sourville.") I'm no fan of Mr. Chesney's particular brand of music, although I have relatives who think he's a genius. I am, however, a big rum fan, and this one is quite good. It's got a lot of tropical fruit flavor, along with a little citrus, a little brown sugar and a little spice. It's not bad in a daiquiri or a Mai Tai or a Cuba Libre, and it's refreshing with a squeeze of fresh lime and a splash of soda. It's not a life-changing spirit, but then again, it's probably not supposed to be. It's easy going down -- just like Kenny Chesney's records -- and what's wrong with that?
CRYSTAL HEAD VODKA - ROLLING STONES LIMITED EDITION GIFT SET (40 percent ABV, $95). The Rolling Stones have raised selling out to an art form. Back in 1981 they were the first band to have a corporate-sponsored tour. Eight years later they were the first major rock act to break the $30 barrier for concert tickets. They've recycled their classics in about four million greatest hits packages, each one more "definitive" than the last. Anything they could stick their lips-and-tongue logo on, they did it, and charged a pretty penny for it (somewhere I own a 2007 World Tour shoulder bag. I got it for free; I don't want to know how much the retail price was).
The Stones have drunk, drugged, rocked and rolled their way through the last half century, so with their big 50th anniversary tour upon us, what better (legal) way to celebrate than with this limited edition Rolling Stones-branded vodka? Crystal Head, founded by vodka aficionado/friend-of-the-Stones Dan Aykroyd, is packaged in a skull-shaped bottle that actually looks more lifelike than Keith Richards does nowadays. The Stones edition comes in a black box with the ubiquitous Stones logo and a zipper that recalls the classic 1971 album Sticky Fingers. You also get a crystal decanter top with the lips-and-tongue logo AND an exclusive 2 CD collection with 18 classic live Stones recordings (all previously released, alas). And if that's not enough to sell you on it, the actual vodka is quite good, too. Soft, slightly sweet, a mild finish... quite unlike the Stones themselves, actually. But drink enough of it and you'll be shaking your ass and screaming the chorus to "Brown Sugar" just like Jagger.

HIGHLAND PARK LOKI SINGLE MALT SCOTCH WHISKY (48.7 percent ABV, aged 15 years, $249). You've gotta love a whisky that comes housed in what looks like some kind of Viking funerary ark. And if your Scotch whisky has a Viking theme, you know it's Highland Park. I forget what the connection is exactly, but helmeted Norsemen seem to have inhabited the Orkney Islands where Highland Park is made at some point in its long history. HP's Valhalla Collection (oh yeah, they take it to the extreme) is a planned series of four whiskies created with specific Nordic gods in mind. The first, Thor, was as you can imagine a bold, powerful dram. Loki, for those who aren't familiar, is the shape-shifting god of fire.
You may be thinking that this all sounds pretty ridiculous. Well, yeah. But if anyone can get away with this stuff, it's Highland Park, whose 25 Year Old whisky was recently awarded a perfect score of 100 at the Ultimate Spirits Challenge. And while the concept is a little goofy, Highland Park Loki is an excellent and unique whisky. It's been matured in both sherry casks and heavily peated casks, giving it sweet raisin and lemon notes along with a whole lot of smoky and earthy flavors. Like Loki himself, this is a real shape-shifter, with the sweetness and smokiness swirling and ebbing and flowing around each other before finishing soft and mellow with traces of honey and vanilla. For a whisky that's almost half alcohol, it's surprisingly burn-free; you can add water to open up the flavors a little, but it's certainly not necessary. Like Thor before it, Loki is a limited edition, so grab a bottle (with Viking funerary ark thingy included at no extra cost!) while you can.
MACALLAN "THE FLASK" EDITION SINGLE MALT SCOTCH WHISKY (43 percent ABV, aged 22 years, $1,500) . Just in case you feel like taking a slug of your favorite single malt at a football game, on a hike, at a church function, or anywhere else you can't bring a snifter or a rocks glass, the folks at the Macallan have created the ultimate flask. Made of food grade steel and wrapped in carbon fiber, it's ... well, let me quote from the press release: "Clad in black anodized 5-axis machined aerospace grade aluminum, the sophisticated mechanics of The Flask are unparalleled." It looks pretty badass, too -- like a cross between a deadbolt lock and a hand grenade.
Of course, the Macallan is also throwing in a super-limited edition whisky to go with the flask, because, hey, you've gotta have something to drink out of it, right? This 22-year-old dandy is aged exclusively in sherry seasoned American oak casks. Redolent of dried apricots, honey, oak, dark chocolate and spice, it's so rich and elegant that it reminds me of a cognac. The finish is short and quite clean considering the depth of the flavors. I don't know if I'd recommend drinking The Flask Edition out of a flask, no matter how fancy it is, but put it in a glass and it's a heavenly experience. There's a catch, though -- you can only but the whisky with the flask, and the flask is $900 (the whisky itself adds a not-so-shabby $600 to the price tag). Oh, and there's only 400 bottles being made available, so don't tarry.
MOUNT GAY BLACK BARREL RUM (43 percent ABV, age not stated, $30). Mount Gay is the oldest surviving rum distiller, celebrating its 310th anniversary this year. To commemorate the occasion, Master Blender Allan Smith has come up with this distinctive bottling which has been double matured in deeply charred American oak bourbon casks. Smith is the mastermind behind Mount Gay's 1703 brand, which for my money is one of the finest sipping rums around. Black Barrel clearly hasn't been aged as long -- its color is a significantly lighter shade of amber and it's got a lot more honey and vanilla and less wood on the palate. Then again, it's also about a quarter of the price. And when you're not in the mood for a rich, super-heavy sipper, Black Barrel goes down easy and smooth while still packing a lot of heft, flavor-wise. At $30 a bottle, you get your money's worth and then some.
PIKE CREEK SMALL BATCH CANADIAN WHISKY (40% ABV, age not stated, $32). Canadian whisky has long had a reputation as the black sheep of the whisk(e)y family, and to some degree it's deserved. The best known brands, like Canadian Club and Crown Royal, are smooth, light and fairly bland, heavy on grain whisky (distilled to high proof and used exclusively in blends, it's halfway between whisky and vodka) and light on character. In the decades after World War II, these characteristics were prized by drinkers who weren't really looking for a challenge in a glass. In recent years, however, the cocktail renaissance and the emergence of about a gazillion great new whiskies of all stripes has made more sophisticated drinkers of a lot of us. And that's left the more popular Canadian whiskies out in the cold, as it were.
There have been some great Canadian brands out there all along (my favorite is Wiser's 18-year-old). But I haven't seen many of them on Stateside liquor store shelves. Fortunately, Pike Creek has made it across the border. It's finished in port casks, which gives it a round, rich, fruity flavor. Finishing alone can't make a whisky, of course, and fortunately this is really good stuff which tastes older to me than the seven to eight years it's been aged. The dry oaky and herbaceous notes harmonize beautifully with the sweetness of the port flavors. It's hard to believe, given my experience (and preconceptions), that this is a Canadian whisky. If this is just the tip of the iceberg, I've got a big rocks glass handy.
POWERS JOHN'S LANE IRISH WHISKEY (46 percent ABV, aged at least 12 years, $70). Irish whiskey has been resurgent in the last few years, both in popularity and quality. I'm not alone in thinking that the amazing Redbreast 12 Year Old stands head and shoulders above its Irish brethren. But this new offering from Powers, a single pot still whiskey crafted at the Midleton Distillery, gives Redbreast a run for its money. It's aged mostly in American bourbon casks, with a small portion matured in Oloroso sherry butts. It makes for a damn near perfect combination of sweet (a little honey, a little green apple) and dry (grain and oak) notes, with a nice spicy kick on the back end -- enough to make you go "Whoo!" without making you go "Ouch!" It goes down ridiculously smooth for a 92-proof whiskey, and each sip made me look forward to the next one. Even if you're a Scotch whisky snob, Powers John's Lane will make you rethink the Irish stuff.