"The choices you make determine your future," Messiah Harris, 15, calmly attested. Sitting in a white-metal lawn chair, the son of Grammy-award winning Atlanta rapper T.I. reflected on the message of his first film Sons 2 The Grave.
Set in Atlanta, the film Sons 2 The Grave follows the journey of a NBA-bound phenom Marcus Jennings, played by actor Trevor Jackson,18, who is fatally shot at the genesis. Marcus' death illuminates a microcosm of the issue between speaking up and "snitching."
"The choices you make determine your future."
Marcus starts from an affluent neighborhood and ventures to a neighboring disadvantaged community, where he falls into trouble. After befriending the wrong crowd, Marcus' choices inevitably cost him his life. T. I.'s son Messiah Harris plays the succeeding brother of the murdered protagonist.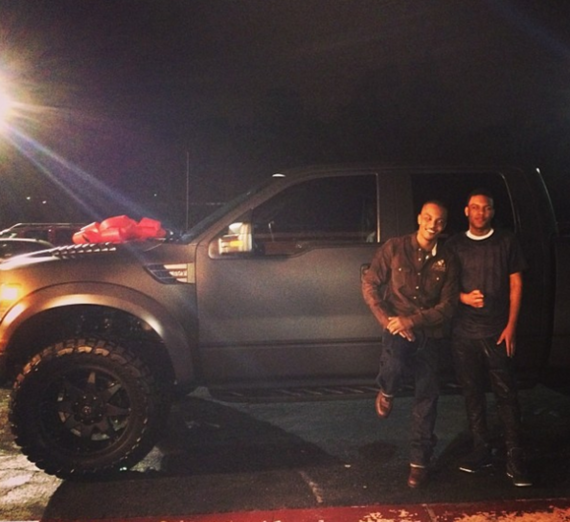 Messiah Harris and his father Clifford "T.I." Harris Jr. on Messiah's 14th Birthday. Courtesy of Messiah Harris' Instagram @phase_4.
"Jermaine is really cool and laid back," Harris said, "He reminded me of myself."
Harris is the oldest son of T.I.'s six children, including his step-daughter pop star Zonnique Pulliman from his wife Tameka "Tiny" Cottle. Though a shy young man, Harris enjoyed stepping out to act in his first role. His co-stars and director helped him ease his nerves.
"The taught me that it's never too late to practice," Harris said.
In-between tapings, Sons 2 The Grave director Mykelti Williamson and his co-stars like Trevor Jackson helped him practice his lines. Harris' mother Lassan Dixon has also been a major support.
Sons 2 The Grave is set to release in 2015. The film is written and produced by Lynne Stoltz of Have Faith Productions. Follow all of the film's action @Sons2TheGrave. Follow Messiah Harris @Messiah_Harris9 and Trevor Jackson @TrevorJackson5.
REAL LIFE. REAL NEWS. REAL VOICES.
Help us tell more of the stories that matter from voices that too often remain unheard.