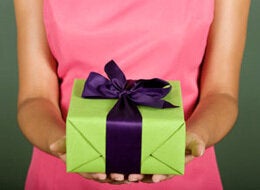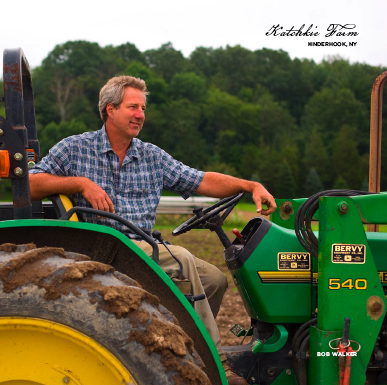 Our economy may be collapsing, but as the holidays approach we still feel compelled to exchange gifts with friends and family. Some folks enjoy the quest for the perfect gift, but for those of us who haven't got a lot of time, money, or imagination, schlepping around town hunting down thoughtful presents for our loved ones can be an angst-ridden errand.
The pressure to please collides with our limited resources, and the ensuing wreckage litters living rooms all over America on Christmas morning with mounds of stuff we have no use for. Oh, sure, there are the happy exceptions--the book you've been dying to read, the cordless drill that you actually needed--but all too often we find ourselves sincerely saying "oh, you shouldn't have".
So what happens to the sweater you don't really like, or the cheesy fondue set you'll never use? Sometimes you give it away, but other times you let it stick around and clutter up your life, because it's a symbol of someone's affection for you.
And then you die, and somebody has to go through all the crap you accumulated over your lifetime. For me, it was my mother's things; she died unexpectedly a few years back and my father delegated the depressing task of sorting out all her clothes and bric-a-brac to me, her only daughter.
For my friend and fellow foodie blogger Jill Richardson, it was her 23 year-old brother Adam, who died several weeks ago, right before Thanksgiving, after years of struggling with obesity. Yes, even at 23 you can leave a lot behind, and Jill's been going through Adam's things trying to figure out what to do with it all. She posted a poignant diary on Daily Kos Sunday in which she noted:
I have been buying stuff for my family members throughout the year, to give them to them at Christmas/Hanukkah. Decorative wine bottle stoppers, Christmas tree ornaments, satchels of lavender, artisan made soap... I've been accumulating them in my closet all year. Now I feel I'm just adding to the load of things my loved ones will some day leave behind...
...Maybe I'm just being morbid, but this sad experience of trying to resurrect my brother with his stuff and utterly failing has affected my view of the holiday season. Instead of buying people more stuff, here are some ideas I've come up with: donations/trees planted in their names, theatre or ballet tickets, art, massages, and food. I would add to the list soaps, lotions, and candles but only if the person will actually use them.
I second Jill's sentiments, and I'd like to add one more thing to her list--a calendar. Down To Earth: The Farmers Of Columbia County has got the kind of dirty pictures sure to seduce greenmarket groupies, from the cover's close-up of a farmer's soil-encrusted fingers lovingly cupping a plump, ripe tomato, to the portraits inside of upstate New York farmers captured in all their muddy agrarian glory, their faces pleasantly weathered and stubbly, surrounded by the fruits (and vegetables) of their labor.
A calendar's a great gift because it's one of those things that everybody needs anyway, and it's got a finite shelf life that guarantees it will never become clutter. But the Down To Earth calendar isn't just useful and lovely; when you purchase it, your $12.95 goes to support the Sylvia Center, a non-profit enterprise dedicated to introducing New York City school kids to "the life-giving pleasures of fresh food from the farm." The Sylvia Center pursues this mission at two locations: the Children's Learning Center in Soho, and Katchkie Farm, a couple of hours north in Kinderhook.
The Sylvia Center is the brainchild of Liz Neumark, founder of the upscale New York City catering company Great Performances. Neumark did something quite visionary and wonderful several years ago when she bought the patch of land that she dubbed Katchkie Farm. Neumark hired Bob Walker, a farmer committed to sustainable agriculture, to manage the farm and provide year-round locally grown produce for Great Performances' events.
I first met Farmer Bob--as he was known before he became Down To Earth's "Mr. October"--at a swanky Manhattan loft back in January where Michael Pollan was giving a reading from In Defense of Food. The event, catered by Great Performances, was a benefit for Just Food, the non-profit organization that has been New York City's foremost advocate of CSAs (community supported agriculture) for more than a decade.
When Farmer Bob found out I was a blogger, he said, "You oughta blog about my farm," and proceeded, with great enthusiasm and charm, to tell me all about his energy efficient greenhouses. He gave me his card and told me I should come up and check out his operation sometime. I said I'd love to, but as a non-driver I'd have to rope a friend into giving me a ride.
In July, I got an invite to the 100 Mile Menu, an event Great Performances was hosting at the Plaza Hotel's Grand Ballroom. It was the perfect high society showcase for a low-on-the-food-chain feast made from foods grown within a hundred mile radius of New York City. But as intrigued as I was by the prospect of scarfing sustainable hors d'oeuvres in a room where the Duke and Duchess of Windsor once danced and Truman Capote held his legendary Black and White Ball, I was even more curious to visit the vegetables in their native habitat, before they, and Farmer Bob, got all cleaned up and made the pilgrimage to the Plaza.
So, the day before the event, my friend Robin kindly agreed to take a field trip with me up to Kinderhook to get the grand tour of Katchkie Farms. Farmer Bob took us through the fields and the greenhouses and showed off the clever home-made jumbo salad spinners he'd fashioned out of wastebaskets with the help of a hole saw. He told us that when Neumark chose the site for her farm she didn't realize that the water table was so high that the soil would be too soggy to farm in. So Farmer Bob cheerfully told us, he had to lay, like, 20,000 feet of drainage pipe before he could hope to grow any decent crops.
But what fascinated me the most was the quirky odyssey that turned Bob into a farmer at the age of thirty. A California native, he had been doing theatrical lighting for rock concerts. One day while driving around Los Angeles, he heard Terry Gross, host of NPR's Fresh Air, interview Peter Tompkins and Christopher Bird about their book Secrets of the Soil : New Solutions for Restoring Our Planet. He was so enthralled that he headed to the nearest book store and bought the book on the spot, and soon found himself studying biodynamic agriculture in Europe.
On the day Robin and I dropped by, Farmer Bob took us to a pavilion by a pond where the folks who run the Sylvia Center were showing a group of kids from the city how to make salsa from just-harvested vegetables. On this hot summer day, the kids were happily chopping away under the pavilion's shade, taking time out to munch on slices of sweet, golden yellow heirloom watermelons. They were having a great time, as were we. Robin even took a dip in the pond, braving a dock peppered with piles of Canadian goose poop to go for a quick swim.
The Sylvia Center offers urban kids a taste of country life and fresh, wholesome foods that help them understand the connections between the weather, the seasons, and the life cycle of a vegetable from seed to table. In an era when so many children--and grown-ups, too--suffer from nature deficit disorder and a disease-inducing diet dominated by over processed pseudo-foods, programs like the Sylvia Center can steer kids towards a healthier path and lay the foundation for a lifetime of better habits.
The Down To Earth calendar supports this valuable mission even as it celebrates what Neumark rightly calls "the new American Heroes", farmers like Bob Walker who are equally passionate about nurturing the soil and nourishing their communities. They're good-looking guys, too, but the real beauties in this calendar are the gorgeous peaches, apples, and veggies in the background (not to mention the vintage red tractor and the cute critters). So get your friends and family a copy of Down To Earth this holiday season; you'll be giving them a dose of homegrown happiness to inspire them each and every day.
Support HuffPost
The Stakes Have Never Been Higher
Related
Popular in the Community