The holiday shopping frenzy's upon us again; the lemmings lined up earlier than ever this year in the pre-dawn darkness of Black Friday, all for the privilege of lurching past the other zombie shoppers to latch onto the latest gotta-have gadgets and designer dreck.
If you dread this annual exercise in excess, take heart in the rise of the Etsy era, where thriftiness and craftiness are regaining their long-lost luster. Funny how the same recession that's cost so many folks their homes has given all things homemade a new cachet.
But if you want to give a homegrown gift that truly keeps on giving--something that's precious and rare and beautiful, though it doesn't cost much at all--you can't beat a packet of heirloom seeds.
Unlike the latest gadget or appliance, which will most likely wind up in the landfill in less than a decade, heirloom seeds can be passed down from one generation to the next, preserving their distinctive forms and flavors--that's why they're called heirlooms.
You see, with heirloom seeds, as opposed to modern hybrids, you can save seeds from each season's harvest so that you have a new batch of seeds to sow the following spring. It's not hard to do, especially when you've got folks like Ken Greene and Doug Muller, founders of the Hudson Valley Seed Library, who are on a mission to revive New York's once-thriving seed trade and eager to share their seed saving know-how.
But Greene and Muller--an ambitious, passionate team--aren't content to simply revive the art of seed-saving and preserve rare regional varieties of fruits, vegetables, flowers and herbs. They're out to revive and preserve another endangered species while they're at it: artists. So, every year, the Hudson Valley Seed Library, which offers an ever-growing variety of seeds through its online catalog, commissions original artwork for the its Art Pack seed collection, a botanical bonus that makes the packaging as distinctive and worthy of preservation as its contents.
The artists employ a wide range of styles and mediums, reflecting the genetic and cultural diversity of the seeds themselves. The New York Horticultural Society is showcasing the artwork from the Hudson Valley Seed Library's 2011 Art Pack seed collection in Contemporary Heirlooms: Art from the Hudson Valley Seed Library, an exhibit that opens on Thursday, December 9th.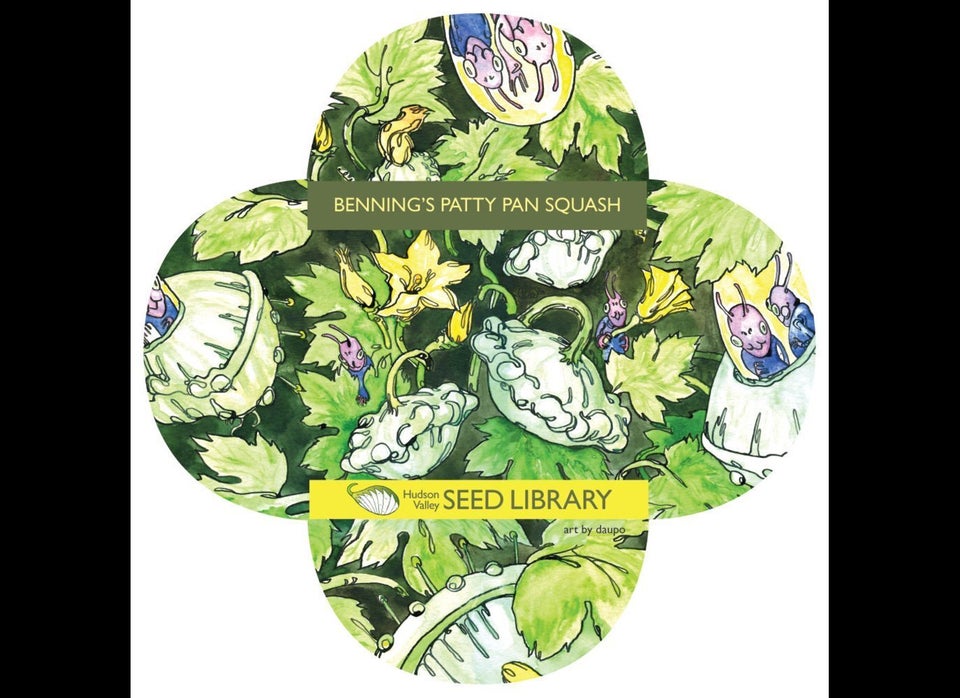 Seed Packets to Savor
The pre-opening reception from 5 to 6:30 pm includes a talk and guided tour of the exhibition by Greene, along with local hors d'oeuvres from Katchkie Farm and Great Performances and drinks from Hudson Real American Whiskeys and Fresh Ginger Ale by Bruce Cost.
I can't wait to see it, because the Art Packs' cheerful, clever illustrations give growers and eaters alike delightful images to savor during the dormant season when our gardens have gone to sleep and we can only dream of what next spring might bring.
If you're in the NYC area, I hope you'll come, too. But for those who can't make it, I've put together a slide show to share some of my favorite packets from this year's batch. And if you're seeking out thoughtful, imaginative holiday gifts, keep in mind that anyone who receives an Art Pack from the Hudson Valley Seed Library this season is getting a gift that has the capacity to go on giving forever--or at least until we render the planet uninhabitable.
At the very least, it's a hedge against that apocalyptic future Glenn Beck's seedy sponsors have been warning us about. Seed saving is an essential survival skill, no doubt about it. But why buy seeds from crass, fear-mongering charlatans when you can support agrarian artisans like Greene and Muller?
Popular in the Community