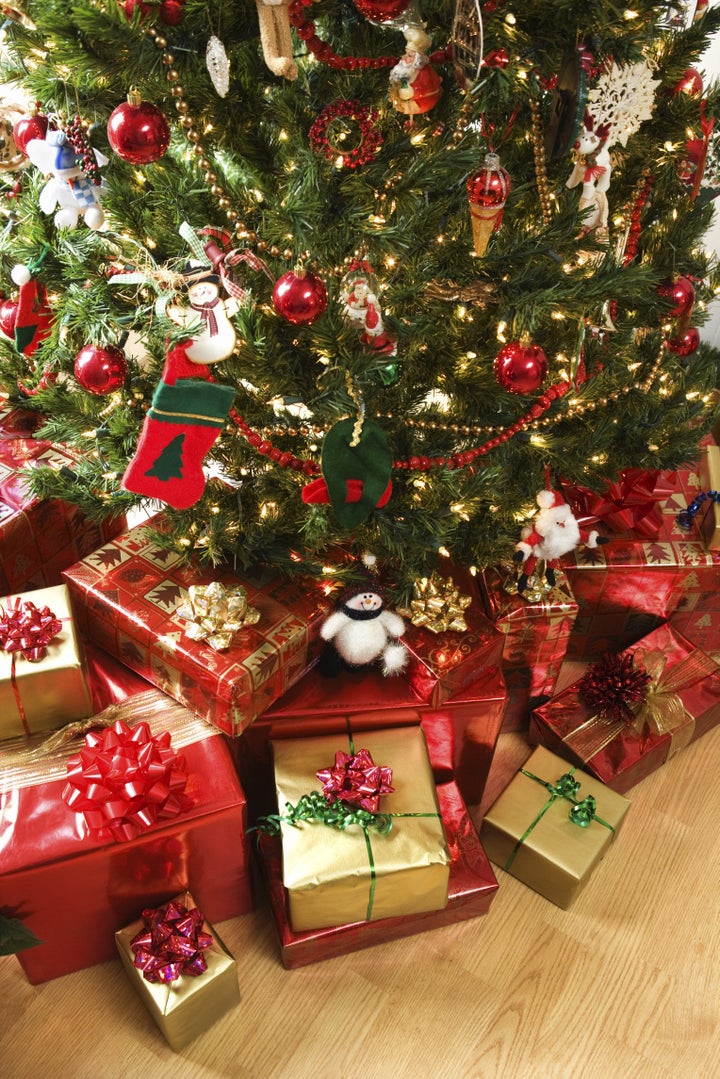 "Think of all the money you would save if we were Christian," my daughter exclaimed as she fondled yet another ornament dangling from a tree at the mall.
"Santa brings presents so parents don't need to buy anything like you do for Hanukkah," she said.
My kids want to celebrate Christmas. It wouldn't be a problem, except that we're Jewish. Suddenly, my 7-year-old daughter and 9-year-old son are bedazzled with all things Christmas. Who can blame them with all that twinkling, glittering Christmas cheer and come hither smell of pine trees ready and wrapped to schlep home? It's hardly shocking that Hanukkah and its festival of lights, doesn't hold a candle to Santa, the sleigh, the ambitious elves and his whole chimney mishegoss. We just can't compete.
From "Charlie Brown" to "Glee," at this time of year there's no escaping the enchanting seduction and spectacle of Christmas. And if there's ever a time Jewish kids feel excluded from the party, it's now. Our mall in Short Hills, New Jersey, perhaps because of its hefty Jewish population, doesn't play up a religious Christmas as much as it creates an inclusive, sparkly, Winter Wonderland. But when other kids line up to take their photos with the bearded, jolly, fat man, can you say no? In Short Hills, perhaps Santa is ecumenical.
But in this season of giving and wanting, it dawned on me that kids, like their parents, want what they don't have. Just take the American Girl doll. For my daughter's birthday in May, she was pining for "Julie," the 1974 California hippie girl who sports braids, a cool vibe, and straight, silky, long blonde hair. My daughter incidentally has dark, curly hair. But I pushed "Rebecca," the Jewish immigrant girl from 1914 who was living on the Lower East Side. Her mom probably worked in a sweat shop. Not surprisingly, Rebecca's Russian immigrant background story did little to impress my daughter, even though I thought it was neat. But I encouraged my daughter to buy Rebecca. Who couldn't fall in love with the sweet, Jewish girl in her simple frock lighting the Shabbat candles in the American Girl display case?
But for Hanukkah, my daughter begged again for blonde Julie. She confessed that she was never happy with Rebecca's hair. I can relate to that. Jewish girl hair can be a drag -- until the flat iron and potent chemicals softened my own frizzy mane, I too fretted. But Rebecca's hair is actually lovely, thick and bouncy, as if she just had a great blow out. But apparently Rebecca's hair is not as fabulous or coveted as Julie's WASPy hair, and with these dolls, the hair IS everything (they even have a hair salon with real stylists at the American Girl store to braid, cut and style for a fee).
Anecdotally, it turns out that most girls don't want to buy dolls that look like them. Asian girls want the blonde girls too -- even as their moms sometimes push the Asian dolls -- at least according to the American Girl manager with whom I chatted.
So if there is a holiday truism, we yearn for what we don't have and what we see on TV, which leads me back to the Christmas vs. Hanukkah conundrum. Our battery-operated Latke Larry who sings a snappy tune when you push his overstuffed belly is just no replacement for a cuddly Santa Claus or even a Santa-inspired Webkins (which coincidentally my son wanted for Hanukkah).
But really, it just comes down to the tree. Jews just don't do Christmas trees, even if many of us secretly or not so secretly want to. And this is what my children are desperate for -- to decorate a tree and leave a treat for Santa. No matter how hard I sell Hanukkah -- "it's eight days instead of one!" -- menorahs just don't dazzle like a glittering tree.
"I wish we could leave milk and cookies for Santa Claus," my daughter said the other day.
"You can leave milk and cookies for me and mommy," my husband responded.
"No!" my daughter shrieked. "It's not the same -- you're not flying around the world dropping off presents. You're not tired."
"We're exhausted from the mall," I chimed in.
"When I grow up I am going to have a Christian wife so I can have Christmas," my son said matter-of-factly.
Oy. Until recently, the men in my husband's family were all rabbis. Legend has them dating back to the famous Rebbe Rashi of the Middle Ages. In the shtetls of Eastern Europe, I wonder if their kids ever had Christmas envy.
Nah ... I bet dreidel games were all the rage.