Anchorage's Town Square Park on West 5th Avenue is a festive place. Particularly during the summer when the waning orange glow of the sun at 11 pm sort of makes it feel like sunrise. Which got me in the mood for breakfast, or was it the dueling smoke wafting my way from the three reindeer sausage vendors that set up camp on the sidewalk?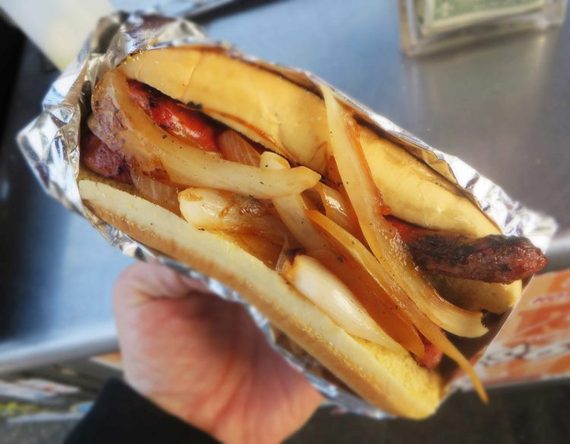 When I first heard about this local delicacy visions of Rudolph danced in my head. Would Santa put me on his naughty list? As someone who was raised in New York all I knew about reindeer was from Christmas stories. Once I found out (spoiler alert) that Santa Claus wasn't real (end spoiler alert) I just assumed that reindeer weren't either. I didn't find out they actually existed until I saw a National Geographic show about them years ago.
Trying reindeer sausage in Anchorage had not been high on my list of things to do. But as I inspected each of the vendors grilling the sausage, heard the crisp snap of the fat sizzling on the griddle and smelled the unquenchable aroma I just had to try one.
I sought out Husky Dogs where the perky and upbeat Anna was cooking up a few links under the big red umbrella. The owner of the stand, Martin Boss, was busy stocking up the supplies. Martin operates the stand during the summer when he is not in Georgia with his other gig: he works as a film editor on the hit TV show The Walking Dead.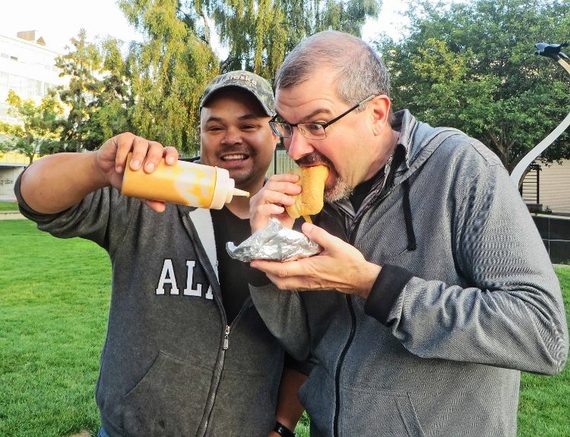 Martin (left) normally deals with zombies which made it easier to work with Michael.
He is proud of his reindeer sausage, emphasizing that it is fresh, never frozen. What really makes his reindeer sausage stand out is the grilled onions placed on top. They are caramelized in Coke every 10-15 minutes and really add a sweet touch. The final piece of the puzzle is their housemade "Boss" sauce, a blend of stone-ground mustard, pepper extract and vinegar. It really packs a zing.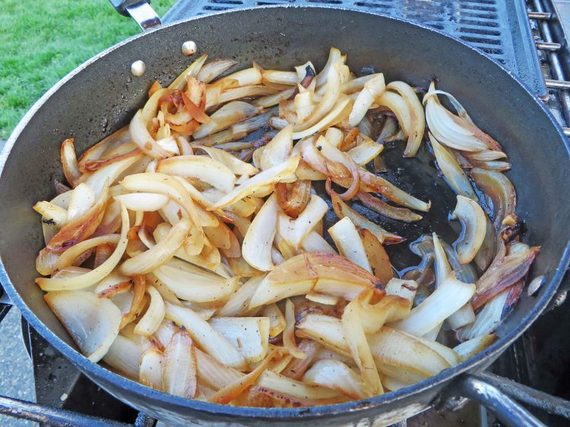 The result? Delicious. I'm not sure I would know that the sausage was made from reindeer as opposed to some other animal but at that point I didn't care. I just knew that it was crispy, spicy and full of meaty flavor. At 11 PM on a summer night in Anchorage, reindeer sausage really hit the spot.
I hope Santa will understand.
Larissa and Michael Milne are global nomads who have been traveling the world full-time for three years seeking tasty and quirky sights. You can follow their journey and pick up valuable travel tips on their award-winning blog at Changes in Longitude.
Popular in the Community