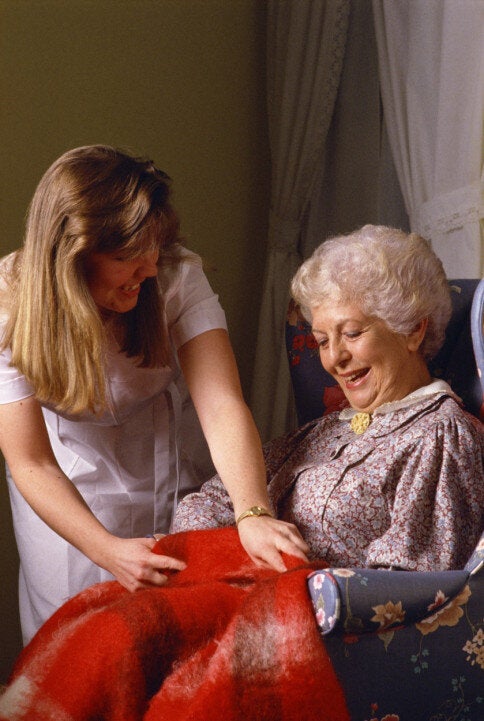 When we think of family caregiving, the burdens and potential burnout associated with caring for someone on an often daily basis come to mind. Caregivers do face many difficulties in their role: fatigue, isolation, depression and higher risk for many health conditions. Those of us who work closely with caregivers strive to help them understand how to maintain their own health because so many caregivers remain committed to providing care for their family members for as long as possible. But caregiving has its rewards too, and in the spirit of the season, this heartwarming story seems an inspiration for us all.
When Josephine, a caregiver for her Aunt Vivian in Queens, N.Y., talks about caregiving, she is the personification of caring and commitment. Josephine has been her Aunt Viv's caregiver for nearly four years. Ninety-one-year-old Vivian is mentally sharp and active, but about two years ago, her arthritis got so bad she really started to struggle, and was finding it harder and harder to live on her own. Vivian gave up her apartment and moved in with Josephine and her husband. "Aunt Viv requires help every day getting dressed, moving around and eating meals," Josephine says. "I get a little help from my husband on the weekends, but a large majority of the caregiving falls on me."
Josephine is not complaining. Rather, she is quite upbeat when discussing all the assistance she gives Aunt Vivian. This feels to Josephine like a chance to really make a difference in someone's life, and she values the chance to get to know Vivian on a deeper level. "I was very close to my mother, Vivian's sister, but she passed away 10 years ago," says Josephine. "Spending all this time with Aunt Vivian has helped me forge a strong bond with her, one that reminds me of the relationship I used to have with my mother. I love being there for my aunt, and wouldn't have it any other way, but some days I really crash hard."
It helps that Vivian is warm-hearted and expresses gratitude for the help she gets. However, no amount of gratitude can make up for the exhaustion Josephine sometimes feels being on call every day. "I can't just leave and have lunch with friends anymore," states Josephine. "I'd worry about my aunt the whole time I was gone." Naturally, this kind of responsibility can take its toll, but Josephine tries to keep it in perspective.
Even on the days when Vivian isn't feeling well and Josephine has to provide hourly assistance, Josephine tries to remember that it must be very hard for Vivian herself to live with a chronic disease like arthritis, "and just think how hard it must be to be so dependent on someone else -- even if they are family. Vivian was always very strong and independent, and sometimes it breaks my heart to think how she must feel being unable to care for herself now."
When we talk about how difficult caregiving can be, we sometimes forget that many people find it extremely rewarding. Josephine, among others, gets satisfaction from caregiving, and without minimizing the risks for burnout, she says that "most of what is worth doing in life -- any long-term relationship, raising children, even managing a busy career -- is hard. This is just one more of the things worth doing."
So, what do family caregivers find are the benefits of caregiving? We asked family caregivers in the Visiting Nurse Service of New York Caregiver Support program this question, and here's what we heard:
It gives me a chance to spend a lot of time with my family member, which I haven't done since I moved out.
We've had some very intimate conversations, and I feel now that I understand more of the choices he made in life, as well as our family's history.
I'm much closer to my sister now; we have to talk all the time about how to take care of Mom, and we're working together.
I feel this has helped me grow spiritually. Taking care of someone else is hard, but it has forced me to face some questions about my own mortality and it has taught me how to talk with someone who is near the end of their life.
Sometimes this is so exhausting I think I'm going to break. But at the end of each day, when I realize I succeeded again at giving my husband the care he needs, I feel strong, worthy and proud of myself.
I feel good about the role model I am being for my children. I want them to see that it can be very satisfying to take care of another person.
Caregiving has made me slow down and be more mindful of the stage of life I'm in and the good work I'm doing. For more on increasing mindfulness in your life, go to http://blogs.vnsny.org/2010/09/26/mindfulness-presence-tips-for-caregivers/.
In Josephine's case, she gets assistance from her husband, her cousin comes over most Monday afternoons to give her a break, and she talks on the phone with a good friend who is serving as caregiver to her father, all of which gives Josephine some much-needed respite as well as support from others in her situation. As a result, Josephine has been able to enjoy some of the positive aspects of her aunt's personality, and from her role as her caregiver.
What has being a caregiver taught you about living a better life? We encourage you to share your own stories about how caring for someone else has brought you joy. After all, 'Tis the Season!