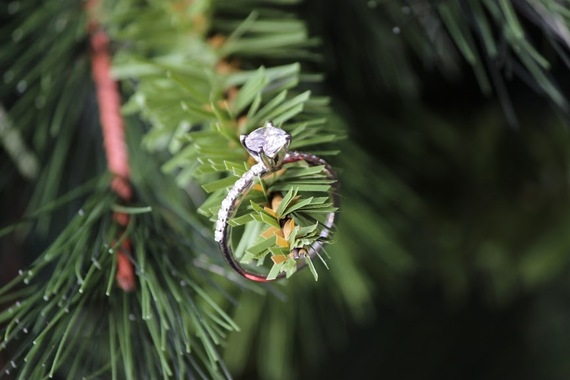 While the temperatures outside might suggest otherwise, Christmastime is upon us. And, whether you celebrate Christmas in the traditional sense or not, every department store, office building, and residence seems to be decked out in holiday décor.
Is it the festive spirit that makes for the ideal proposal conditions? Or does it have more to do with joyful family time?
While most women I spoke to in real life declined to give a specific response to how much they would want their engagement ring to cost, the survey respondents had no problem divulging their opinions.
Interestingly, men were prepared to spend more on a ring than women wanted. 66% of male respondents believed they should spend more than $2,500 on an engagement ring for their partner. Only 47% of women felt that more than $2,500 was necessary. At the far end of the spectrum, men were nearly twice as likely as women to believe they should spend more than $10K on the ring.
It seems there is considerable external pressure for men to spend, spend, spend, whereas women would be perfectly content if their partners were slightly more budget-conscious.
Despite their reasonable approach to the cost of a ring, the majority of women today do still want a diamond. The DeBeers marketing campaign from decades ago is still effective at pushing couples towards a diamond as opposed to other gemstones. While it's more common today than in previous years to opt for a sapphire, emerald, ruby or other type of stone, more than 2/3 of men and women still think a diamond is the way to go.
There is something to be said for selecting a diamond for its durability. They're sparkly and beautiful, while also being hard enough to wear every day for a lifetime. Other gems (like emeralds, for example) are softer and less appropriate for daily wear.
Ultimately, Washingtonians seem fairly wedded (ha!) to the traditional diamond. A recent piece in Washingtonian Magazine highlighted some of the most stunning engagement rings of 2015 and nearly all of them were what you'd expect: Diamond.
If you're one half of a Washington couple and a proposal is on the horizon, there are benefits to being original and benefits to sticking with tradition.
If the timing feels right in your relationship, the holidays are a beautiful time to get engaged. You'll likely have friends and family to celebrate with, plenty of days off work to bask in the moment, and the warm glow will last long after the holiday decorations are put away.
Support HuffPost
The Stakes Have Never Been Higher
Related
Popular in the Community