Chestnuts roasting on an open fire,
Jack Frost nipping at your nose,
Yuletide carols being sung by a choir,
And folks dressed up like Eskimos
New York is alive with the holiday buzz: the tree and the skaters at Rockefeller Center, the bustle of the shoppers at Macy's and FAO Schwartz. We've all seen it in so many movies that we can practically smell the chestnuts and peanuts roasting in the street vendors' carts. What is it about holiday traditions? Every country and religion and community has them. And we all create new ones in our own families. As for me, I'm often spurred by something I've seen in a film. I know that I was motivated to move to Paris by the Billy Wilder movie Sabrina with Audrey Hepburn. I just had to live in that little garret apartment where you look out the window, and hear La Vie en Rose, and see the Eiffel Tower and Notre Dame -- an impossible view, by the way. Sure, I wanted to study film and the French New Wave but honest to God, that movie pushed me to get on the plane and go. So it was when I was a young mother of four-year old twin girls, and I volunteered to run the Christmas pageant at church.
I had seen Penny Serenade too many times with my own mother. It's a George Stevens tear-jerker with Cary Grant and Irene Dunne. I don't particularly recommend it for your holiday viewing because it is very SAD. However it completely marked me because there was a scene in it with a Christmas pageant, and I thought -- Oh I could do that when I have children. Well, I didn't realize that signing up for one year would turn into a sixteen year commitment. Who knew? What can I say about the shepherds, angels, sheep, Marys, Josephs, Kings and Gabriels that I came to know over the years? Some were just wonderful and some were not. How did the old nursery rhyme put it?
There was a little girl
Who had a little curl
Right in the middle of her forehead
And when she was good
She was very, very good,
And when she was bad
She was horrid.
All these children from the ages of four and up walked and ran and sometimes stumbled to the sound of a majestic choir and strains of Silent Night. The angels held battery driven candles that were sometimes held up, or down, or used as a weapon. I say no more and I name no names. Silent like the tomb, as the French say. They were a hit.
Each year we'd also make Gingerbread houses. Barbara, my very good friend, and also the mother of twins, invited me into her Gingerbread house group. Again I thought -- Oh, I can be like Mary Bailey in It's a Wonderful Life. This will be fun for the girls. And it has been. They are 26 now, and we are still doing it. It was however totally humiliating for me. All of the women in this group would put Martha Stewart to shame. And each year, when I bring my pieces of gingerbread, so misshapen and that they would hardly make a log cabin, everyone is terribly kind to me, and finds a way to glue the pieces together with vats of molten sugar. Then, of course, my girls decorate it so that it actually looks good at the end.
Everyone has their favorite holiday cookie recipe that probably has been handed down in their family. These are Christmas Wreath Cookies and come from Pennsylvania. They are from Barbara's mother, Florence. These cookies are phenomenally easy to make but cause a big stir wherever you bring them because they are so festive, decorative, and tasty. You really have to make the effort to order the teaberries which you can get from nuts.com. Teaberries are the spicy fruit of the American wintergreen, and that special zingy flavor makes all the difference, and raises these little red balls and these wreath cookies to another level. So please do try them, and everyone have a great holiday season and a Happy New Year!
Christmas Wreath Cookies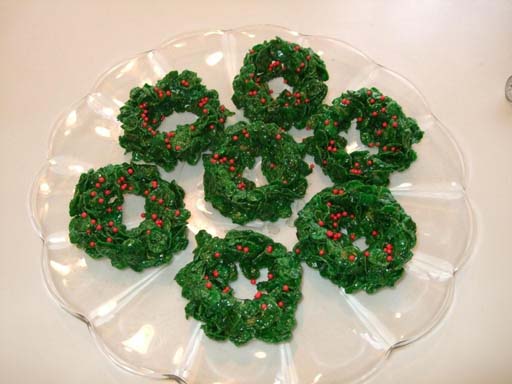 Photo courtesy of Barbara Stern
Description:
These cookies are demanded by all the children and family members every season.
Ingredients:
40 large marsh mallows (10oz. package)
6 cups corn flakes
1/3 cup butter
1 tsp. green food coloring
Tea berries
Preparation:
In a big pot, gently melt the butter, then melt the marsh mallows, add corn flakes. Shape into wreaths and add the tea berries on top before they cool.
This recipe and many other family favorites are available on DishandDine.com. Stop by and become part of this grass-roots global food community!
DishandDine -- It's All About Food
http://www.dishanddine.com
http://www.facebook.com/DishandDine
http://www.twitter.com/DishandDine
Calling all HuffPost superfans!
Sign up for membership to become a founding member and help shape HuffPost's next chapter