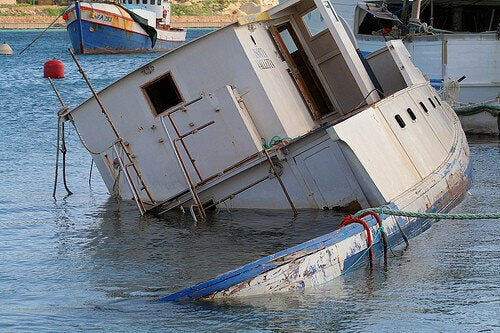 It was bound to happen eventually.
Mark Wilkinson, the 44-year-old owner of the aptly named 16-foot cabin cruiser named "Titanic II," found himself clinging to the side of the boat as it slowly sank into the harbor. According to AFP, the boat began to sink as he reentered the harbor following a successful fishing trip.
It was the vessel's maiden voyage, though Wilkinson had bought the boat second hand. It cost him £1,000 (about $1,640).
"It's all a bit embarrassing - I'm fed up with people asking me if I hit an iceberg," he told the Sun.
Wilkinson even had to be rescued by the coast guard, according to AFP. A large hole had opened up in the fiberglass hull as the ship came to dock in West Bay, Dorset in Great Britain.
April 15, 2012 will mark the 100th anniversary of the sinking of the original Titanic, a disaster that claimed 1,517 lives.
REAL LIFE. REAL NEWS. REAL VOICES.
Help us tell more of the stories that matter from voices that too often remain unheard.