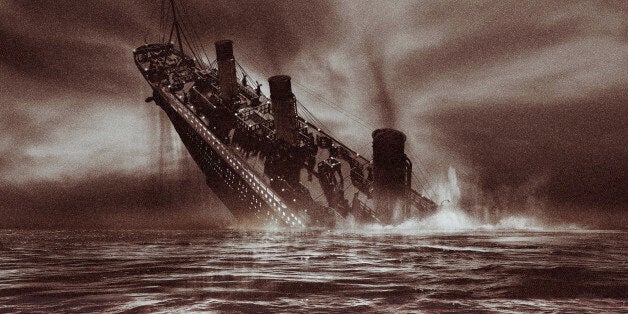 What little is known from the night the Titanic sank has been recounted in tragic, heartbreaking detail by survivors. But a recently unearthed letter that appears to have been penned by a French maid who survived the tragedy may offer a new glimpse into those harrowing hours before the ship went under.
The unverified letter recently appeared on Reddit by a user who said he or she purchased it at an auction and wanted help translating its contents from French to English. Rose Amelie Icard, who was said to be "the last French survivor of the Titanic," is believed to be the author of the 10-page letter dated Aug. 8, 1955.
If real, Icard's letter provides chilling details about the moments passengers learned the ship was ill-fated. We've scoured through the letter and pulled some of the most moving passages:
From page 5, Icard describes passengers flocking to lifeboats:
At this moment we witnessed unforgettable scenes where horror mixed with the most sublime heroism. Women, still in evening gowns, some just out of bed, barely clothed, disheveled, distraught, scrambled for the boats.

Commander Smith yelled, "Women and children first."
From page 6, Icard describes a couple refusing to separate:
Near me were two handsome elderly [people], Mr. and Mrs. Straus, proprietors of the great store Macy's of New York, she refused to go into the boat after having helped in her maid.

She put her arms around the neck of her husband, telling him, "We have been married 50 years, we have never left each other, I want to die with you."
From page 8, Icard describes the scene once onboard a lifeboat:
Suddenly, there was darkness, whole and inscrutable, shouts, horrible yells, rose in the middle of the creaks of the boat, then that was it.

Sometimes, 43 years after the tragedy, I still dream about it.
Icard is believed to have died in July 1964 near Grenoble, France.
Related
Popular in the Community