You don't have to be Cinderella to boast about your rags-to-riches story. With American Idol now in its final season, it's amazing to examine the list of amateurs who have been showcased by reality television-format talent shows (Star Search, The Voice, So You Think You Can Dance, Arabs Got Talent, Dance India Dance). Success stories like Sam Harris, Rosie O'Donnell, Adam Lambert, and Susan Boyle have gone on to establish impressive careers.
Unfortunately, too many school arts programs which could introduce talented children to invaluable sources of self expression, confidence, and fulfillment have had their funding cut while television teases them with dreams of quickly rising to stardom. Thanks to reality television and You Tube, a growing number of teenagers list wealth and fame as their top career goals.
If, however, one looks at people who have enjoyed extraordinary longevity in the arts, it quickly becomes evident that it took a lot of hard work (as well as some good luck) for them to become a household name. In their senior years, many prodigious talents have found it difficult to walk away from the art form which has been a driving force in their life.
Bette Midler just announced plans to star in a Broadway revival of Hello, Dolly! in 2017 at the age of 71.
At 72, Maurice Hines is still dancing onstage in Tappin' Thru Life: An Evening with Maurice Hines.
Linda Lavin (78) just received rave reviews for her work in the world premiere of Richard Greenberg's new play, Our Mother's Brief Affair.
Angela Lansbury (who recently turned 90) finished a lengthy tour as Madame Arcati in Blithe Spirit in 2015 and is considering a return to the London stage in a revival of The Chalk Garden.
Cicely Tyson (91) and James Earl Jones (85) recently starred in a Broadway revival of The Gin Game.
Just as joggers crave the feeling of a runner's high, many artists crave the adrenaline rush associated with performing in front of a live audience and creating new work. While it may sound like a cliché to claim that a person "lives for their art," the truth is that art can go a long way toward keeping someone motivated, alert, and feeling productive. For some artists, the ability to continue practicing their craft can help sustain them through rough times by nourishing their soul.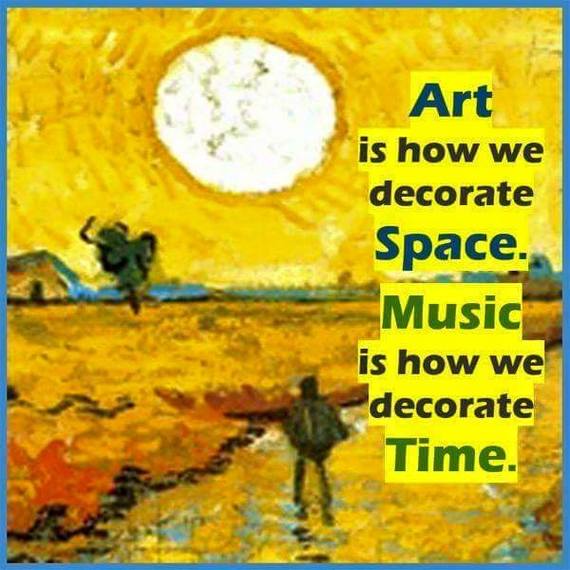 Money isn't always as important to some artists as life experience. Having achieved substantial wealth, some have a greater need to remain relevant, to keep active within their professional community, or to help others who have been less fortunate. Two recent productions focused on American musicians whose art and celebrity made them household names during the 20th century. Each show demonstrated how their road to success was filled with painful losses, humiliating obstacles, and remarkable personal generosity.
Born near Belarus on May 11, 1888, Israel Isadore Beilin and his family fled to America after their Russian shtetl was burned to the ground during one of Tsar Nicholas II's brutal pogroms. After passing through Ellis Island, his family settled into a basement apartment on Cherry Street on Manhattan's Lower East Side while their father, Moishe Beilin, looked for work as a cantor.
Having dropped out of school when he was eight years old, the young immigrant earned money selling newspapers prior to his debut as a singing waiter at the Pelham Cafe. The aspiring singer-songwriter earned 37 cents for the rights to his first song, "Marie From Sunny Italy." Dubbed "The Yiddishe Yankee Doodle," Berlin (whose name change resulted from a typo on the sheet music for his first song) became a household name with the debut of "Alexander's Ragtime Band" in 1911.
From then on, Irving Berlin's songs became such an integral part of America's popular culture that, when asked about Berlin's place in American music, Jerome Kern replied "Irving Berlin has no place in American music -- he is American music." In the following video clip, he demonstrates the trick piano with a "transposing keyboard" that he used because he only knew how to compose in one key (and would often dictate the melodies and lyrics to his songs to his pianist-secretary).
Over the years, Hershey Felder has become known for the musical monologues in which he portrays such musical giants as Leonard Bernstein, Frédéric Chopin, George Gershwin, Ludwig von Beethoven, and Franz Liszt. Have enjoyed three of these shows when they were presented by the Berkeley Repertory Theatre, I was more than delighted to experience Felder's tribute to Irving Berlin, when it was presented by TheatreWorks Silicon Valley at the Mountain View Center for the Performing Arts.
Unlike the other composers Felder has portrayed, Berlin had a prodigious career and a long life (he died at the age of 101). In addition to his many triumphs, he suffered some heartbreaking losses. His marriage to Dorothy Goetz ended six months after their honeymoon in Havana when she died of typhoid fever contracted in Cuba.
In 1925, when he met and fell in love with a rich heiress named Ellin Mackay, her Catholic father disowned her for marrying a Jew (Berlin bailed out his father-in-law after Mackay lost his fortune in the Wall Street crash of 1929).
Although their son, Irving, died on Christmas Day in 1928, the couple's three daughters survived.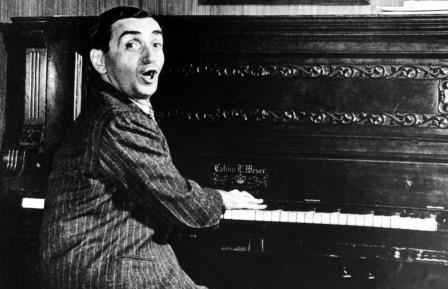 Irving Berlin singing one of his songs at the piano
Not only were Berlin's songs featured in musicals on Broadway and in Hollywood, his devotion to the United States and love for Americana were reflected in such musicals as Top Hat (1935), Follow The Fleet (1936), This Is The Army (1942), Annie Get Your Gun (1946), Easter Parade (1948), Miss Liberty (1949), Call Me Madam (1950), There's No Business Like Show Business (1954), and the ill-fated Mr. President (1962).
Berlin is credited with having written approximately 1,250 songs (of which 25 reached the #1 spot on the pop charts). From "Always," "Blue Skies," "Cheek to Cheek," "A Pretty Girl Is Like A Melody," and "God Bless America" to "Heat Wave," "It's A Lovely Day Today," "Puttin' on the Ritz," "You're Just in Love," and "White Christmas," many of Berlin's creations have earned a permanent place in the Great American Songbook.
As someone who grew up poor, Berlin made no bones about the fact that "the toughest thing about success is that you've got to keep on being a success." When Elvis Presley shot to stardom in the late 1950s (to be followed by the success of The Beatles and other rock 'n' roll groups), Berlin realized that the public had moved on from his style of music. In the following radio interview, Felder discusses his career and how he ended up creating a show about Irving Berlin.
Unlike some fast-paced touring revues (which have tried to cram as many Berlin standards into an evening aimed at a television audience), Hershey Felder as Irving Berlin examines the composer's life in depth, creating an intimate evening of Americana which is not afraid to visit some of the darker moments in Berlin's life. This is also the first show I've seen in which Felder does not perform a long piano solo from the subject composer's catalog (e.g. Beethoven's Moonlight Sonata, Gershwin's Rhapsody in Blue).
Working on the tasteful unit set he co-designed with director Trevor Hay, Felder has structured his show as a series of flashbacks in which a geriatric Berlin and the spirit of his younger self debate whether they should invite a group of Christmas carolers into their home to explain the circumstances which inspired the composition of "White Christmas." Enhanced by Andrew Wilder and Lawrence Siefert's projections, these flashbacks provide Felder with a solid narrative path that allows him to cover the highs of Berlin's career as well as the critical lows that inspired key songs ("Always") and the bitterness of an old man who no longer feels that his work is needed or adored. Here's some footage from the production.
The American Conservatory Theatre rang in 2016 with a production of Terry Teachout's one-man drama entitled Satchmo At The Waldorf. Teachout's biography of the famous jazz artist (Pops: A Life of Louis Armstrong) was published in 2009. Following its world premiere at the Orlando Shakespeare Theater on September 15, 2011, the script underwent significant revisions. A revised version (which premiered at Shakespeare & Company in August of 2012 with John Douglas Thompson as Armstrong) added Miles Davis as a character in Teachout's monologue.
In 2012, that production was also seen at the Long Wharf Theatre in New Haven and the Wilma Theatre in Philadelphia. Directed by Gordon Edelstein on a unit set designed by Lee Savage (with sound design by John Gromada), it provides an intimate portrait of a broken artist near the end of his life who, having survived a childhood rooted in poverty, a career challenged by racial discrimination, threats from gangsters, and four marriages, is humbled by fecal incontinence and the need for supplementary oxygen.
Born to a whore in New Orleans on August 4, 1901 and abandoned by his father at an early age, Armstrong spent part of his childhood working for a Jewish family (the Karnofskys), who treated him as one of their own. After being arrested at nine years of age and sent to the New Orleans Home for Colored Waifs, he learned how to play by ear at the age of 11. Armstrong eventually became the leader of the facility's band.
One of the first jazz players to perform extended trumpet solos and scat singing during his gigs, Armstrong (who was a grandson of slaves) was also the first jazz musician to write his own autobiography. In February of 1949 he became the first jazz musician to appear on the cover of Time Magazine.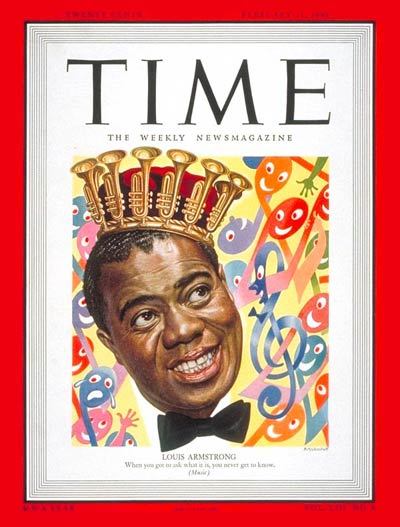 The cover of Time Magazine from February 21, 1949
While most Millennials may only know Louis Armstrong from his appearance opposite Barbra Streisand in the 1969 film adaptation of Hello, Dolly! (or from comedians who used to impersonate him during their stand-up comedy acts), Teachout's play focuses on how Armstrong survived in show business by letting Joe Glaser (one of Al Capone's colleagues) be his manager. While most of the play takes place as Armstrong unwinds in his dressing room at the Waldorf Astoria Hotel, there are a series of rapid character changes in which the actor onstage takes on the personas of Glaser and jazz musician Miles Davis.
Satchmo at the Waldorf primarily concentrates on the relationship between Armstrong and Glaser (the Jewish agent who was eventually forced to betray his biggest client). Throughout the performance the audience is reminded of Armstrong's generosity to other musicians, his desire to just be able to go out and play his horn, and his appreciation for the fact that his fourth wife (Lucille) always understood that his horn came first.
In the following fascinating episode of Theatre Talk, playwright Terry Teachout and actor John Douglas Thompson discuss Armstrong's life, his legacy, and the challenges of bringing Satchmo at the Waldorf to the stage.
Like Irving Berlin, Armstrong's path in life took him from poverty to international fame. Although neither man had received formal training as a musician, they shared a common goal: to give audiences what they wanted. Both men benefitted from having strong managers who guided them in their careers; both watched helplessly as their careers were sidelined by the rise of rock 'n' roll.
Still, I couldn't help feeling that Teachout's script suffered from some labored moments of exposition and could probably benefit from some careful trimming. There is no doubt, however, that as long as Thompson wishes to continue portraying Louis Armstrong, he's got a winning stage vehicle at his disposal for the remainder of his career.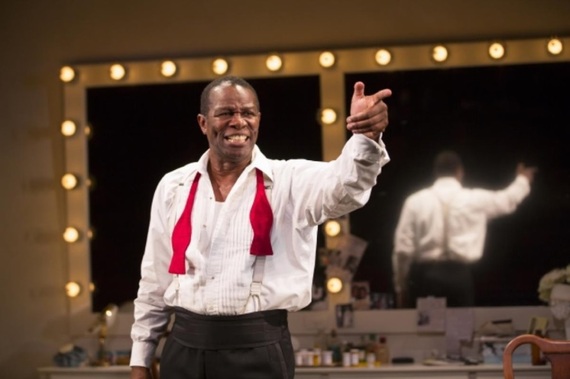 John Douglas Thompson in Satchmo At The Waldorf
(Photo by: T. Charles Erickson)
Calling all HuffPost superfans!
Sign up for membership to become a founding member and help shape HuffPost's next chapter