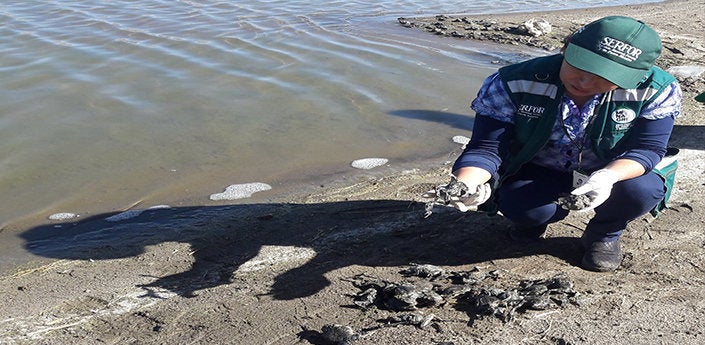 Peruvian authorities are investigating the deaths of over 10,000 critically endangered frogs in Lake Titicaca.
The cause of the Titicaca water frog massacre remains a mystery, though local activists have said water pollution and government negligence are to blame.
The creature, also known as the Titicaca scrotum frog because of the folds in its skin, is endemic to the large freshwater lake that spans from Peru to Bolivia.
Once common in the area, the frog has been driven to near-extinction in recent decades by habitat degradation and harvesting for human consumption. Since 1990, the frogs' population has declined more than 80 percent, the International Union for Conservation of Nature said.
In recent years, the frog has faced a new threat. Polluted waters are killing the amphibious animal by the thousands, activists say.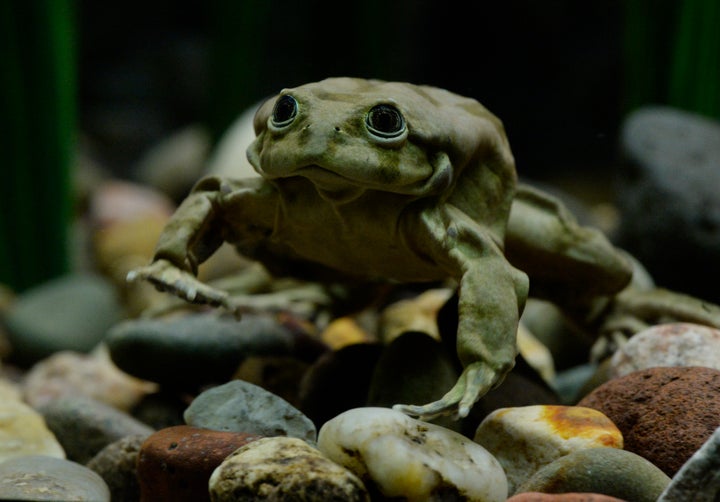 The agency said it was investigating the mystery deaths. It's specifically looking into claims of pollution. "Solid waste and sludge" have been found around the lake, authorities said.
Poor sewage treatment and management around the Lake Titicaca area has caused severe pollution in the region's waterways, according to activists. The Committee Against the Pollution of the Coata River held a protest in the regional capital of Puno this month to draw attention to what they've described as an environmental crisis.
"I've had to bring them the dead frogs. The authorities don't realize how we're living. They have no idea how major the pollution is," said protest leader Maruja Inquilla, according to the AFP. "The situation is maddening." 
"Why is the state so apathetic? We need a sewage treatment plant now," Inquilla continued. She is pictured holding a dead frog in the image below. 
This isn't the first time in recent memory that the Titicaca water frog has died off in such large numbers. Last June, The Associated Press reported that "hundreds of dead and dying" frogs had been found floating in the lake.
At the time, untreated sewage and pollution from factories were pinpointed as the possible cause of death.
In January, Bolivia and Peru signed a $500 million deal to clean up Lake Titicaca by the year 2025. However, whether the water frog survives to see these plans come to fruition is yet to be seen.
Calling all HuffPost superfans!
Sign up for membership to become a founding member and help shape HuffPost's next chapter
BEFORE YOU GO
PHOTO GALLERY
Top 10 Cities With The Worst Air Pollution 2016