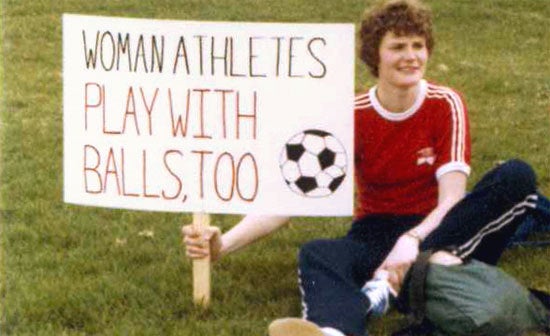 Friday marked the 45th anniversary of Title IX, a federal law stating "No person in the United States shall, on the basis of sex, be excluded from participation in, be denied the benefits of, or be subjected to discrimination under any educational program or activity receiving Federal financial assistance."
Coinciding with Olympic Day, a global celebration of the birth of the modern Olympic Games and sport, the application of Title IX to athletics has gained significant public visibility and consistently inspires dialogue and action for change.
As the milestone for Title IX garnered much deserved attention, a few reports on the state of diversity and inclusion in various sectors of sport were released commemorating the occasion.
"The NCAA's office of inclusion welcomed the directive from the membership committees that focus specifically on diversity, equity and inclusion to provide this report to our colleges and universities on Title IX's 45th anniversary," Wilson said in a released statement announcing the report last week.
One of the key findings in the NCAA report is the low representation of minority women in NCAA leadership positions has remained mostly stagnant over the past five years. In that time span, the percentage of minority female head coaches of women's teams has remained at just under 14 percent.
Just 2.5 percent of NCAA athletics directors are minority women.
"While the NCAA does not enforce Title IX, it does provide educational resources and programming to support schools' efforts to comply with the law," said Wilson, "We hope the report helps our membership with future planning when it comes to making key administrative, operative and programming decisions."
In spite of significant progress made over the decades since the birth of Title IX, Bernard Franklin, NCAA executive vice president of education and community engagement, agrees there is much more to be desired and work to be done, specifically in collegiate athletics.
Encouraged by seeing some "progress" with respect to the federal law, Franklin said "the data also shows that there is still much to be done to increase equity and diversity, and to create a more balanced scenario in intercollegiate athletics for our student-athletes and administrators."
"The report provides our membership and others who have influence with an up-to-date summary on where we can place our resources and support," said Franklin, who also serves as the NCAA's chief inclusion officer.
"I encourage all college presidents, athletics directors and conference commissioners to read this report and determine where their actions and voice can be best utilized in the support and progression for female administrators and our student-athletes both now and in the future," Franklin said.
In an espnW column, Dr. Richard Lapchick, chair of the DeVos Sport Business Management Graduate Program at the University of Central Florida, made a "call to action to advance the issue of equality in hiring practices in college sports."
Declaring he "wanted to help write this report because I recognize that our conference commissioners are powerful influencers on college sports," Lapchick offered suggestions for action.
"Seeing these terrible results will, I hope, move the commissioners of these eight and the other Division I conferences to take action," Lapchick wrote.
"This is the latest and the most thorough report on this matter of racial and gender inclusion," said Reverend Jesse Jackson, Sr., president of the Rainbow PUSH Coalition. "We must accept Richard's recommendations for healing."
Serving as a comprehensive resource for issues related to gender and race in amateur, collegiate and professional sports, Lapchick directs UCF's TIDES and is president of the National Consortium for Academics and Sport (NCAS).
"When we consider that the percentage of coaches of color in women's sport remains below 20 percent, with women of color probably representing only a fraction of that percentage, we must wonder about the impact on our female student athletes of color," said Delise O'Meally, executive director of NCAS.
An Ernst & Young and espnW survey released last year found that among businesswomen occupying C-suite level positions, a notable 94% played sports with 52% having played sports on the collegiate level. While Title IX tends to permeate every suburban girl's life, girls and young women in less-privileged areas of urban and rural America have been missed.
"Something needs to be done," said Ralf Heuser, a former vice president of the Field Hockey Federation and former director of the US Field Hockey Foundation. A passionate advocate for all things field hockey, Heuser is a tireless promoter of growing the Olympic sport that is played primarily by females in America.
"Only women play NCAA college field hockey with 88.7% of those student-athletes being white," said Heuser who wants to change the startling statistic immediately, noting there is not a comprehensive resource center that details gender and race issues in field hockey.
Acknowledging under-supported programs and the plight of people of color that bring diversity to the sport — specifically naming Imani Ferguson and Dana Farrior in New Jersey; former Trinity College standout, Christine Mwaturura; Jazmine Smith and Eyekonz Field Hockey and Lacrosse in Philadelphia; Mimi Smith of Reach Field Hockey; former Temple University standout, Crys Baldwin; and former University of Maryland player, Courtney Deena — Heuser believes there are systemic challenges that have stifled the growth of the sport that need to be changed.
"In the recently release USOC Quadrennial Congressional Report 2013-2016, USA Field Hockey did not report anything on either of the new initiatives, the results of previous efforts or progress in general," said Heuser, who has introduced field hockey through after-school programming at local elementary schools in Ventura County, California.
Referring to a Huffington Post article published last year on USA Field Hockey, Heuser said the governing body stated it was "preparing to introduce the sport to 20,000 under-served and low income children."
To date "no outcome of this effort was ever reported," Heuser said.
From physical education programs in schools to community-based and competitive youth sports teams to world-class elite athletes, Title IX has impacted millions of girls and women. The personal accounts and reports offer insight to the state of the law and the landmark legislation's present-day challenges.
"We must remember the key to growth is understanding that inclusion is value added -- not the cost of doing business," said Reverend Jackson.