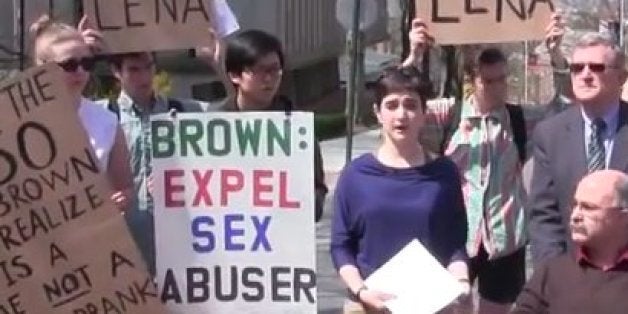 A federal complaint filed Thursday against Brown University accuses the Ivy League school of violating the law by failing to expel a student the institution found had raped a fellow undergraduate.
Brown student Lena Sclove, who was raped and choked by a male acquaintance in August 2013, said she filed complaints accusing Brown of violating the Title IX gender equity law, and the Clery Act campus security law. The complaints will be reviewed by the U.S. Education Department, which may investigate and impose sanctions.
A university disciplinary hearing in October found Sclove's assailant guilty of four code of conduct charges, including sexual violence involving physical force and injury, according to documents provided to The Huffington Post. A disciplinary panel recommended a two-year suspension, which would have allowed Sclove to finish her studies without the assailant's presence on campus. J. Allen Ward, Brown's senior associate dean of student life, reduced the suspension to one year. But because the suspension counts the semester he was punished, the assailant will be allowed back on campus as early as August.
"Even after finding the respondent responsible for violent sexual misconduct charges, Brown failed to impose a real sanction or to take appropriate measures to ensure Lena's safety and those of others on campus," said a statement from Carol Robles-Román, president and CEO of the nonprofit law firm Legal Momentum, which helped Sclove file the complaints. "By imposing a mere one-year suspension, the university minimized the respondent's violent conduct and the serious injuries that he inflicted on Lena."
Sclove's complaints accuse Brown of violating Title IX by allowing the assailant to return to campus and not adequately training adjudicators. The complaints say Brown violated the Clery Act when school officials directed Sclove to "a health facility that was unequipped to preserve evidence of strangulation or assault, and failed to make clear that she could file both a student misconduct complaint and a criminal complaint."
The complaint says Sclove was "left with the understanding that she could pursue a Brown student misconduct complaint or file a criminal complaint, but not both." After learning she could file a criminal complaint with city police, Sclove did so in March.
"I was told the disciplinary process would be more humane," Sclove told HuffPost. "I believed them and then my parents and I put our faith in this process. I found out Brown believes that raping a person on campus does not merit the highest penalty."
Sclove took time off from school after discovering in December she had a spinal injury from the assault and was diagnosed with post-traumatic stress disorder. She appealed the university's ruling in the case of her assailant, but another dean upheld the punishment because it was "reasonably consistent with precedent in similar cases."
The university said the assailant has chosen not to return to Brown. Sclove declared she will not return until the school overhauls its policies.
Following publicity of Sclove's case, a group of Brown alumni launched a Gift for a Sexual Assault-Free Campus program to raise funds to support peer education and sensitivity training for university staff. Brown President Christina Paxson personally pledged $2,500 to the fund.
"We have not been notified of a complaint, but recognize the seriousness of our obligations under the Clery Act and Title IX," Brown spokeswoman Marisa Quinn told HuffPost. "As was noted in President Paxson's May 2 letter, our goal is to move Brown to a position of national leadership for prevention, advocacy, and response to issues of sexual assault. As was also noted in that letter, we are proceeding with several important new initiatives and more are forthcoming."
The university plans a task force on sexual assault in the fall, composed of faculty, administrators, undergraduate, graduate and medical students. A similar task force at Harvard University has only one undergraduate, one law student and one medical student.
This article has been updated to include Sclove's comment.
Like Us On Facebook |
Follow Us On Twitter |
Contact The Author
Related
Popular in the Community