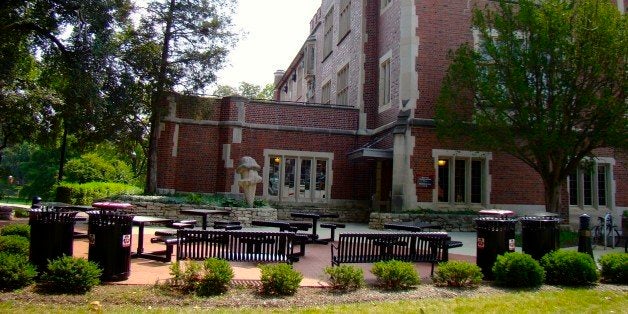 The U.S. Department of Education's Office for Civil Rights announced Thursday it was ending a four-year review of Ohio State University's handling of sexual violence and harassment on campus without reaching a conclusion.
The department in 2010 began investigating whether the university violated the Title IX gender equity law, but won't finish the probe because Ohio State asked for a voluntary agreement that addresses gender bias shortcomings.
The Education Department said Ohio State's "written policies and procedures for responding to complaints, reports and other incidents of sexual violence and harassment do not comply with the law's requirements." But administrators at the school, one of the largest public universities in the U.S., said government investigators for four years have had every student conduct file and every harassment complaint and and failed to find a major concern.
"They've looked at our track record and decided we handled it appropriately and if they thought they had something, they would of told us," an administrator who asked not to be named told The Huffington Post Thursday.
Federal officials did not issue an opinion on the university investigation, which had numerous possible flaws.
"This agreement and The Ohio State University's recent response to the culture within the marching band, set clear and vitally important expectations for a community-wide culture of prevention, support, and safety," Catherine Lhamon, assistant secretary for civil rights, said in a statement. "I applaud Ohio State for taking strong leadership now to eradicate a culture of silence related to sexual harassment. I look forward to working with Ohio State as it implements the resolution agreement."
Ohio State has maintained that the federal probe was unrelated to the marching band investigation that led to the firing of band director Jonathan Waters. As former students came forward to dispute findings of the school's marching band investigation, university officials maintained Waters was untruthful with administrators regarding alleged hazing of band members.
The Education Department found Title IX issues beyond the marching band that included failing to disclose reasonable timeframes for the grievance process, an "inappropriate definition" of sexual harassment, and improperly suggesting in some cases that students resolve problems with an alleged harasser prior to filing a complaint with the school.
The Education Department complimented Ohio State for improving these faults with a new "one-stop shop" website for Title IX issues.
During the federal investigation, Ohio State created a compliance office and appointed deputy Title IX coordinators and a sexual violence consultation team. The university will begin online training for students on bystander intervention, improve documentation on sexual violence investigations, and review all sexual harassment and violence complaints since the 2011-12 year. The school said it sent its first progress report to the Education Department ahead of schedule.
The conclusion of the Ohio State probe leaves 78 colleges and universities still under investigation by the Education Department's Office of Civil Rights for their handling of sexual violence. The latest schools to come under scrutiny include the University of South Florida, Boston University, Brandeis University and Davis & Elkins College.
Related
Popular in the Community