I recently went to see a new musical on Broadway called "[title of show]." It was seriously funny. It was also very real-ish. The show stars co-creators Hunter Bell and Jeff Bowen, along with their talented friends Susan Blackwell and Heidi Blickenstaff and music director/accompanist, Larry Pressgrove. They star as Hunter, Jeff, Susan, Heidi, and Larry, respectively. The musical is essentially about two guys, Hunter and Jeff, who are writing a musical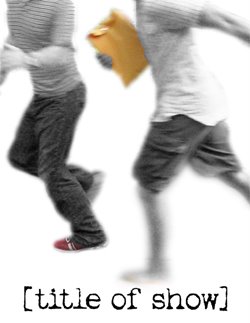 to enter into a musical theater festival. Very Seinfeldian, but with more song and dance. As I tend to do with most everything I enjoy, I went home and researched "[title of show]." I learned very quickly that "[tos]" is not just for theater geeks, it's also the show for anyone who grew up with a computer. The cast/creators blog on titleofshow.com, they Twitter, they have personal Facebook pages--and you can be friends with any one of them --group pages and a fan page. Their most ardent fans have also started a website devoted to all things [tos]. There has yet to be another show on Broadway that harnesses the powers of the Internet quite like "[title of show]." I was so impressed with their accessibility, I sent co-creator Jeff Bowen a Facebook message that night asking if I could write about "[tos]" and their online presence for the Huffington Post. Within an hour (at 1 AM) I received a reply -- talk about eliminating the fourth wall. I also learned that before the musical made it to Broadway, they created a YouTube series called The [title of show] Show, which chronicled their quest to get their musical to Broadway. Confused yet? Let me flash you back to the beginning:
Hunter and Jeff started with a deadline to enter a musical theater festival, then came up with an idea and wrote "[title of show]" in three weeks. They made it into the festival where they performed the show about themselves writing a show to get into said festival. Shortly after, the musical was offered an off-Broadway run at the Vineyard Theater in Manhattan, where a new ending (and thus, a new goal) was added: get the show to Broadway. After the Vineyard run and the release of their cast album, things grew quiet. "We didn't have anything immediately on the horizon for Broadway," admits Hunter. But they didn't give up. Instead, they turned to the Internet, and YouTube, to help them achieve their goal. "This is really embarrassing to admit," says Bell, "but we watched the DVD of The Secret and it said to put what you want out in the world and it will come to you." So Hunter, Jeff, Susan, and Heidi created The [title of show] Show. Their first episode began with the announcement that [tos] was headed to Broadway. "We don't know how, we don't know when or where. I guess those are three things we have to work on." And work they did, airing nine webisodes, including a Christmas show, featuring Broadway celebrities like Cheyenne Jackson (Xanadu), Jonathan Groff (Spring Awakening), and John Tartaglia (Avenue Q) among others.
By April 2008, they were Broadway-bound having found financing, locked in a theater (the Lyceum) an opening date (July 17, 2008) and a worldwide fan following thanks, in part, to their new media presence. Before hitting the boards, the show was revised to include a scene about their successful YouTube series. And upon their Broadway opening, all four cast members and understudies started Twittering, updating on everything from celebrity green room visits, press features and events, to their day off highlights and even made up drag queen names. Quite a first for any show. "I didn't see Patrick Stewart Twittering when he was starring in Macbeth," adds Jeff.
Though the route to Broadway via the Internet wasn't traditional, it felt natural to Bowen, who once owned his own Internet marketing firm. "We think of what we do online as our DVD extras," says Jeff. "People love to hear about the inner workings of things, see how we get from point A to point B and it's fun to give them that. And I love it because it breaks down barriers and creates communication. There is no 'us and them.' They're seeing the show, going home and having access to the real people beyond the stage. It's a way for people to connect online and in real time." Their inspiration also came from hearing how comedian Dane Cook started out. "I was reading an article where Dane Cook was talking about he built up his loyal fan base," remembers Hunter, "He answered every email, voice mail message, and MySpace comment, and now he's playing to sold-out crowds in stadiums! The thing is the Internet is there, it's global and it's low cost. There's nothing else like it. It's a pretty crazy and powerful tool."
With all of their accessibility, Hunter, Jeff, Susan, and Heidi manage to strike a balance between their public and stage personas and their private lives. "It scared us initially, admits Bell. "But we realized people like the pop culture aspect of our show and of us, so that's what we blog about and it's been fun to get responses and see people around the world embracing our stuff, even if they can't make it to New York to see the show."
And what's up next for the [tos] cast? Besides their eight shows a week, they're committed to a second season of The [title of show] Show on YouTube. "Season two will be about staying on Broadway. We're sort of like Kathy Griffin," says Hunter, "she has a VIP pass backstage and great stories, so we hope to do something like that." Jeff's long-term goal is to stay in touch with the [tos] fan base: "This property will always be around. Once you write a musical it doesn't go away, and there are new generations discovering it. As long as people want to ask me a question about it, I'll be there to answer."
Check out the Pilot episode for The [title of show] Show below, go online to get the extras and most importantly, check out the show, in fake, real-time (or is it real, fake-time?) on Broadway.
Popular in the Community