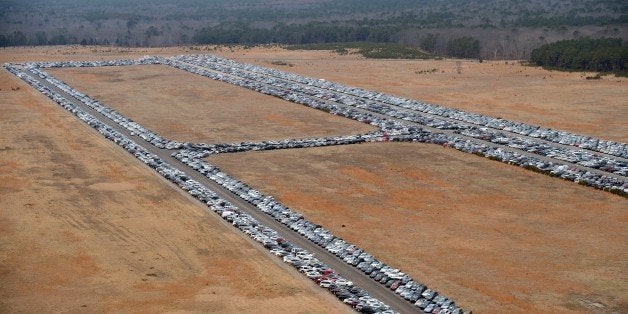 Just because a used car is cheap and seems OK during a test drive doesn't mean it's safe to buy.
Criminals have devised ways to artfully conceal structural damage on used cars, allowing vehicles to be sold for a profit even though they may have been shoddily rebuilt after an accident or submerged in ocean water during a hurricane.
When insurance companies write off a vehicle as a "total loss" after an accident or other event like a flood or hail storm, the law in most states requires the vehicle's title of ownership to be given a "brand." That brand permanently marks the car as damaged goods to all potential future owners, but there are ways for it to be washed away. In the old days, it was done with chemicals. Now, photo editing software and digital scanners are used to print new titles. Or, cars can simply be re-registered in different states until the brand falls away.
Because there is no national titling law, incongruous state laws create opportunities for scammers to "title wash" wrecked cars, making them appear undamaged. Not only are consumers being ripped off, but they're also putting themselves and others in danger when they unknowingly drive a salvaged car on U.S. highways.
The scam appears to happen on a large scale: According to the vehicle history provider CarFax, 800,000 cars in the U.S. -- including at least 500 taxis -- have been "title washed" to conceal their troubled histories.
Joanna Zumhagen, a young professional living near Washington, D.C., knows the risks of buying a title washed car better than most. In 2011, Zumhagen bought a used Dodge Neon with 75,000 miles on it from a dealership in Rockville, Maryland. Zumhagen says she test drove the car and allowed the dealer to have it inspected for her. When it seemed to be OK, she bought it for $3,500 cash -- the Blue Book value for the car.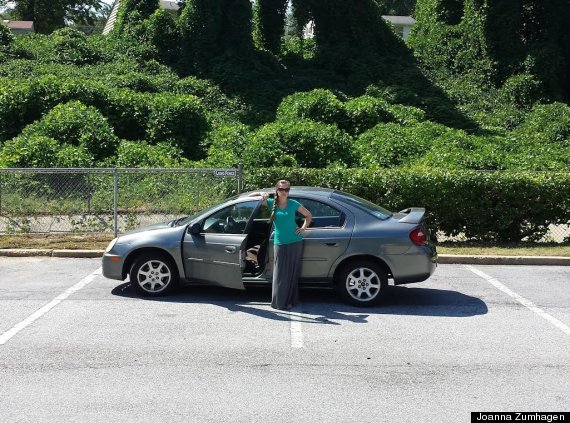 Joanna Zumhagen, 23, with her used Dodge Neon, which was illegally repaired and resold after being totaled.
Within a few months, the problems started. Zumhagen, who is 23 and works as a marketing manager for a nonprofit, was driving on the interstate when she heard a whirring noise. A few minutes later, she said, her car's timing belt snapped, causing the power steering to fail.
Zumhagen stopped in the middle of an off-ramp and had the sedan towed to a shop, where a mechanic opened the hood to find that the engine was literally falling apart. In some places, Zumhagen said, it had been held together with plastic zip ties.
"And as you might imagine, some of them had melted, so part of the engine was actually wobbly loose on one side as a result," she said.
It wasn't until Zumhagen obtained a vehicle history report for her car that she found out the truth about its past: It had been totaled in 2009 in Maryland, issued a "salvage" brand and auctioned off by the insurance company. A car branded as a "salvage" vehicle means it's been wrecked to the point where an insurance company decides it doesn't make sense to pay to repair it. In most states, these vehicles can be legally repaired and resold, but sellers must always disclose that it's a salvage car.
According to the vehicle history report for Zumhagen's car, which was obtained by HuffPost, it was brought to Virginia, where it was issued a clean title. Two years later, it was sold to Zumhagen.
Virginia Department of Motor Vehicles spokeswoman Pam Goheen said the agency made an "oversight" in giving the car a title without a brand. Zumhagen bought the vehicle from SK Certified Auto Sales in Rockville, and she said no mention was made of its problematic past. SK Certified Sales declined to comment for this article. It is a crime to knowingly sell a vehicle that's been title washed.
"Basically, the engine had been jimmy-rigged back to working condition to make the car seem like it was OK," Zumhagen said. It's not clear why the mechanic who performed the inspection for the dealer didn't note the problems with the car, she said.
What happened to Zumhagen isn't all that uncommon. According to a report from Experian AutoCheck, which (like CarFax) sells vehicle history reports to consumers, 425,000 of the vehicles damaged in the first half of 2012 were later retitled as clean in another state.
Of course, for-profit businesses like Experian and CarFax have an incentive to scare people into thinking that many used cars have sordid histories concealed by new titles. Because if that's true, more people will pay $40 for a vehicle history report.
"Some companies may claim that there is 'X' number of [title-washed cars] on the road, but there really is no way to know," said Frank Scafidi, a spokesman for the National Insurance Crime Bureau, which works with insurers and police agencies to find and prosecute insurance crime. "The potential could be that high, but ... let's just say I'm a skeptic."
Still, scrutiny by the media and lawmakers over the years confirms that title laundering is a real issue. A local news outlet in Mississippi -- where state standards for car titling are relatively lax -- found 17,000 cars that had been title washed in just two years between 2004 and 2006. After Hurricane Sandy, ABC News tracked down vehicles flooded during the storm that were being sold at dealerships across the country. Federal legislation was proposed after Hurricane Katrina to help consumers identify used cars that had previously been wrecked or flooded, but the bill never passed.
Part of the reason title washing a problem is that there is no federal car titling law. It comes down to a patchwork of inconsistent state laws, and one state's definition of "salvage" may not align perfectly with another's.
What's more, some states still don't even issue "flood" brands for car titles, said Tony Bartolome, a lieutenant with the Florida Highway Patrol's Bureau of Criminal Investigations and Intelligence. This allows people to bring a car that was flooded during a Florida hurricane to a landlocked state like Missouri, where it can be issued a clean title and sold as if it was never underwater.
"It's a loophole," said Bartolome, who among other things specializes in title washing and consumer protection.
Just last week, the owner of a New Jersey car dealership pleaded guilty to selling some of the 230,000 vehicles damaged during Hurricane Sandy. The cars had been listed as "for parts only" on their titles, meaning they cannot legally be sold as functioning vehicles. The Asbury Park Press reported that the dealership owner, Jonathan Olin of Manalapan, bought the cars at auction and obtained doctored titles from a former New Jersey Motor Vehicle Commission employee.
New Jersey topped CarFax's list of states with the most vehicles (nearly 80,000) with titles that have had their brands removed. CarFax spokesman Larry Gamache said the company knows specific numbers for each state because state DMVs, insurance companies, police departments and repair shops report branded titles to the company. CarFax then uses this information to compile an extensive vehicle history database, and it can cross-check a car's current title against brands it has been issued in the past.
North Carolina came in second place on CarFax's list, with about 74,266 title washed cars. Mississippi was third, with 57,213.
A federal database of car titles exists: It's called the National Motor Vehicle Title Information System, and was created by the Department of Justice in 2009 to protect consumers from title washing. But the data in the federal system is incomplete. Some states don't supply information on totaled cars to the database, and others don't make inquiries to the system before providing clean titles to people.
The lack of a national, comprehensive titling system creates issues for consumers like Eric Foertsch, a 48-year-old father of three living in Connecticut. Foertsch bought a used car earlier this year from a dealer he'd met on Craigslist. The dealer, Motown Auto Sales in Detroit, Michigan, didn't tell Foertsch that the car had been totaled in 2011 in California and branded as a "salvage" vehicle.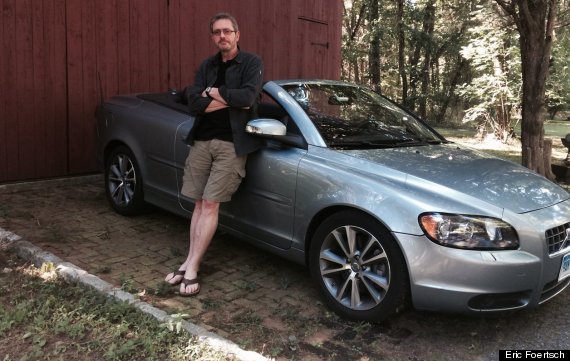 Eric Foertsch, 48, at home in Connecticut.
The car had a clean title simply because Motown Auto Sales applied for one at the state DMV. The agency issued the new title for the car as a result of "human error," according to Michigan DMV spokesman Fred Woodhams. Ahmad Youssef Saad, the dealer with Motown Auto Sales who sold Foertsch the car, confirmed that the Michigan DMV had sent him the wrong title, and said he did not know that the car was previously totaled.
"This error occurred prior to Michigan's participation in the National Motor Vehicle Title Information System. Under the new process, the error would have been prevented," Woodhams said. There are seven states that don't fully participate in the National Motor Vehicle Title Information System and another seven that provide data on branded titles but don't make inquiries, according to the program's website.
Salvaged cars with altered titles can be dangerous to drive. "In a vehicle that's been flooded or rebuilt [after a crash], the airbags may not work," said Gamache. "The crumple zones may not perform correctly. It puts you and other people at risk."

Just test-driving a car before buying it is not enough. Consumers should also hire a qualified mechanic to inspect the car before making a purchase, and should obtain a vehicle history report from CarFax, Gamache said.
Additionally, consumers can check for signs of flooding by seeing if there is any grime or rust behind the gas and brake pedals, or if the carpeting is new or has been shampooed.
"Too often we fall in love with a car and we forget to do our homework," Gamache said. "There are plenty of warning signs that a car may not be what it seems, if you're willing to pay attention to them."
If you've bought a used car and later found out it had been totaled or flooded in the past, we want to hear from you. Email hunter@huffingtonpost.com.
Related
Popular in the Community