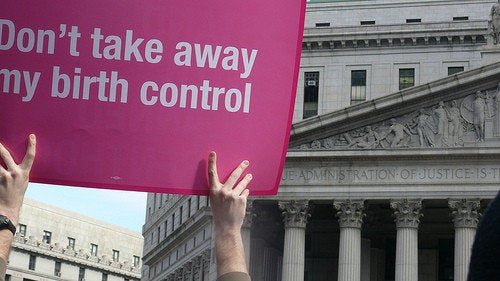 Title X, the only federal grant program dedicated solely to family planning and reproductive health services for low-income and uninsured patients, has nothing to do with abortion.
But House Republicans have said limiting abortions is the primary reason for their proposal to cut more than $300 million from Title X for the rest of fiscal 2011, even though abortion is explicitly excluded from the program's coverage.
Ironically, cutting Title X funding might actually increase the incidence of abortions. Family planning services at Title X-funded clinics helped prevent 973,00 unintended pregnancies in 2008, which would have caused more that 400,000 unintended births and more than 400,000 abortions, according to a report by the Guttmacher Institute released that year.
The Title X family planning program was enacted by President Nixon in 1970 to fund a range of preventive health care services free of charge to patients at or below the poverty level. For low- to moderate-income patients, there is a sliding fee scale for access to Title X services, which include breast and pelvic exams, Pap smears and other cancer screenings, HIV testing, pregnancy testing and counseling, and affordable birth control.
Title X funds can be allocated to any clinic that provides family planning services to poor and low-income patients, and the U.S. Department of Health and Human Services reports that there is at least one Title X funded clinic in around three quarters of all U.S. counties.
"Title X is a longstanding, highly successful program," said Helen Burstin, a volunteer physician at La Clinica del Pueblo, a Title X-funded community health center in Washington, D.C. "It does not cover abortions. I find it extraordinary that they're commingling this with abortion in such a bizarre way."
Republicans are targeting Title X because roughly a quarter of its funds are allocated to Planned Parenthood, which provides abortions in addition to its preventative care services. Although Planned Parenthood has long been banned from using federal money for abortions, conservatives argue that the money it receives from Title X frees up other money that can indirectly be used for abortions.
Rep. Mike Pence (R-Ind.), who introduced the amendment that would defund Planned Parenthood, told Politico in February that he thinks the government might be able to stop the organization from performing abortions by stripping away its federal funds.
"We should end the day when the largest abortion provider is the largest recipient of [Title X] federal funding," he said. "What's clear to me, if you follow the money, you can actually take the funding supports out of abortion. We then have a much better opportunity to move forward to be a society that says yes to life."
But what's actually at stake with the loss of Title X, according a report by the National Family and Reproductive Health Association, is a highly effective program that serves over 5 million men, women and children a year and has prevented 20 million unintended pregnancies and nine million abortions over the past two decades. The report also finds that every dollar invested in Title X saves almost $4 in Medicaid costs for pregnancy-related and newborn care alone.
"Title X is a core component of the U.S. public health care system and an important source of primary health care for millions of men and women," says the report. "Especially in this time of tight state and federal budgets, further investments made to strengthen the Title X system will pay hefty dividends."

Popular in the Community