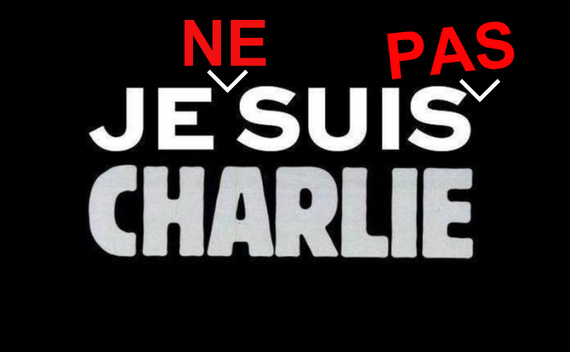 Did you mean it when you turned out on the streets of Paris last year to support Charlie Hebdo? If you did, then you should also be publicly objecting to the threatened criminal prosecution of another French journalist, photographer Maya Vidon-White, for doing her job while covering terrorism in France.
Vidon-White--who has over the years risked her life to cover the Israel-Palestinian conflict, famine in Somalia, and riots in Indonesia--faces a hefty fine in a Paris court for the act of photographing a victim of the November 13 terrorist attacks while she was working for USA Today and United Press International.
While the photo she took was later published by VSD, a French weekly magazine with which she has no connection, Ms. Vidon-White did not publish the photo, did not give permission to VSD to publish it (the image passed through the hands of an intermediary photo agency), and did not profit from its use.
(Disclosure: I first learned of this case when Ms. Vidon-White--my classmate in journalism school 26 years ago but with whom I now have no professional connection--told her former classmates of her prosecution.)
The flimsy legal case
The legal basis for prosecuting Ms. Vidon-White is questionable. The applicable statute, commonly known as the Guigou Law, says:
"The circulation by any means whatsoever and whatever the medium, the reproduction of the circumstances of a crime or offense, where such reproduction seriously undermines the dignity of a victim and it is carried out without the agreement of the latter, is punishable by 15 000 euros [Note: roughly $17,000] fine." [As translated into English by Google]
Yet even Elisabeth Guigou--the former Justice Minister for whom the law was named--has made it clear that this law does not apply to a case like this. According to a report by Time Magazine, Guigou justified the Pulitzer Prize winning Vietnam War image of 9-year-old Kim Phuc running naked down a road, screaming in pain from napalm burns, as, according to Time, a "historical document, overriding concerns about intrusions of privacy or compromised dignity." Surely photos of the November 13 terrorist attacks' victims are equally historical.
The Guigou Law has come under fire by French media, which opposed its passage in 2000 as an act of censorship. As the New York Times reported then:
"The weekly magazine Paris Match said today that it would ignore the legislation and battle it in the European Court of Human Rights if challenged by the authorities. 'France will become the only country in the European Union where publication of certain news photographs will be forbidden under threat of heavy fines,' it said in an editorial."
"'This is a very bad thing, photographs of many important events will lose all their force,' said Laurent Abadjian, photo editor at daily newspaper Liberation."... "Le Figaro described the law as 'dangerous' as it would make the media 'describe a society without conflict, without tension and without life'."
And then there are the terms of the Guigou Law, which say that only a photographed victim can bring charges. Ms. Vidon-White's attorney, Vincent Tolédano, argues that the charges against her should be dropped because the gravely-wounded victim who was photographed died before the photo was published. The prosecutor argues that the victim's heirs have the right to sue.
The public's right to know
Experts I contacted cite this case as evidence of declining press freedom in France. And worry that criminal prosecutions like this threaten journalists--and the public's right to know--everywhere.
"A prosecution of this kind would undeniably have a deleterious effect on photojournalism more generally. Photographers, like Maya, who are reporting under incredibly difficult conditions, and in circumstances where they may still be at risk, could potentially find themselves subject to a criminal complaint for their valuable reporting. Obviously the rights of the victims of these tragedies need to be taken into account, but the dignity of victims can still be respected without convicting photojournalists."

Sarah N. Repucci, Director, Freedom in the World and Freedom of the Press at the democracy watchdog, Freedom House, wrote me:
"Freedom House has recorded a decline in media freedom in France over the past four years in particular...Despite the outpouring of support for free expression in January 2015, media freedoms have since been repeatedly subjugated to security concerns that, while genuine, have been generalized to the point of squeezing journalists' ability to cover the news freely. This downward trend calls into question the government's fundamental commitment to freedom of the press."
"I believe the French law and the courts are misguided in their attempt to curtail press freedoms in favor of a right to privacy in a public place. It is often these very powerful images (such as in the aftermath of the Boston Marathon bombing) that help inform and illustrate the real terror and atrocity of the attacks. Those who seek to sanitize such tragedies by banning the publication of truthful images chill free speech and erode our liberties in a way that is far more pernicious than the events themselves."
In closing...
Chers amis,
As an American who has visited France numerous times and loves your country, I urge you to stand up and be heard. Not only for cartoonists who are murdered for confronting terrorists with their pens. But also for those who risk their lives to report the horror that those terrorists inflict on your country.
Associated Reporters Abroad, a Berlin-based news organization, has expressed outrage over the prosecution of Ms. Vidon-White.
On May 20 the court in Paris will hear, and hopefully drop, the case against Maya Vidon-White. Please make your voice heard so that reason and fairness will prevail in this case. You can reach the public prosecutor of Paris, Francois Molins, at:+33144329449.