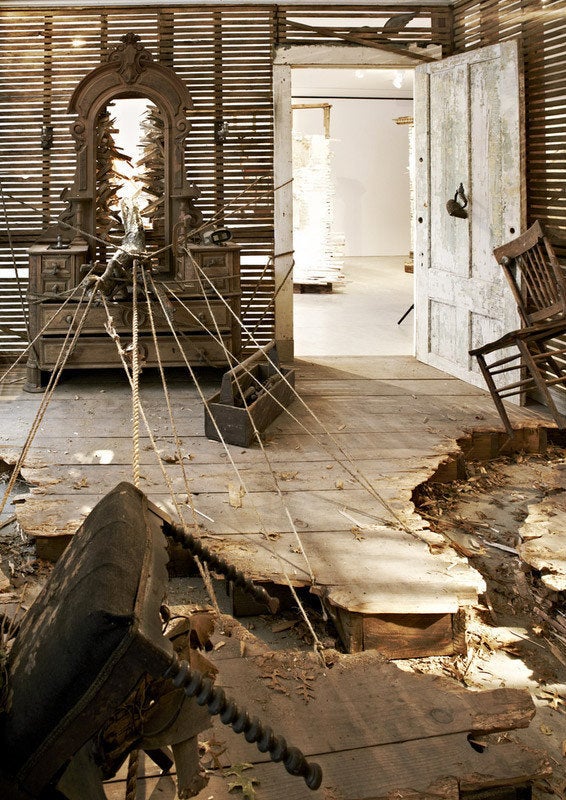 After years of crafting a narrative of living memories that were not his own, Kaphar discovered an abandoned 19th century house that was saturated with the presence of his characters. For his exhibition at Friedman Benda, Kaphar brings the fragmented house inside the gallery space, building a lying time capsule filled with old photographs, uprooted floorboards and inexplicable presences.
We spoke to Kaphar to learn more about his incredibly ambitious undertaking. To learn about the specifics of the tale, watch video footage of the house and read documentation from the Vesper family, visit The Vesper Project's website.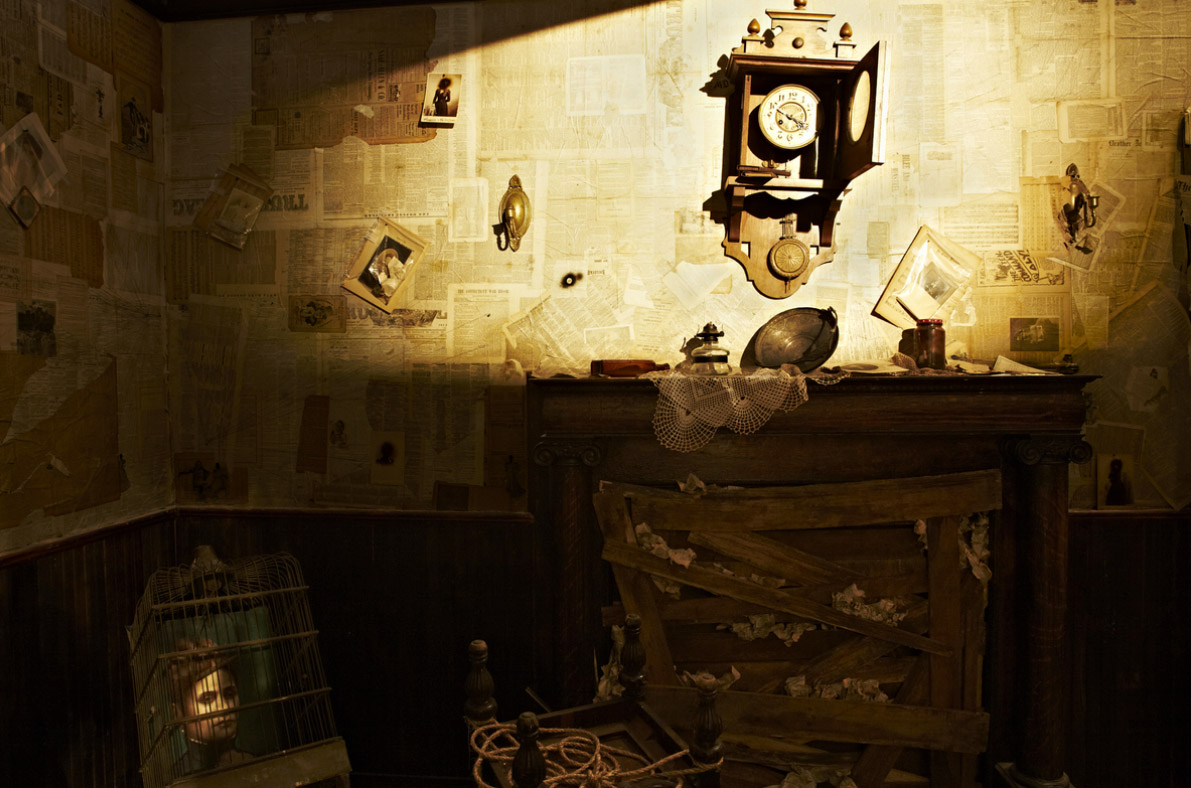 HP: How did "The Vesper Project" begin?
TK: I was in the studio making a portrait of my aunt, as if she was in a completely other time period. As I was making a portrait of her I got this weird feeling. As I was combing through my memories of her I realized my memories of her weren't real. They were fiction. I didn't believe it at first, so i called my family to find out and they confirmed that she was not, in fact, where i remembered her. It occurred to me that, for some reason, my brain had decided to insert her into periods in my life when I needed extra support. That left me reeling; it left me frightened. It made me feel as if I couldn't trust my own memory. I felt like i was losing my mind.
When I'm working on a portrait of someone, there is often an internal monologue, a narrative I hear. Usually, the better the portrait is, the more I hear that monologue. Because I just had that experience with the portrait of my aunt, it made me frightened to tell people about it. I honestly felt like I was losing my mind. I talked to someone at a mental health facility and he says tell me your story. I didn't know this, but he was writing down what I was saying. A couple of weeks later, he came back to me and he showed what he had written based on my words. It was so much more elaborate than I had remembered, and became even more real.
Interview continues after the slideshow.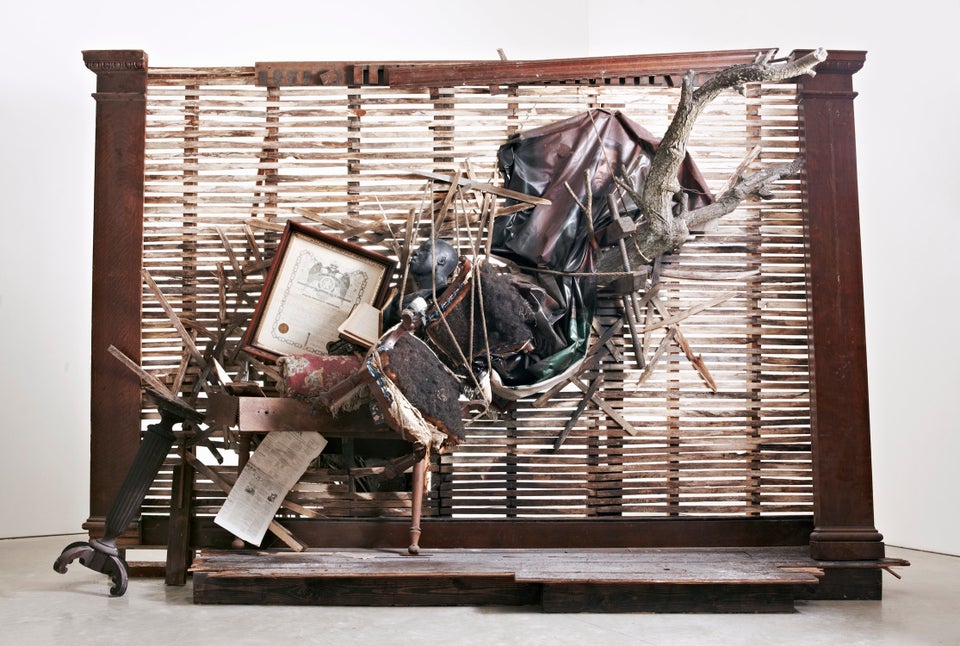 Titus Kaphar
HP: So the story is not made of your memories, it's more of a narrative about your work?
TK: It wasn't really either. Writers speak about hearing voices that drive a narrative a lot, but visual artists not so much. Ben and I went back and forth, telling stories, over the course of four or five years. It became very real for me. I had been nervous about telling people where I felt like these stories were coming from. I began to talk about them as though they were real -- I was living with these characters. The more that I did that, the more I felt like I wanted to see every aspect of their lives. I began to search for where I thought they might live. I found a house and ended up installing it as sculpture in the gallery.
The house is not really a space, per se. It is a psychological space -- a man slipping from his lineage, his family, into a schizophrenic break. You are able to experience his mental slippage.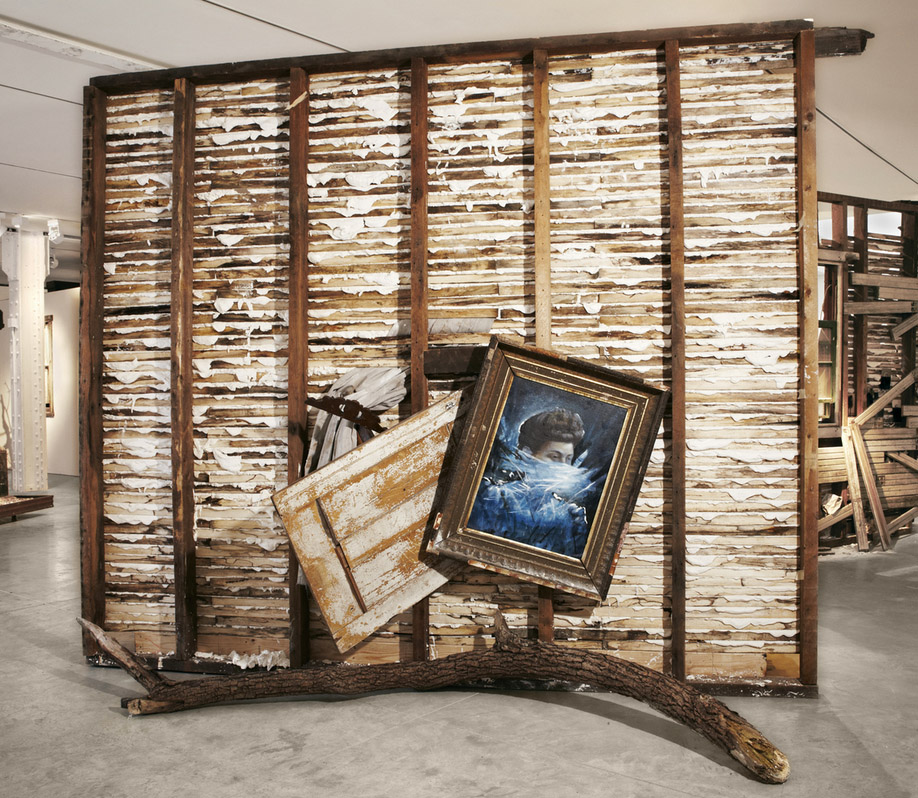 HP: Does the narrative come to an end?
The more the paintings emerge, the more the narrative evolves… as I continue to paint from that well, I think the story will continue to produce more. I don't see these characters going away for me.
HP: What challenges arose in using a 19th century house as part of your medium?
TK: There are many challenges-- it is an undertaking that I've never done before. There were the obvious challenges that occur with any sort of architectural feat and, for those, I got a lot of help. Yet the challenges were compelling. The challenges, in some ways, directed the construction. For example, you take the floor out of a hundred-year-old house and you try to reinstall it into a different setting, and you going to realize those boards are not going to lay flat. As a result you get this floor that creeps and moves and has a presence -- that was something i was not willing to fight with. It was something I felt like added to the project.
HP: The Vesper Project has been referred to as a "haunted house." Would you use that term?
TK: No, I think its terrible. I think it's awful. Once you put something out in the world, you no longer have control over reactions, descriptions or anything like that. That being said, i think it's a hard thing to describe, the difference between something that is "haunted" and something that has a presence about it. One is a way we talk about movies and fear that is supposed to frighten you. This is not about that at all. But i do feel that there is a presence and that is the result of using materials that people lived with. Loved. And taking those as raw materials to rebuild the sculpture. That living, that love, is somehow still in those materials. When someone says "haunted" -- no, I would lean toward having a presence.
HP: Did you look into the history of the previous house owners?
I attempted to, but it had changed owners so many times. It was hard to find any sort of clear narrative. For me, what made the house the right house was that I felt like I could feel my characters presence in that house. Once the house, which in fact, as I said, is the head space of one particular character, was constructed, I began to play. I had someone read the text that I had previously constructed and it felt like the voices would have inhabited that space. On my website there is a little film where you can feel the voices.
HP: How much did this project consume other aspects of your life? Were you ever worried it had gone too far?

TK: When I went to talk to the friend at the mental health facility, he assured me that I was not sick. That's what encouraged me to keep pursuing this and not freak out. Honestly, as an artist, I was producing work and didn't want argue too much because I was really excited about the work I was making. I became fascinated with the human brain, what it chooses to do with or without our permission. I started reading way too much Oliver Sachs. I started to get really interested in this idea of confabulation, which seems so similar to the creative process itself. For me this particular situation wasn't so hard.
Titus Kaphar's "The Vesper Project" will show at Freidman Benda Gallery in New York from February 28 until April 6, 2013.
See more work from Kaphar in the slideshow below: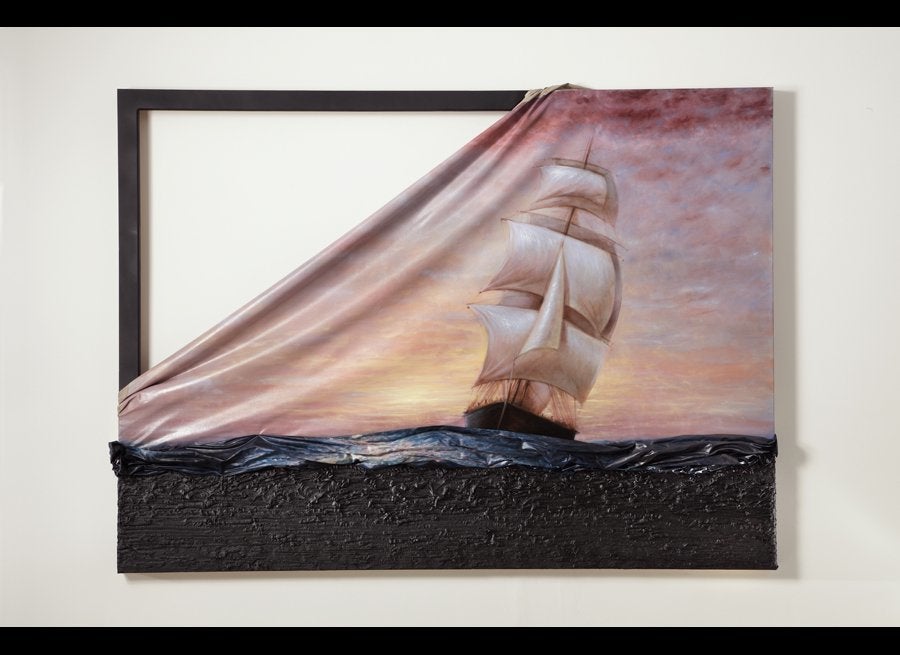 Titus Kaphar
Related
Popular in the Community