The number of youths experiencing homelessness is increasing, and it has been for a decade. That's why the partnership between Marriott International and Tituss Burgess is so important.
Apart from his work on Broadway and television, Burgess has been bringing awareness to this crisis for years. In 2012, he composed music and wrote lyrics for a gospel album he released in collaboration with his church. Five years later, he's partnering with Marriott International to affect change at the local and national levels.
Burgess is the spokesperson for Marriott's four-year old movement, #LoveTravels. The hospitality company is putting action behind its mission: "Serve Our World." #LoveTravels is a collaborative, crowd-sourced art project, and a platform for sharing diverse perspectives on the importance of travel. But what about homelessness?
I caught up with Tituss Burgess to learn more.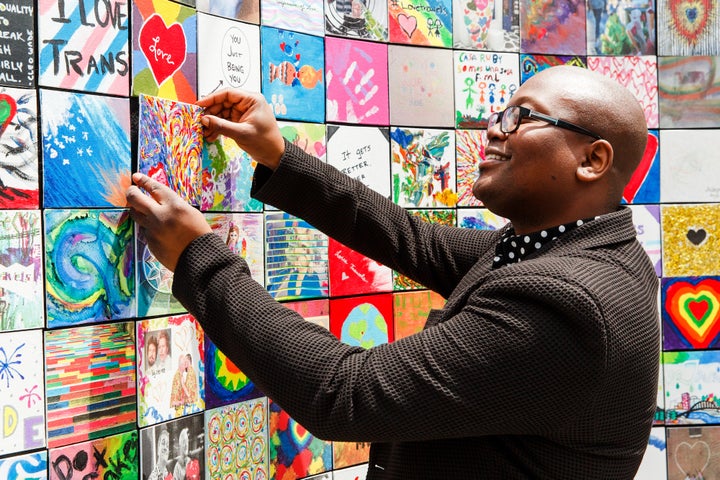 In a tiny phone booth in a New York City shared office space, I nervously waited for the phone call I knew would last less than 10 minutes. When it rang, I knew I had to hit the ground running.
TB: Heeeeyyyyyy, Jordan! How are you?
JR: I'm great. How are you?
TB: I'm good. Thank you for asking.
JR: Thank you so much for talking with me. Let's jump right in! First of all, congratulations on all the success of Unbreakable Kimmy Schmidt. What's your favorite thing you've ever done?
TB: Ummmmm. It's probably Unbreakable. Just getting to be Titus. To play a character that is so zany and unapologetically himself is — uh, yeah, that's probably what it is.
JR: I mean, I definitely think it's striking a cord with everyone. It's hard not to love it. Especially your character. So, did you always know you were doing to be an actor.
TB: Yeeeeess? Yes…yes. Umm, I'm only good at a handful of things, so it was either theater or go to culinary school.
TB: I don't like being told what to do. [laughs] So, I was like, "I'm just going to go act and perform."
JR: Well, clearly you made the right choice. Though that might be debatable. I need to taste something you cook. We'll see.
TR: Oh, I'm such a good cook!
JR: [laughs] Tell me about your younger self. What was it like for you growing up?
TB: I was surrounded by love from my mom and my grandparents, and I have over 30 first cousins. And we are a very close family. I was always surrounded by love. But, I also knew that I was different. I was very outspoken. Of course, that doesn't go over very well for southern adults. But I couldn't help it. I wasn't doing it to be sassy or, what's the word, to talk back or be disrespectful. But I always had such a clear point of view about… Like I remember being five, six, seven and already thinking about how I saw the world. What I deemed was important. I was an unusual little child.
JR: Who was the first person you told that you were LGBTQ?
TB: First person I told? I don't know. I don't know that I told anybody except for my mom. And she already knew. It wasn't a thing for me. I was in a community of theater people, so we were all just accepting of one another, so I never had to make a proper proclamation. The only time I had to tell someone, I guess, is when a girl would ask me out. I would say, "Well, honey. I don't think it's going to work out."
JR: Totally! [a moment passes as I imagine Tituss is thinking about the girls he's had to let down, then I continue] As an adult, have there ever been any times when you've had to come out?
TB: No. I've lived my life very openly. Just so no one can lord anything over me.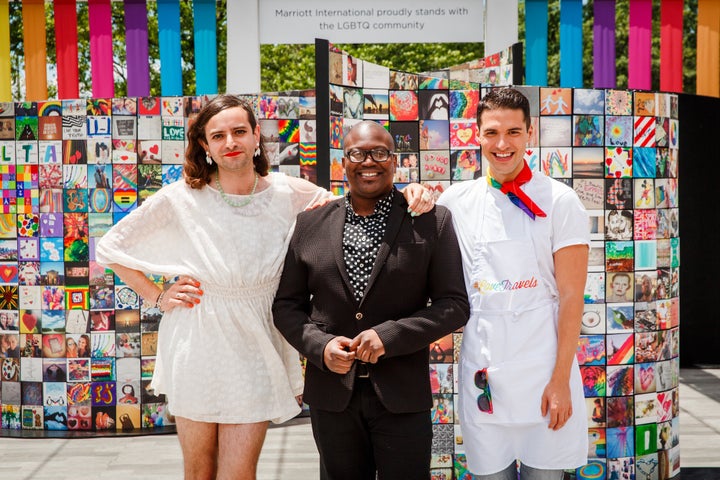 JR: What advice do you have for, especially youth, who may be going through experiences similar to yours? I mean, you mentioned that you were in a very accepting environment surrounded by love. To me that means you had a situation that a lot of people don't have.
TB: Don't get me wrong. I wasn't without the Bible verse trumpeter, my mom, who had difficulty processing this information early on. But, she didn't kick me out of my house. I was very fortunate not to experience the hardships that my brothers and sisters are facing today. But, as best as you can, I would say, go and find your safe spaces. Go and find friends. Be sure that you are talking it out. Talking through your emotional state. And if you are in a situation where you have to come out and you foresee it not going well, I would say in advance of that, find your safe houses. Find your Casa Rubys. Find places first, so that in the event that you are unfortunately shunned from your family, you have something to fall back on. It's just like saving money before you move to New York City.
JR: [laughs] Great advice! Let's talk about your work with Marriott, #LoveTravels, and the fight against LGBTQ youth Homelessness. Why is this an important issue for you?
TB: I've been doing this type of work long before I knew Marriott was such a big supporter of our community. And at my church, I wrote an album called Welcome to raise money for this specific cause. This is a no-brainer to join them.
JR: Forty percent of American youths that are experiencing homelessness are LGBTQ. What's happening right now to end this crisis?
TB: Everything takes money. The more money we can raise to build more of these safe houses — the more money we can put into programs to set them up with tools to be functioning adults — to get them jobs — to find placement — that's how we'll begin to slowly eradicate this epidemic. And partnering with people like Marriott International. Seeking out organizations who will throw their weight behind and support causes like this.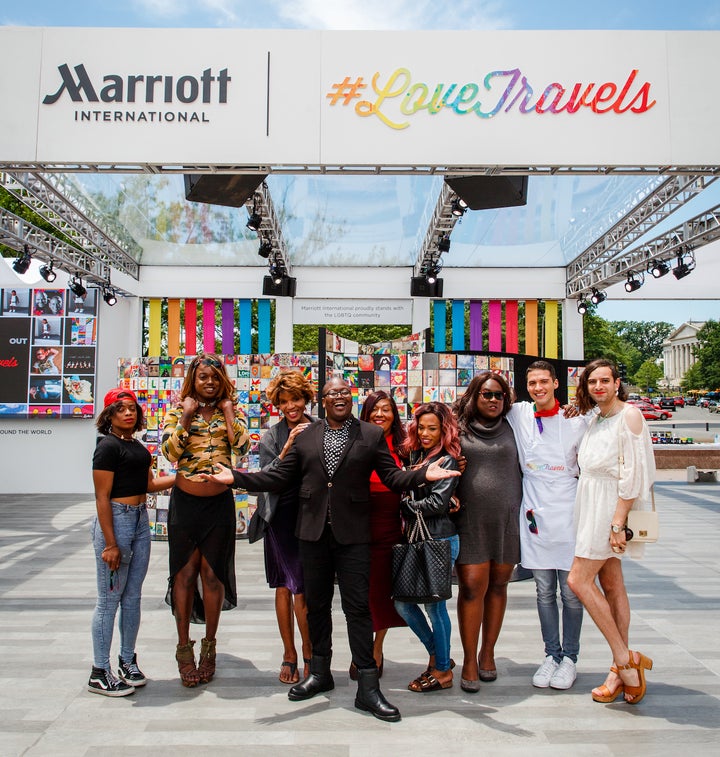 I work for a nonprofit, VideoOut, with a mission to amplify the diversity of voices that make up the LGBTQ community. Too often, important stories aren't heard, and as a result, true equality is at stake. That's why I asked the next question. Hearing directly from these youth is critical.
JR: There's a lot of conversation happening about homelessness, but there's not a lot of voices directly from these youths — an opportunity to speak up and advocate for themselves. Is that an important thing, and how do we give these youths a voice?
TB: Well of course that's an important thing. And Marriott has created a space to allow these people to have voices. We have this gorgeous mosaic — all the art that's out at Freedom Plaza is a gorgeous expression of how people are feeling. So that's just one of the ways we can start to give voice to the voiceless.
JR: If you could tell LGBTQ youths experiencing homelessness one thing, what would it be?
TB: Know that there are companies around the world, like Marriott, there are actors like myself, who understand the problems. And they are not forgotten. And we're doing all we can to make them feel safe and hopefully find placement in a home.
REAL LIFE. REAL NEWS. REAL VOICES.
Help us tell more of the stories that matter from voices that too often remain unheard.