Ever since it was reported that long-time TiVo CEO Tom Rogers was stepping down,, rumors began that the company was in play. Now things are heating up, and there's a reported deal - but don't be so sure the name of the real buyer has surfaced - or if this is just the first inning of an interesting sale process.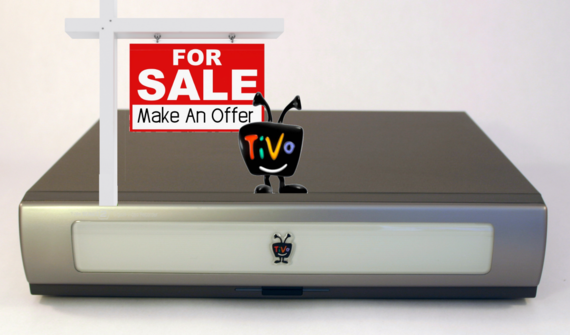 Let's start with today's status. TiVo is rumored to be purchased by Rovi. This has made the market move, with TiVo stock up 23 percent to $9.41, the largest intraday jump since April 20, 2011. But interestingly, Rovi stock moved down. Why? Because some folks think that this announcement will draw out new bidders with deeper pockets.
Let's explore that. TiVo is really two companies, it's a consumer hardware company, and it's a company that owns some important video patents. On the hardware side of the world, TiVo was a groundbreaker in 1999 when it introduced the DVR to the world. Since then, it's gone on to make some of the best video recording boxes a video consumer could ever dream of. Unfortunately, over the years, the hardware went from being the darling of hackers and video users, to a box that was priced at the high end of the market. Their recent boxes - the Roamio and the Bolt got great reviews, but it seems like the brand just doesn't have enough consumer love to compete with the lower priced Apple TV, Kindle Fire TV, Chromecast, and Roku devices. Yes, I know that they're not the same thing - in fact, TiVo's DVR capability is really only a competitor to the cable company's own rentable DRV services. But try though they may, TiVo seems destined to be left on the heap of hardware history. And that's a shame.
Meanwhile, on the patent side of the world, TiVo has been remarkably successful. Using its proprietary IP to sue, and win, huge sums from EchoStar and Motorola and Cisco. Meanwhile, Rovi is also an aggressive patent prosecutor - making its money by prosecuting patents. Rovi you may remember used to be known as Macrovision a DRM company, and purchased Gemstar-TV guide. But Rovi's hold on its lucrative patent income is at risk today. 22% of the company's 2014 sales come from DIRECTV, Comcast, Sony, Google and Time Warner Cable based on patent licensing. And Netflix won an important court case challenging Rovi's hold over the patents for TV programming guides.
Meanwhile, TiVo won a big case against Rovi in 2011 - on patents it holds related to DVR functionality. Over the last few years, TiVo has won almost $1.6 billion in settlements. And its case against Samsung is just getting started.
So, the question simply put is this: Who has deep pockets, cares about the set top box DVR business, and doesn't want to see the legal team at Rovi with a whole new passel of patents to prosecute?
Well, that list is pretty public. Comcast, TimeWarner Cable, Charter Communications would come to mind. But then the list grows quickly. Apple, Samsung, Google, Amazon and even Netflix might want to have the TiVo patents in their desk drawer. And the growing Telco/TV players like Verizon and AT&T would certainly have to take a look. Plus of course Roku, Microsoft's Xbox, Nintendo's Wii, and consumer electronics folks like Sony, LG, Panasonic, Sharp,Vizio, Hisense,TCL,Skyworth,Toshiba and others.
So TiVo is a consumer electronics company that generates most of its revenue from its IP portfolio. And now - with video moving rapidly to the center of the internet - those patents have the potential to be more valuable, and potentially disruptive, in the hands of motivated and skilled patent prosecutor. All the more reason why the other big video players may need to look hard at TiVo's IP - not so much to use it as a weapon, as to keep others from using it against them.
TiVo may yet have another act, well worth keeping a close eye in the weeks ahead.
Calling all HuffPost superfans!
Sign up for membership to become a founding member and help shape HuffPost's next chapter