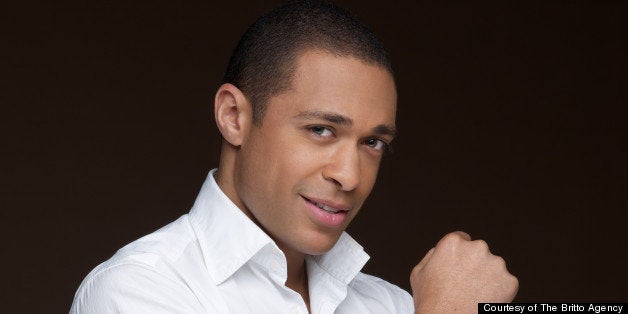 Within weeks of its October 2012 debut, the 30-minute show went from airing four days a week to a revised, hour-long, weekly format without notice. The program ultimately aired its final episode on December 19, causing widespread speculation on Holmes' status as BET's leading news anchor.
The Arkansas native joined the Viacom-owned company in December of 2011 upon leaving his CNN post, where he worked seven days a week, both reporting on weekdays and anchoring his own weekend show.
Since his departure from BET, Holmes has become one of the most sought after, seasoned journalists, filling in occasionally on MSNBC. He is currently meeting with various high level executives with expectations of landing a highly-coveted position among one of the major networks soon.
During a recent interview with the Huffington Post, the award-winning journalist opened up on the show's cancellation and his future career plans.
What happened to your relationship with BET?
The network, they made a decision that they didn't want the show to come back. That being the case, I don't have anything else to do at that network. I was only there to do that show for the most part. So if they decide they don't want the show on the air anymore, then there is no reason for that relationship to continue. So that relationship is over.
Were you shocked by the show's cancellation?
I have known for a while that the show was not going to return. I just wasn't able to say that myself and make it official, because the show is still the network's property. So they're the ones who are in charge in that regard of public message…And I think a lot of people have known for quite some time. It just took a while to make it publicly official.
What was your reaction to their decision, after you took a risk to bring something new to their audience?
Initially, when they cut it from a nightly show to a weekly show, I was shocked. And that had a lot to do with the timing. We've barely been on the air for a month at the time, and you're still trying to find your footing and figure some things out. So I was shocked by that. But again, they have every right to do whatever it is they want to do with their network. So am I disappointed, yes, but I'm more so disappointed by the fact that we don't have that [type of show on the air]. It was always my intent, all along, that my heart was in it to step away from where I was to roll the dice and take a chance certainly at a place that is not known for that type of programming…But what drew me was the idea that I could speak night in and night out to the issues affecting my community.
A lot of people will remember from my CNN weekend show, we had a lot of things talking about the black community. And CNN is not the platform to do it constantly, but I got it in as much as I could. I said, "if young brothers like me who have a platform, who have a voice, who have some sort of national credibility don't do this type of thing, then who else is going to do it?" That is precisely why I did it.
Do you regret leaving your position at CNN?
Oh my God, never. Not a regret at all. I mean, mistakes were made along the way. So I'll see things and can look back on where a mistake was made, but there's not a regret that I have in life. You make the best decision you can with the information that's in front of you and things work out, and sometimes they don't, but as long as you can learn from it and grow from it you're going to be alright.
Are you interested in taking the "Don't Sleep" concept elsewhere?
Throughout the rest of my career I want to make sure that I have some sort of an outlet or platform to speak to those types of issues. There are not a lot of places, frankly on television, that will make the space for that type of show. So doing it again, I don't know, but I certainly want to have some type of a platform where I'm always able to speak to some of the things I spoke to on that show.
Since the last episode of "Don't Sleep" you've filled in on a few occasions on MSNBC. Are you interested in extending that role now that you're a free agent?
I don't think there's any question at this point that I am going to end up back in news. It only became public in recent weeks, but I have known for a while. So I've been out there and there are plenty people who are aware. All of the meetings that I've been taking at this point have been with networks and having to do with news. The first time that I filled in over at MSNBC, a lot of people noticed it and I got a lot of feedback, but I just missed it. I missed the live news. Just being in that live, daily grind of news. I didn't realize how much I missed it, because "Don't Sleep" was a taped show. But when that red light comes on the camera and you're on the air, it felt great. So I am definitely looking forward to getting back.
Do you have a specific time frame on when you would like to land your next position?
No, because I don't want to make a mistake. My wife and I are blessed enough that we don't have to run out and find a job just for the sake of finding a job. But I'm really, really determined to get this next move right. I'm looking for a home. A place that I can see myself being for years and years down the road. So we are being very deliberate. And it's been nice to have this option and it's nice to be wanted to some degree.
PHOTO GALLERY
T.J. Holmes Photos
Calling all HuffPost superfans!
Sign up for membership to become a founding member and help shape HuffPost's next chapter
BEFORE YOU GO