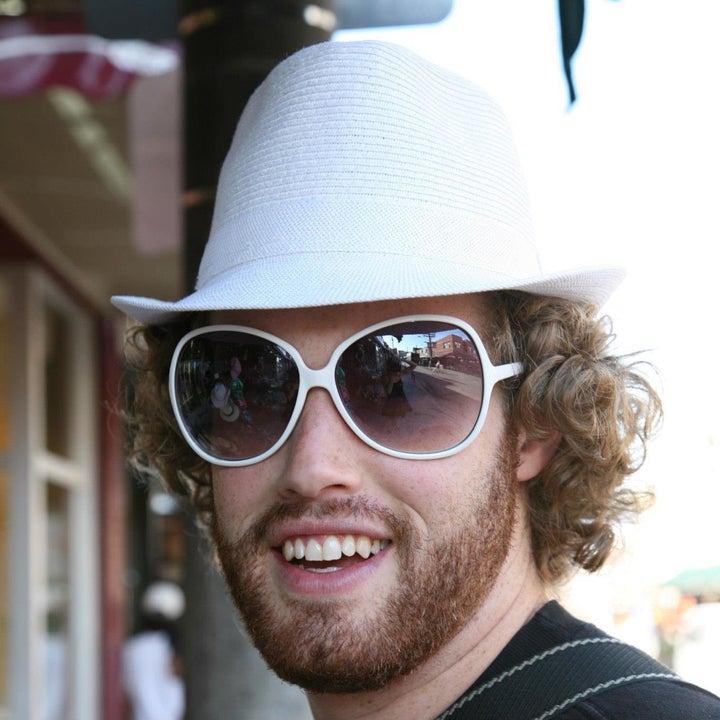 T.J. Miller is back in town. In between hosting Comedy Central's "Mash Up," being a man-eating blue monster that interviews indie bands in Gorburger, or just rapping about Denver, Miller will stop by The Grapes of Rad comedy show and headline for a one-night benefit for Denver stand-up comic Mara Wiles.
The Huffington Post recently chatted with Andy Juett, producer of T.J. Miller's "Denver" music video that premiered at Red Rocks in July and one of the rotating stand-up comic hosts at The Grapes of Rad for confusing answers about so many things and also some legitimate answers about the show.
For those that may not know, who are you?
Come on Matt. This is about the people. More people eat corn than caviar. This is Walmart America.
I think we both know what I'm getting at.
No seriously. Who are you?
You win liberal media. My name is Andy Juett and I'm a producer/performer/writer in the Denver comedy community. I have sired two children that I know about and I am lucky enough to work with prolific, amazing comedians and performers Adam Cayton-Holland, Andrew Orvedahl, and Ben Roy ("The Grawlix") to put together The Grapes of Rad Comedy Show every month.
And what is Grapes of Rad?
The Grapes of Rad is a comedy show we have almost every second Thursday of the month, primarily at The Gothic Theater. Sometimes we shift the date a little bit to accommodate performers schedules and this month we did that moving the show to THIS Saturday, October 13 bringing in our friend, insane person, rising star, warm soul, and Denver native actor/comedian/toddler-bodied laugh Goliath T.J. Miller.
The show is always hosted by one of us, there's stand-up mostly delivered by Ben, Adam and Andrew, and I wrangle it all while Orvedahl broods over bicycles and repeats weird affirmations in the mirror, Ben does crossfit completing something called "inverted mongoose squats," and Adam drinks beer and self-gratifies to David Halberstam baseball books.
Grapes brings big headliners and features great Denver comics. How do you manage to make that happen?
Luckily, we're part of this incredible scene and city of Denver and a lot of our funniest most famous friends want to come to do our shows (including Andy, Ben and Adam's "The Grawlix" at The Bug Theatre) and some of the other great shows in town like Too Much Fun, Lady Face, Propaganda and Kevin O'Brien's debate show Arguments and Grievances.
We've had some incredibly talented, prolific, savant headliners that are really gaining in popularity right now. We were fortunate enough to have Kristen Schaal and Kurt Braunohler just kill it at our show. Brett Gelman is on the show "Go On" on NBC right now and is really one of the funniest improvisers we've ever seen, Nikki Glaser's MTV show starts soon and is so ridiculously smart and confident, Rory Scovel is all over the Nissan ad campaign right now,
Nick Vatterott just helped produce and perform in T.J.'s new show on Comedy Central, and Kyle Kinane is another busy, busy boy.
Tell us about the lineup and special visiting guest T.J. Miller.
T.J. Miller is coming in to headline the show this month literally in his only free weekend while shooting his new Fox comedy called "The Goodwin Games." This past Tuesday he also premiered a ridiculous show called "Mash Up" on Comedy Central. It's a really unique blend of stand up and cinematic scenes articulating the standup that he put together with Jordan Vogt-Roberts and hilarious collaborator Nick Vatterott. His sensibilities are so
funny and strange and we all are good friends and every time we do a show or music video or anything it's always a raging fun reunion.
Who's on locally for this show?
Kevin O'Brien who hosts the "These Things Matter" Podcast with Taylor Gonda and hosts/produces one of the best comedy shows in Denver -- "Arguments and Grievances" -- will be taking up Denver feature duties. Kevin weighs about 100 pounds and he fucking rules.
Tell us about the Mara Wiles benefit aspect to the show?
This show is super special because Mara Wiles, who's one of Denver's funniest comics, is getting hit hard by escalating medical bills while she battles kidney related issues stemming from Lupus.
We're all donating our time and effort to help her raise money to pay medical bills. The Wiles family is integral to the Denver scene and they're some of the best people on the planet. We're lucky to know Mara and we take care of each other in this community when people need our help. The hipster beards and flannel are just human tissue flaps covering our collectively compassionate hearts in this comedy enclave.
What's up with this different venue for this weekend's show?
Downtown Lodo's Bar and Grill is donating this space for this show and have been so helpful. I work with Jodi Collier there on a number of radio promotions throughout the year and she and her staff rule.
The actual room is a historical landmark called Maddie's House of Mirrors, renamed The Rox room. It was a 19th and early 20th century brothel and now it's a great event room. For those of you who don't understand the word brothel, maybe you understand this word: WHORES.
We'll likely be doing this venue or other similar sized venues for some of the shows and bigger shows at The Gothic. T.J. has sold out The Gothic more than once but it wasn't available when he could come to town.
Cut it out. WORK TOGETHER. There's only so many hours in the day. Get busy, then sit back and be grateful. We're all odd-bodied weirdos. Thank you Sam Tallent. Also -- I'm currently single.
Watch Miller and Juett in the "Denver" music video and check out some behind the scenes photos from the shoot:
Before You Go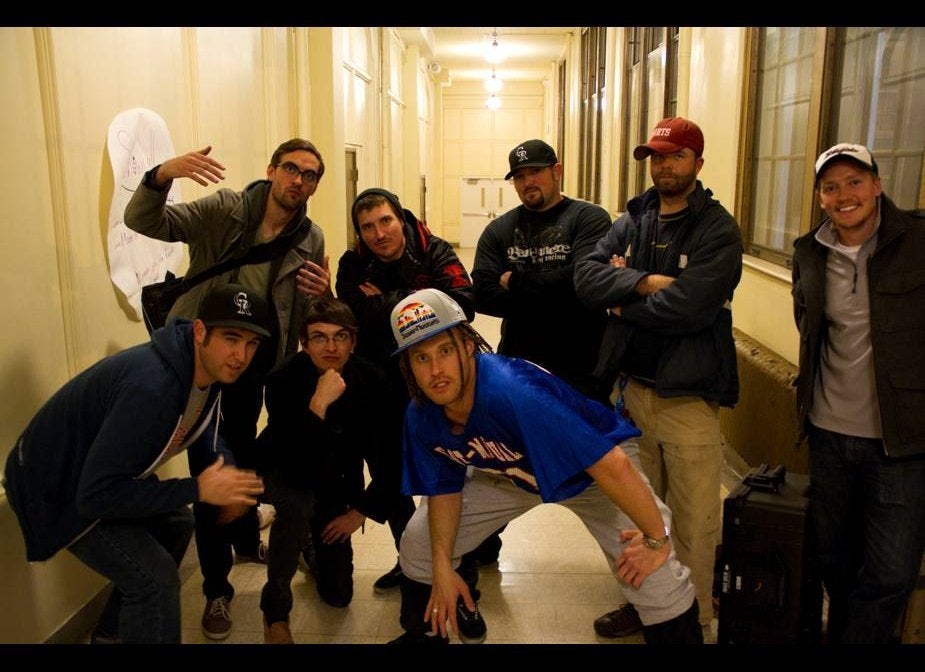 Behind The Scenes Of T.J. Miller's "Denver" Video
Popular in the Community