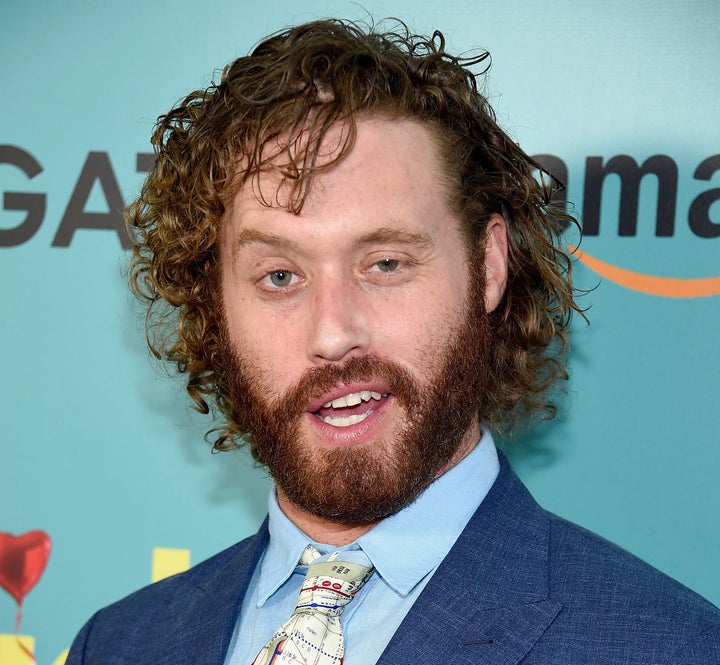 T.J. Miller shocked comedy fans earlier this year when he announced that he'd be leaving HBO's tech sitcom "Silicon Valley" for good. His character, obnoxious startup investor Erlich Bachman, quickly became an audience and critical darling after the show's premiere in 2014. In an interview with HuffPost this week, Miller spoke frankly about how the current political climate influenced his decision to leave the show ― and blasted his former castmates for not doing enough to prevent President Donald Trump's election.
After announcing that he did not plan to return to the show, Miller raised eyebrows with an interview in The Hollywood Reporter last month in which he questioned the intelligence of Alec Berg, one of the showrunners, and hinted at a strained relationship with star Thomas Middleditch, who plays startup CEO Richard Hendricks. In his interview with HuffPost, pegged to his newest project, the animated children's film "The Emoji Movie," he shed new light on his frustrations with "Silicon Valley."
HuffPost spoke briefly with Miller about "The Emoji Movie" in May. This time, as the interview began, Miller asked for everyone else to leave the room, including the publicity team. He turned the conversation to the current political landscape and the obligation he believes Hollywood has to oppose the current administration.
It seems the cast of "Silicon Valley," in Miller's estimation, failed to live up to this obligation. Just before the 2016 presidential election, he told HuffPost, he spoke with the show's cast about the campaign. "I asked, 'How much money did you donate, you Hollywood elites, how much did you donate to Hillary Clinton's campaign?' And everybody in the cast said nothing. They hadn't given a dollar," he said. "What did they think was going to happen? How had they not joined a fight that they had such strong opinions about?" He noted that despite "not even really being a fan of hers," he donated the maximum amount permitted to her campaign.
Miller didn't name any specific cast members who were present for this conversation. Middleditch and Amanda Crew (VC executive Monica Hall) are Canadian, though both currently live in California. FEC law prohibits foreign nationals from making any political contributions; however, there is an exception for immigrants with green cards. We confirmed that Miller did indeed donate the max, and according to the Center for Responsive Politics, cast members including Middleditch, Crew, Kumail Nanjiani, Martin Starr and Zach Woods were not listed as donors. Representatives for those actors did not immediately respond to HuffPost's request for comment.
The decision to leave "Silicon Valley," Miller suggested, freed him up to resist President Trump in other ways. "My position [to oppose the Trump administration] became more powerful when I left 'Silicon Valley,'" he said. "I had more control over the content, the time, the schedule, the everything." Even "The Emoji Movie," he argued, was a meaningful step toward encouraging younger audiences to "understand and adopt progressive values."
HuffPost also talked to Miller about whether children deserve to laugh, what he took away from voicing the "meh" emoji, and how he takes on politics in his comedy. Read the full interview:
So are you a HuffPost fan, or the opposite?
Well, I mean, it's just the two of us. I certainly recognize the power. How long have you worked here?
You know you guys sort of fractured media. Are you aware of that?
Yeah, it's a great responsibility I feel every day.
Yeah, I'm sure. Where do you live, Brooklyn?
Mhm. Like most of us. So why did you want to do "The Emoji Movie"?
Why not? How rare is it that we get an opportunity to do an original property, right? Those are the projects that I'm drawn to. "Office Christmas Party," "She's Out of My League." I do stuff that is sourced, like "Ready Player One" and "Transformers 4″ and stuff like that, but I think this was an opportunity to do something that is new, and they described to me ... and also, sort of, as a joke. I think it's very funny to be in a movie called "The Emoji Movie."
And it's interesting to have this element of haters, like "Ghostbusters," but to have a movie that is not a reboot, it's something completely different. And, people go into it with this sort of strange, low-standards mentality. And then when it's a great movie, they go ... whoa, OK, I guess.
And it was an opportunity to satirize this "meh" hipster mentality of like, "I'm cynical, whatever, like, yeah, I saw it, it was like, whateverrr, it was OK, I guess." And that is passé. That's why I do "Gorburger," that's why I work with DreamWorks. That's over ― the cynicism, the irony, the "what if I was really actually trying to make a great scene in a movie." That's done. That has been for a while. So this was an opportunity to do something optimistic, positivistic and you know, we have very few weapons in the current administration, and one of them is to target a younger demographic and try and help them understand and adopt progressive values.
So the movie has a lot to say to women, and how they have limitless potential, and one of the characters literally breaks through a glass ceiling. And you've got a guy who wants to be what everybody wants him to be, but his malfunction is that he expresses himself and is ― we're trying to say that the best you is not the you that you're doing for everyone else, but the authentic you. And don't hide that, be OK with expressing it.
And there's themes of ― I found it very interesting that High-Five cares about fandom and followers more than friendship. And Gene ― I play a lot of characters who don't have any friends (typecasting!) ― Gene doesn't have any friends. So to have one friend would be much more important than having 1,100 Instagram followers. The boy in real life was sort of telling kids, "Yes, use emojis, text, be in your smartphones, but also maybe take a break and actually talk to somebody and actually have that interaction." So there's a million things we're trying to tell the audience, and I wanted to fuck with that. I'm not interested in sort of playing the same character over and over and over again. Satire is important, but so is children's cinema.
Although, and I want to make this clear, especially because you're the HuffPost, children don't deserve to laugh as much as adults because they're not aware of their own mortality. But that doesn't mean that they shouldn't be compelled to laugh. [He takes an enormous bite of pizza.]
Right. So do you think that kids do laugh less, or just that they should laugh less?
I just don't think they deserve ― they're still in a fantasy land.
They haven't earned it yet?
They don't need it as much. It's like, you know, they shouldn't be able to drink. They don't need to. Adults do.
I like your necklace. Very cool.
Thank you. Do you feel differently about using emojis now that you've played one?
Mmm, finally the HuffPost asks a question that has been asked many times before.
Yes. There's no Jailbreak emoji, but I hear Anna [Faris]'s voice. My wife Kate [Gorney] plays Heart Eyes in the film. When she sends me that, I immediately think of her personality and her line in the film.
I keep trying to sign off, be like, "Hey, what do you think about this," "Thank you for doing this," and I want to sign off as the "meh" emoji, and it just negates everything. So if I'm like, "Great seeing you. Can't wait to visit the family again. Hope to get to Denver as soon as possible. See you soon ... Meh." It doesn't work. It's just an emoji that's like, "Meh, I'm kidding about everything. I can't stand the idea of ..." So yeah it's changed my relationship with emojis to be sure.
Have you guys worked with the people who make the emojis to maybe make an emoji like Gene makes at the end of the film?
Well, we have this nod at the end of the film to this idea that emojis and GIFs are close, so a moving, changing emoji would be a good GIF, I guess. But the next film, if we were to do another one, is about an update, and more interaction with the bitmoji. Tony [Leondis] and Michelle [Raimo Kouyate] have a relationship with all these apps that are in the ... and I have a relationship with Silicon Valley because of "Silicon Valley," and Colleen Kelly Henry is one of my best friends, and she's one of the main hackers and Facebook people. It's definitely made me consider my phone more, you know? Just think about it in a different way. Because Tony came to us with an idea that was so three-dimensional. And it is in 3D and real 3D, so it's in a fake 3D, and it's also in real 3D. And it is really a dynamic film. I liked it a lot. I like it.
Do you feel a responsibility, under the current administration to talk more about politics?
Only when I read the Huffington Post and see the paucity of coverage.
Well, I'm on the Entertainment team, so I don't get to do a whole lot of it.
Do you talk about entertainment in the context of the administration?
Absolutely. I was going to ask you whether you feel an obligation to take that on in your comedy. I just watched your HBO special and it didn't come up, and I think it's something that comedians have been approaching in different ways.
Well, I filmed that HBO special before this was even a possibility, right? We're in a very bad position. Roy Wood Jr. had a very articulate interview with Washington Post where he discussed the idea of it being impossible to not be looking towards the administration. [Editor's note: We could not track down such an interview with WaPo, but Wood did discuss addressing politics in comedy in Paste this July.]
I'm not a political comedian. I had a social mission that now has a political obstacle. The social mission was to help people start to release their death anxiety and understand that in a post-religious, post-meaning society, it's OK. Death is not something to be feared. Life is this really exciting, interesting experience. Pets are friend slaves. We need to understand ― all this. I had all these mission statements within a sociological imperative. Now, I have this political obstacle that we need to discuss, in part because the progressives, who far outnumber the regressives in this country, voted against him. They hate him, they can't stand him. They, in part, need not to hear ― I went to Ireland, they didn't want to hear about how bad it is here. They wanted someone to talk about how they sympathize with the powerlessness, the futility that everybody is feeling right now. So, in these beginning stages, because unfortunately we're only in the beginning stages, it's important for me to tell people that they are not alone in their fear, in their actual understanding of what's happening. So I've quickly learned that is the first step.
And then I've also learned that I need to continue doing what I've been doing, which is to provide an opiate. Something that people see, laugh at, are lifted out of any sort of reality, and just depart ― have a quick vacation that is very healthy for you. And then they can return to their uncle who has cancer, and this is the problem with the environment, and all of that stuff. That will all remain present for everyone. So it's very complicated. It's a very very difficult situation.
They have also turned their artillery on media, and Hollywood specifically. That is incredibly dangerous. Even you guys, who have this sort of street credit that the bigger publications don't have, you're under attack. They understand that we are the weapon that can possibly change the course of history. If we do not act accordingly, and also respond to these direct threats of freedom of speech from the White House, we are seriously fucked. So everyone is taking every single angle. You are in a very powerful position.
My position became more powerful when I left "Silicon Valley." I had more control over the content, the time, the schedule, the everything. There was more time to put into standup. People forget we are running up against something that could destroy the human species, and that doesn't have anything to do with MY opinion. That is Noam Chomsky's opinion. If you guys don't put everything into it, if Vanity Fair doesn't put everything into it, if everybody doesn't pitch in ...
I'll tell you this, and then we have to go. I asked the cast of "Silicon Valley" ― K, here's an exclusive ― right before the election, "How much did you donate to Hillary Clinton's campaign?" Hillary Clinton, a candidate that I don't care for, wasn't really supportive of and believe wasn't qualified as much as other people to be president. I asked, "How much money did you donate, you Hollywood elites? How much did you donate to Hillary Clinton's campaign?" And everybody in the cast said nothing. They hadn't given a dollar. What did they think was going to happen? How had they not joined a fight that they had such strong opinions about? Meanwhile, I gave the maximum contribution to Hillary Clinton's campaign, not even really being a fan of hers, and further, paying money to pay more taxes. And we lost. So now we have to win. And you're one of the few outlets that really has power, because people look towards you. Even more than Vanity Fair. Take that seriously.
Before You Go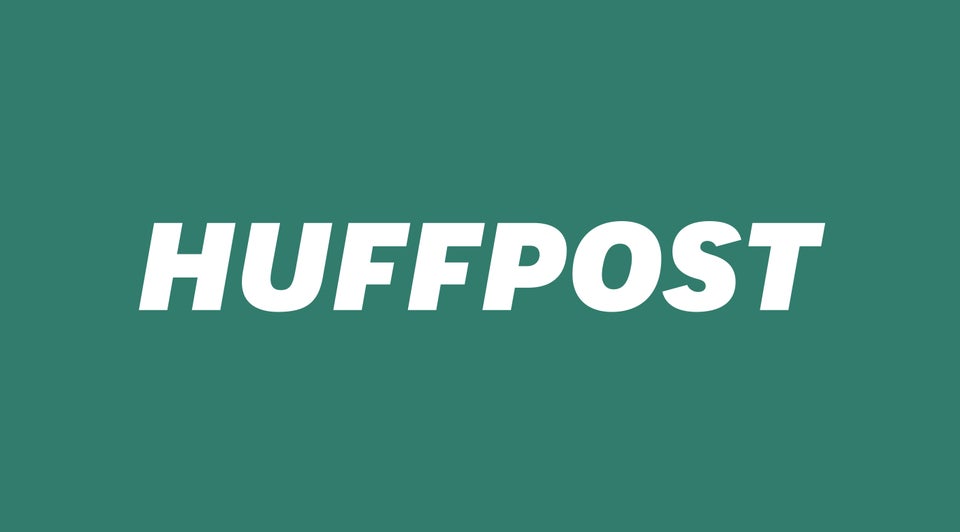 Celebrities Who Voted With Their Kids
Popular in the Community