Warning: Don't look at these photos without something delicious on hand to immediately consume. The pain will be too great.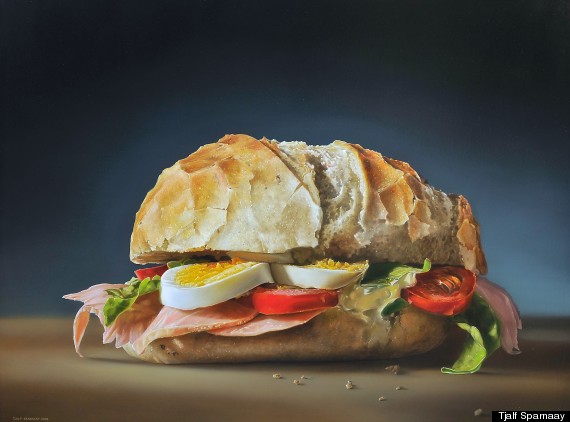 Netherlands-born artist Tjalf Sparnaay has been creating jaw-dropping, mouth-watering photorealistic paintings since 1987. His meticulous renderings convey reality as convincingly as a photograph. The singed edges of a fried egg, the wilted lettuce in an over-dressed salad, the rogue crumbs of a ham sandwich... no detail goes ignored.
Aside from his culinary canvasses, Sparnaay creates equally spot-on depictions of more traditional still-life fare: fall leaves, dishware, other pieces of art -- in this case, "Girl with a Pearl Earring" -- all make an appearance. Recreating the Vermeer classic is clearly no biggie for Sparnaay, who even paints in the illusion of crinkled plastic shrink-wrap surrounding the painting to prove he can up the challenge a few notches.
We asked the artist, who we spotted on the Daily Mail, why food plays such a starring role in his portfolio. "It offers a lot of possibillities to show craftmanship, light, texture and metaphors," he told us. We'd like to add that it also makes us want a burger, so, there's that.
Check out the deliciously realistic artwork below and let us know how you think Sparnaay's work compares to previous HuffPost photorealist hot shots.
PHOTO GALLERY
Tjalf Sparnaay
REAL LIFE. REAL NEWS. REAL VOICES.
Help us tell more of the stories that matter from voices that too often remain unheard.
BEFORE YOU GO