TLC was already a household name in 1995 thanks to a string of monster hits including "Ain't Too Proud To Beg" and "Creep." But when Tionne "T-Boz" Watkins, Lisa "Left Eye" Lopes and Rozonda "Chilli" Thomas filmed the video for "Waterfalls," the Organized Noize-penned third single released from their sophomore album "CrazySexyCool," they had a hunch they had a career-defining hit on their hands.
"I knew it was a great song but when we actually saw the video, we were in tears," Thomas told HuffPost. "That was when I knew this was going to be extra special and I couldn't wait until the world could see what we had made."
The song, which poignantly tackles both drug abuse and HIV ― making it the first number one single to mention the disease ― was nominated for two Grammy nominations, won two Soul Train Awards and won the MTV Video Music Award for Video of the Year, making TLC the first black artists to nab that honor.
Thomas, who along with Watkins stars in the new music documentary series "Once In A Lifetime Sessions" on Netflix, recently chatted with HuffPost about the song's origins, what it's like to perform it without Lopes, who died in a car accident in 2002, and the "Waterfalls" video's unexpected connection to Steven Spielberg's legendary blockbuster, "Jaws."
Why TLC was never worried about the song's subject matter being too controversial:
"You have to remember that our first single was 'Ain't Too Proud To Beg' and the hook is, 'Two inches or a yard/Rock hard or is it sagging? I ain't too proud to beg!' [laughs] So, no, we never worried about 'Waterfalls' being too controversial ― ever. We've always been very bold and straightforward when talking about how we feel. That's a very real part of us and I think that's why so many people can connect with us ― because we're so real and open in that way. We knew the song was going to speak to a lot of people who felt they can't voice certain things, so we were very proud to have a song like that and put it out into the world."
"I don't think he really got the song at the time. 'Creep' was still out and he loved 'Creep,' so when he heard 'Waterfalls,' I don't think he understood why we were so excited about it. But we were very adamant about doing a video for the song. We begged [co-founder of LaFace Records, a joint venture with Arista Records] L.A. Reid, 'Please! We have to do this!' Once the song was out, it actually wasn't doing that great at radio. I think it simply was because people didn't understand it. They were like, 'Don't go chasing waterfalls? Huh? What do you mean?' So Lisa wrote a note on a poster board asking him to let us do the video and gave it to L.A. ― I think he has it to this day ― and we were like, 'Please! You don't understand how important it is that we get this video out!' But we've all had to work so hard and kick so many doors down, so this was just another battle for us. I never spoke to Clive about how he felt about the song's success but I know he was definitely proud of what came out of it [laughs]."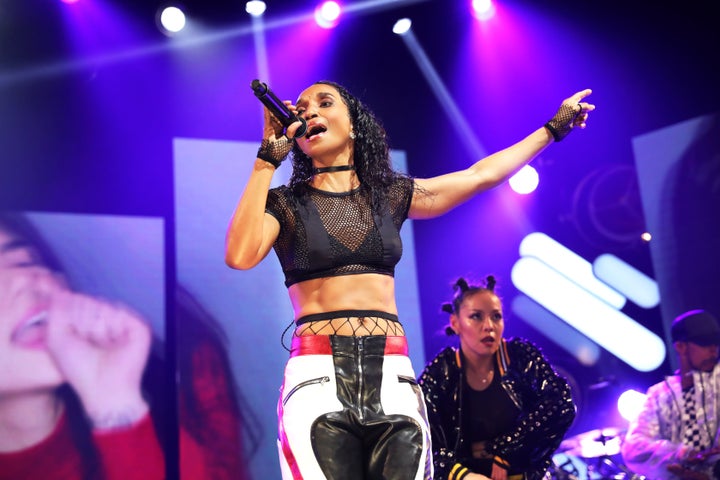 On coming up with the concept for the song's iconic video:
"We all wanted to work with F. Gary Gray because his videos were amazing and he really knew how to tell a story. We thought he'd be the perfect person for 'Waterfalls.' When we sat down with him after he listened to the song, he came up with a lot of the storylines. I was inspired by the movie 'The Abyss' and I came up with the water images that you see and the idea of us standing on the water. Lisa came up with us coming from outer space and touching down and Tionne came up with some of the storylines as well. F. Gary Gray was able to listen to what we wanted and he took that and turned it into something real ― into what the fans eventually saw. That was the amazing part to me ― that he could hear what we were saying and paint it in a way that was better than we could have ever imagined."
The secret behind the video's "ocean" scenes:
"When we were standing on the water, it looked like we were actually in the ocean but it was just this little soundstage. I don't think many people know this but it was the exact same soundstage at Universal Studios where they shot 'Jaws.' We were afraid we were going to fall in the water because we were on this very unstable platform that they had built for us. We needed the water to come up over our feet a bit to get the right effect and so they had lifeguards in scuba diving gear off to the side of the tank in case one of us fell in! [laughs] It was so crazy. I was like, 'What! Are you kidding me?'"
Chilli's feelings about "Waterfalls" today:
"There's absolutely nothing I regret about the song or the video. Nothing. It all came together just the way it was supposed to come together. Lisa was in the halfway house when we were recording this part of the album. She was there after she burned down Andre's [Rison] house and 'Waterfalls' let her release how she was feeling at that time. That was one of her best raps that she ever wrote. When I heard the final version of the song, I was like 'Wow.' The things that she was saying and how deep she went and how vulnerable she let herself be was incredible. Every word in that song and in her rap ― someone can relate to."
"Yes, we are brown girls out here doing what we do but what we're doing touches everybody ― there's no color to it. The video and the stories we were telling in the video have no color."
On Lopes' death and performing "Waterfalls" without her:
"Her funeral was a horrible day for me. I still haven't gone to the gravesite because it makes me sad. Any hardcore reminders make me realize, 'Oh wow, she's really not here.' It's bittersweet ― I think it'll forever be bittersweet when we're on stage because we started out together, just the three of us. And now Tionne and I are carrying the torch ― just the two of us. This is our new normal. Lisa would have wanted us to carry on the way we are, so that makes me feel good. We still make sure her raps are played when we perform ― that's how I want to celebrate her. When her rap comes on, we look out into the audience and people are crying and it's very heartfelt. We know exactly how everyone is feeling. I can't make eye contact with people who are crying for too long or I'll break down too. I have to finish singing!"
On being the first black act to win the MTV Video Music Award for Video of the Year for "Waterfalls" in 1995:
"We were shocked that we beat Michael Jackson's 'Scream.' I remember thinking that night, 'There's no way we're going to win this award' ― which was fine, because Michael Jackson is my husband [laughs], so I was like, 'My baby can win ― I won't be upset!' [laughs] But when they called out 'Waterfalls,' I was like, 'What? What did they just say?' I didn't think we heard it properly. But we won and that was huge! It was a big deal to me. I feel like it just put light on what we felt in the first place, which was, yes, we are brown girls out here doing what we do but what we're doing touches everybody ― there's no color to it. The video and the stories we were telling in the video have no color. Every mother worries about her child ― black, white or whatever color. She worries about her kid hanging with the wrong crowd or getting into trouble; the same with people trying not to be promiscuous or to be safe and everybody can be too trusting in that way. So everybody could relate to 'Waterfalls' and winning the video of the year for it proved that. To win that award in that particular category was a huge honor.
On other acts covering "Waterfalls":
"It means so much to us that our peers want to cover this song. We're fans of theirs as well, so it's truly an OMG moment when we hear that Bette Midler is going to go into the studio and recut 'Waterfalls.' It's like, 'Bette Midler!? She knows who we are?' I do remember seeing the judges from 'The Voice' [Alicia Keys, Adam Levine, Blake Shelton and Gwen Stefani] covered it and I was like, 'This is so dope!' It sounded good. That might be my favorite cover out of all of them. I just thought it was just so nice how they did it and everyone knows their individual voices, so hearing those iconic voices covering it together was unbelievable."
Popular in the Community