Total Nonstop Action superstar Eli Drake grew up during a different era in professional wrestling. As a kid, he tuned in to watch in-ring battles between "big, masculine" giants whose muscle-bound frames inspired awe and intimidation inside the ring and out.
"They seemed like dangerous men, guys you would be afraid of if you encountered them on the streets," said TNA's King of the Mountain champion during a telephone interview. "So many guys wrestling today you wouldn't be afraid of; I aim to be that guy -- whether it's because of my verbal barbs or a fist or foot."
Drake has come a long way in realizing that goal since his 2015 TNA debut as one-third of "The Rising." After breaking from the trio of young superstars led by Drew Galloway, he has emerged as a cocky, trash-talking adversary unafraid to trade fisticuffs with the top names in the business. According to Drake, many might say the character isn't much of a departure from who he truly is.
"I have this personality, where I'm a natural introvert in my personal life, but when you give me a camera and microphone, I have a so much to say," Drake explained. "It might be scathing to whomever is on the opposite side of me, but it is something that just really comes organically to me."
Playing to his true beliefs and personality, it's little surprise Grado landed in the emerging solo superstar's crosshairs. More than falling into the realm of wrestling personalities one certainly would not fear in a dark alley, the TNA British Bootcamp contestant exemplifies another of the former NXT talent's pet peeves.
"One of my biggest gripes with wrestling in the last decade is it has seen a lot of silly, goofy characters," Drake stated emphatically. "I feel like every other match is a comedy spot, and there's nothing wrong with that, but I think if there is a comedy spot, it should be special."
Eli Drake Cashes in His Feast or Fired Briefcase

Drake blames over-saturation of wrestlers who "dance, take selfies and other cutesie things" for a shift in the industry's core audience overall. He contends it alienates the "testosterone-driven male audience" which once defined pro wrestling. Needless to say, that made the likable Grado's in-ring tomfoolery quite irksome.
Drake took to attacking the grappler, who looks a bit more like a plumber, perhaps, than pro wrestling superstar. A series of onscreen battles, in which the muscular competitor generally bested the affable British buffoon, culminated earlier this year at TNA's "Feast or Fired" event. Top names in the company competed to win briefcases mostly filled with contracts for upcoming title shots -- though one held a pink slip.
Through what might have been a switch-a-roo, Drake secured a guaranteed King of the Mountain title match -- and Grado was unceremoniously fired. Though the popular Grado eventually did return to the company by upsetting his nemesis in a grudge match, the wheels were already in motion for Drake's next step toward championship gold.
On the May 31 broadcast of TNA's flagship Impact Wrestling broadcast, airing Tuesday nights on cable's Pop TV, Drake won the KOTM title. The contender strategically cashed in his briefcase in the wake of a vicious attack on then-champion Bram by "The Destroyer" Bobby Lashley. Though many felt this cheapened the victory, Drake managed to retain the belt in a rematch two weeks later at TNA's Slammiversary pay-per-view.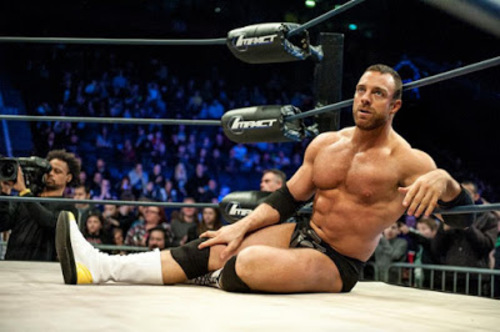 Eli Drake Is a New Face Emerging in Total Nonstop Action.
Now Drake is defending his newly-won title against the British bruiser Bram. With two giant brawlers -- over 500 lbs. of combined muscle slugging it out in TNA's six-sided ring -- it would seem he's finally getting to participate in the kind of matches he grew up watching.
This, and being showcased on a "national, global platform," has been a "long time coming," says Drake. Though with TNA scarcely more than a year, he's been wrestling for more than a decade. On the indie circuit, he captured the Heartland Wrestling Association TV title and the NWA Championship Wrestling from Hollywood tag titles with current Lucha Underground star Brian Cage.
Since jumping to current cable home Pop TV, Drake says TNA has benefited from a "vast reshuffling of the deck." As veterans are fading from the scene, new faces are emerging to lead the charge forward -- not the least of whom is Eli Drake.
"In all honesty, I'm super happy to be where I am, doing what I'm doing and making a living doing what I love to do," he concluded. "Now I'm being recognized in the sense of being given a more prominent role and being showcased; I couldn't ask for anything more."
Total Nonstop Action 'Impact Wrestling' Broadcasts Tuesday Nights on PopTV. Check Local Listings for Times & Availability.
Calling all HuffPost superfans!
Sign up for membership to become a founding member and help shape HuffPost's next chapter