Though he and partner Brooke -- #TheWrestlers -- fell short of the $1 million grand prize, Total Nonstop Action superstar Robbie E certainly won over audiences this year on The Amazing Race. The Jersey-born grappler-turned-reality-TV-star anticipates an influx of new viewers when he returns to action on TNA's IMPACT Wrestling.
"People fell in love with Brooke and myself -- #TheWrestlers, #TeamBro," shared Robbie E during a recent telephone interview. "So people who are non-wrestling fans will tune into Destination America to watch us on IMPACT."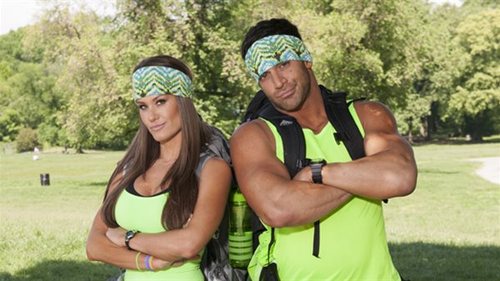 Robbie E indicates this new following, amassed en route to the pairing's fourth-place finish on the 25th season of the CBS competition, will see him back in TNA's six-sided ring when the company's flagship IMPACT Wrestling debuts on cable's Destination America. Jumping from its long-time spot on Spike TV, TNA kick starts its new broadcast relationship with a massive televised live event on Weds., Jan. 7.
"We're excited," said Robbie E of the wrestling organization's new provider, which has already announced an increase in weekly TNA programming for viewers with still more possible in the future. "I think change is good. It gets everyone talking. It's something different for everyone involved."
Of course, Robbie knows about "different" -- for example the difference between how he was portrayed on The Amazing Race and the persona he's played in TNA for the last half-decade. Wrestling fans were introduced to a new Robbie as Brooke [also a TNA wrestling personality and two-time former Knockouts (women's) champion] and he competed around the globe.
"That Robbie E is definitely part of me," he said of the pompous, shallow wrestler inspired by TV's Jersey Shore, a character which has held the company's X-Division and Television titles. "It's definitely an extension of who I am, somewhat, but I definitely say it's more amped up."
"For wrestling fans who only see Robbie as cocky, they saw a different side to me," he continued, talking specifically about how he appeared on The Amazing Race. "They saw I'm a pretty positive guy, that I'm kind of funny, and I'm not that bad after all."
While he even suspects some "people might not boo as much" when he returns to TNA action, don't be surprised if they do! It'll be back to business as usual for Robbie E and The BroMans (whose debut is seen in the video above) -- which means more boasting, braggadocio and devious tactics.
Now, perhaps more than ever, Robbie E has reason to brag too! With partner "Mr. Pectacular" Jessie Godderz -- who entered pro wrestling after a stint on another wildly popular CBS series, Big Brother -- he makes history as the only tag team ever comprised of two former reality TV stars.
"It's pretty crazy," admitted Robbie, "I think we're two memorable reality television characters. You bring that into the wrestling world, and I think it's huge. Nobody else can claim that title."
Still, that isn't enough for Robbie E. In addition to seeking a third reign as TNA World Tag Team Champions -- "I think we still have one more run in us," he stated -- Robbie says The BroMans are eyeing the reunited Matt and Jeff Hardy, widely considered one of sports entertainment's all-time greatest duos. To cement their place in history, he says victory over the legendary brothers is a must.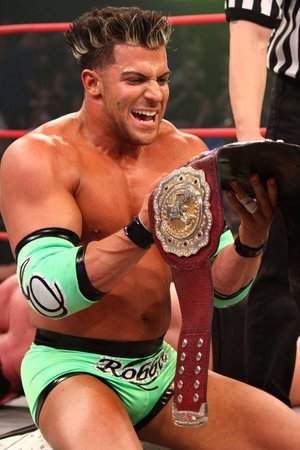 "We never really got to have them in a tag match," says Robbie of the groundbreaking sibling duo, who have collectively and individually held World Heavyweight and tag team titles around the globe. "That would be something me and Jessie would love to do, to show that we're on their level."
All of this, and possibly a run toward the World heavyweight championship -- the only title he hasn't held in TNA -- are ahead, hopes Robbie E. And, of course, it'll all play out on Destination America, where he says the stars of IMPACT Wrestling will become "the face" of the network.
"It's a new, growing channel that already has some great shows on it, but TNA coming onto any network -- people are already excited and talking about it," Robbie E said. "It's TNA wrestling. It's so entertaining. It's a great show. Boom! It's going to be all over."
Popular in the Community