For months, professional wrestling fans have been abuzz about the industry's "Divas revolution" -- and for good reason. With renewed interest in ladies who actually wrestle, Total Nonstop Action superstar Gail Kim admits it's a "great time" to be a woman in sports entertainment!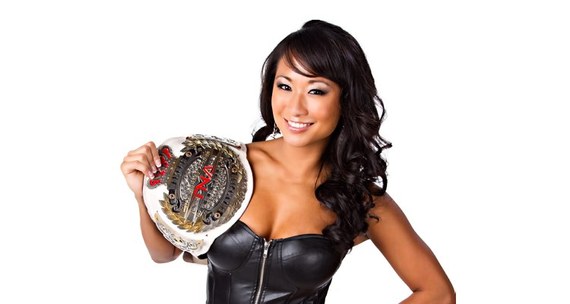 As the five-time and reigning TNA Knockouts champion, Kim draws a parallel between Ultimate Fighting Championship star Ronda Rousey and pro wrestling's newfound commitment to women. Kim says the success of "The Rowdy One" in UFC is reshaping how females are viewed in all combat sports.
"People always think women aren't a draw," said Kim when discussing UFC Women's Bantamweight titlist Rousey. "But she headlined a pay-per-view, and it was the highest-grossing pay-per-view for UFC of all-time."
Kim, of course, is citing the Aug. 1, 2015, UFC 190 bout between 28-year-old Rousey and Bethe Correia. Not only did victory make Rousey a pop culture phenomenon, the PPV also sold in excess of 900,000 buys -- the highest since UFC 168 (which, it must be noted, Rousey co-headlined).
"It proves that if you're good enough, whether you're a man or a woman, it doesn't matter," asserted Kim during a recent telephone interview. "You can be a draw."
It's a reality Rousey clearly illustrates in UFC -- and one a new crop of talent in grappling superpower World Wrestling Entertainment is beginning to prove as well. However, Kim says rival company TNA has known this of its Knockouts for years.
"IMPACT! has always given us that chance," stated Kim of TNA's flagship program, which broadcasts Wednesday nights on cable's Destination America. "I don't know if that's because [TNA President] Dixie Carter is a female, but she's always been really supportive. The company has been really supportive of us wrestling."
In 2005, Kim arrived in TNA fresh from a run with WWE. There she won the company's Women's championship (a precursor to the current Diva's title) in her debut. Though the reign scarcely lasted six weeks, Kim cut her teeth against future Hall of Famers like Trish Stratus and Lita.
Upon landing in TNA, the Canadian-born star truly hit her stride. In 2007, she survived a ten-woman gauntlet to be crowned TNA's inaugural Knockouts champion. Soon after, with the title on the line, she entered what proved to be a career-defining rivalry with massive Awesome Kong.
"It's pretty much what put our names on the map -- both of us -- and built our names in this business," says Kim of the long-running feud.
Kim attributes the program's success to a combination of timing and "magical chemistry." Kim vs. Kong became the foundation for TNA's Knockouts division and epitome of what women are capable of inside the ring.
"When Kong and I started doing our thing, there really wasn't a strong women's division, so what we had was out-of-the-ordinary," Kim recalled. "Plus, no one had seen someone like Awesome Kong -- a true heel, a true monster. Not only that, she was also very gifted in the ring."
In that era, wrestling was filled with "model types" better suited for the cover of Playboy (which featured several WWE women's champions) than in-ring action. While Kim might have fit the bill, the gargantuan Kong -- whose athleticism defies her 5'11", 275-lb. frame -- certainly did not.
Yet their "David and Goliath" story served as one of the most enthralling programs in women's wrestling history. Generally battling for the Knockouts title, they squared off in everything from wrestling clinics to "Street Fights," a rarity among women.
"We know the fans are expecting something great, so we put that pressure on ourselves," said Kim of their now-classic bouts. "We take that little step-up or that harder hit or whatever you may call it to give the fans what they want."
And fans did get what they wanted: more Knockouts. TNA increasingly showcased women on TV, and both Kim and Kong reaped the benefits. Kong took the No. 1 spot when Pro Wrestling Illustrated first ranked its Top 50 females. In 2012, Kim nabbed the pinnacle.
As much as the rivalry became synonymous with both Kim and Kong's individual careers, it could be argued it defined an entire generation of women's wrestling too. One might even suggest they did as much for the TNA Knockouts as Rousey has done for women in UFC.
In Jan. 2008, the duo became the first women to headline a TNA broadcast. Now, the greater part of a decade later, their feud continues -- and again places both ladies center stage in the Oct. 28 IMPACT! main event. As is nearly expected at this point, the pair make history once more.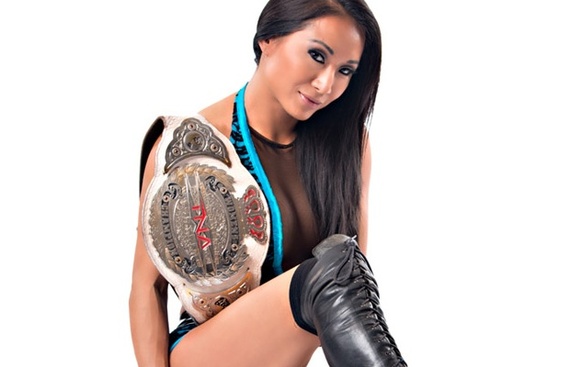 A tournament is underway to determine the new TNA World Heavyweight champion. Madison Rayne, The Amazing Race alumna Brooke Adams, Kong and Kim are competing for a chance at the title vacated by pro wrestling legend Matt Hardy.
"I think it's amazing. It's different. It's fresh," said Kim of TNA's means of sifting through 32 top contenders to crown a new champ. "The fans really love this 'World Title Series,' because you never know what's going to happen."
Eight brackets of four -- divided into categories like "Future Four," "Former Champs," "X-Division" and, yes, even "Knockouts" -- compete in round-robin matches to determine the final 16 in a tournament for the company's top prize.
"Gail Kim, Awesome Kong, Madison Rayne and Brooke Adams, as Knockouts, have a chance to do something we don't normally do -- that's stepping in the ring with these amazingly talented guys we have on our roster," explained Kim. "Not only that, it's for the most prestigious title we have in the company."
And, as it's an extremely rare opportunity for women to compete for a title only ever worn by men, Kim can scarcely contain her enthusiasm.
"As a performer whose been in this industry a long time, I've accomplished a lot in my career I'm very satisfied with," she concluded, "But to say I could have the opportunity to be World Heavyweight Champion, that's something I wouldn't even know how to feel or what to think. It would be an amazing moment for me."
Related
Popular in the Community