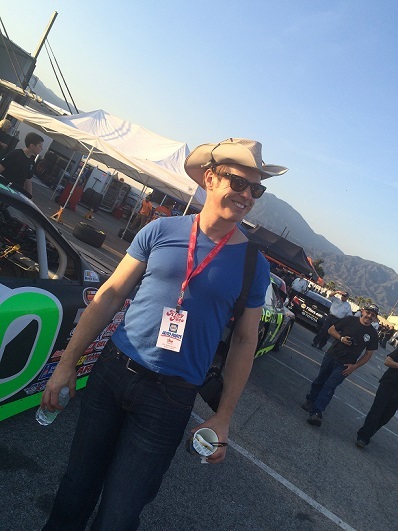 Raphael Sbarge plays David Molk in TNT's Murder in the First. Raphael founded the nonprofit organization Green Wish.
Most importantly, we learned that he still has his comic book collection from when he was a kid! I really have to see what he used to read!
You currently reside bi-coastally in Los Angeles and uptown in New York City's Harlem neighborhood. Why Harlem?
I found a place in Harlem almost 13 years ago. I did it for several reasons: One, it was where I could afford to buy something at the time (now it would be impossible). I loved the history of this section of the city, the architecture, the vibe. It also reminded me of the Upper West side when I was a kid. It is a very distinct multiracial neighborhood, with lots of families, artists, mixed-race couples--it felt like home to me. I absolutely love living in Harlem. It's the best of New York, as far as I am concerned--kind, helpful neighbors, good people and an intimate neighborhood feel. At the time, everyone thought I was crazy, but I remembered years ago how sections like Soho and Tribeca were once ghost towns, where no one wanted to go. That, of course changed. Since Manhattan is an island (with a finite amount of space), it was obvious to me that Harlem would find its renaissance once again. Indeed, it seems that has been the case.
How did you find your first agent? How old were you and what were you thinking at the time in terms of career or just for fun?
I decided to be an actor at around 12 years old. I had already been on Sesame Street when I was four, and had done some plays at Yale, where my mother was a teacher at the drama school.
I made my decision to be an actor as we were moving back to NYC from New Haven. I called an actress friend of my mother's, and asked, "What do I do?" She gave me her agent's phone number, I called them and made an appointment. My mother had made it clear that she didn't want to be a stage mother, so it was up to me, if I wanted to do it. So I bicycled over to the east side to meet them. They asked me who was my representation before, and I said, "What IS representation?" They then asked me if I sang, and I said, "Yes!" I then broke into the boy treble part of Handel's Messiah (as I had been in a boy's choir that had traveled abroad to perform).
They were apparently charmed by this very precocious kid, and despite the fact that they didn't have any child clients, they decided to sign me and be my representation. I got work almost immediately, and then started studying in the city (using my school bus pass to get to auditions, as well as my acting classes). I was a very driven kid, who really knew what he wanted. Now, looking at my kids who are around the same age ... well, it's kind of hard to believe I did this all on my own. But, public transportation and the child labor laws in NYC at the time made it easy for me to work and then bring my contracts home to be signed by my mother. I had my SAG card at 13, my Actor's Equity card by the time I was 15 and did my first Broadway show at 16, with Faye Dunaway. I have worked very consistently since (something I am very grateful about).
You've stepped behind the camera serving as director and co-executive producer of two Web series: On Begley Street, starring Ed Begley Jr. (winner of the 2013 Best New Media Award at the Burbank International Film Festival; Platinum Best of Show Aurora award winner, Nature/Environment; nominee, The EMA Awards); and Jenna's Studio, starring Jenna De Angeles, who has racked up more than 3 million views on YouTube. What exactly goes into the making of a Web series? Give us behind the scenes details about what YOU did on the web series.
Simply put, after over four decades of working as an actor in front of the camera, I was ready to try my hand behind the camera. It was not something I was aiming for, initially, but ultimately it has been incredibly gratifying.
I have just finished A Concrete River: Reviving the Waters of Los Angeles, a documentary about the Los Angeles River. I have more projects as a director in the wings. Initially, I worked with a production company that had the infrastructure to support the venture, but I have since gone out on my own and formed my own company. We are quite busy with new projects.
On Begley Street, as well as Is There Hope for the Planet Earth (a documentary short subject about climate change), were a kind of melding of the two parts of me: my environmental passion, with my passion about movies. The possibilities these days, with technology being as available and simple as it is to use, have truly brought us to a moment where everything is possible, and available to everyone to make movies, for pennies on the dollar of what it used to be. I heard someone say, " If you call yourself a filmmaker, and you have not done something in the past year, then you are not a filmmaker." The larger issue, then, is finding subjects, stories that make you feel impassioned to tell them. That's more difficult, of course. But the making of media content is available to everyone now.
I hate the film Independence Day because it was a rip-off of Ken Johnson's 1983 television mini-series "V". How do you deal with people who a) dislike a project you've worked hard on b) dislike YOUR work?
I remember doing a production of Ibsen's Ghosts, off Broadway. We had a bumpy rehearsal process (as the director was replaced, midway). We were finally able to find our way so we could open, and it went quite well. At the time, there was a big push to bring NYC school kids to see live theater. This was a wonderful program, but this play, which is dated at best, and downright melodrama, was maybe not the best play for NYC high school students to see. It was especially not the play for them to see at the matinee that the New York Times' theater critic was attending. There is a place, deep in the second act of the show, where Oswald (my character) starts to have an emotional death scene on stage. It's, as I said, high melodrama but the school kids literally went wild. They started laughing and cat calling, and it was, well, an awkward moment, at best. The next day, the New York Times critic wrote, "Raphael Sbarge, in his portrayal of the tortured Oswald, drew gales of laughter from the audience..." That was almost 30 years ago, and I still remember it today.

What was the first Broadway play you saw?
I literally grew up back stage. My mother was a Broadway costume designer. I remember seeing shows, going back to when I was five years old. I have been to all of her Broadway openings (maybe 15-20), and loved playing back stage with the actors, using the costumes to dress up in (she had a play that opened and closed on its opening night, and I got to play with all the costumes at home. It was a blast!). I used to make capes and use the cardboard inside the fabric looms to make swords. I started "aging costumes" (which means throwing mud and dirt around) at seven. I worked in the scene shops at Yale and elsewhere, cleaning up, and helping move set pieces. The actors were like magic, larger-than-life friends who were so kind and sweet to me. They were my extended family. So when someone says, they "grew up in a trunk," I can say, quite honestly, "Me, too!"
Calling all HuffPost superfans!
Sign up for membership to become a founding member and help shape HuffPost's next chapter