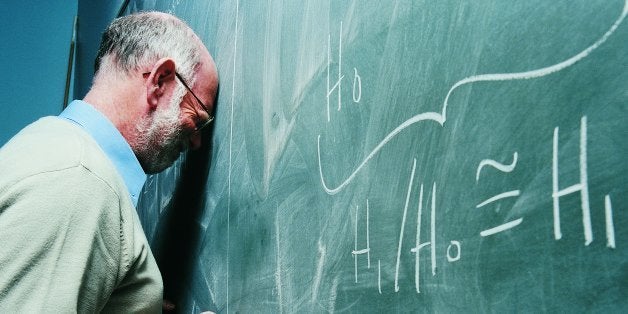 Nearly 90 percent of America's school districts have a major problem, according to a report released Tuesday. They're paying teachers incorrectly.
TNTP, a nonprofit formerly known as The New Teacher Project that advocates equal access to effective teachers, argues in the report that the prevailing system of paying teachers based on experience and education should be revamped. The organization, founded by former Washington, D.C., schools chief Michelle Rhee, instead urges a system that gives teachers higher starting pay, and gives consistently higher increases to those deemed the most effective.
The report, titled "Shortchanged: The Hidden Costs of Lockstep Teacher Pay," says the "lockstep pay" system of most school districts gives all teachers the same pay increases, regardless of performance. The report contends effective teachers should be rewarded, especially in high-poverty districts that pose the greatest teaching challenges. It estimates that U.S. school districts spend at least $250 million a year on automatic pay raises for ineffective teachers.
"Beginning salaries have to be high, one because it's fair and new entrants are not going to consider a profession with low starting salaries," Tim Daly, TNTP president, said over the phone. "The second thing is we need to accelerate salary growth for early top performers. In other careers people often start at a moderate salary, but top performances accelerate quickly because they get promoted."
These graphics from the report show what TNTP says is part of the problem: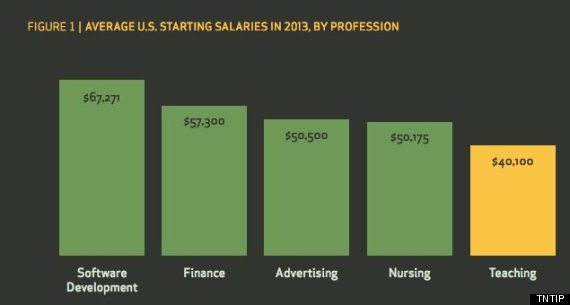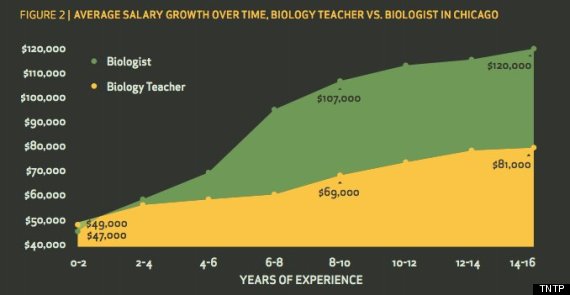 The report's call to raise starting teacher pay is uncontroversial among teacher advocates. But TNTP's push to eliminate pay bumps for education and experience sets up a potential clash with teachers unions.
"What is so ironic to me is that the same people who keep telling kids that it is really important to gain additional knowledge are the same ones saying 'not so much,' when it comes to teachers," Weingarten, head of the nation's second-largest teachers union, told the Journal.
The report, based on previous studies and public records, says pay increases for teachers who received master's degrees totaled an estimated $8.5 billion last year.
"Some degree programs are better than others, and a master's degree might be especially valuable for teachers in certain subjects where advanced content expertise can make a big difference," the report says. "Yet nearly 90 percent of teachers with master's degrees hold those credentials in areas that have no proven benefit to student achievement."
Dennis Van Roekel, outgoing president of the National Education Association, the largest U.S. teachers union, noted in 2013 that he was "more than willing to look at alternative compensation systems. I don't think we pay [teachers] enough when they start; we don't pay them enough when they end," he said.
The new report also spotlights several school districts that have successfully overhauled teacher pay in a way TNTP considers meritorious, and notes that some states have passed mandates to modify the experience-education pay schedule. Daly said that doesn't mean new teacher pay schemes have become a trend.
"I guess the best way to characterize it is that change has come slowly, there's a lot of discussions and some experimentation, but not nearly the level of change required to shake the labor market," Daly said. "If we want to change behavior nationally, we need a national level change or shift in compensation."
CORRECTION: Dennis Van Roekel is the outgoing president of the National Education Association, not the former president, as the original article stated.
REAL LIFE. REAL NEWS. REAL VOICES.
Help us tell more of the stories that matter from voices that too often remain unheard.
BEFORE YOU GO
PHOTO GALLERY
Philadelphia School Nurses And Nurse Offices