An all-inclusive vacation? It wasn't a consideration for me... ever!
A vacation, in my mind, is a chunk of time, where I desire to be whisked away from reality. When planning a trip, I always seek out luxe or unique accommodations, in sunshine-drenched locations with divine culinary experiences. The impact of good food on a vacation became clear to me after a honeymoon in Bora Bora, where all my expectations were met with the exception of the food category. It was indeed first class accommodations in every sense of the word, but lacked any type of exceptional dining experience, and I left feeling underwhelmed. I questioned how I had traveled to the end of the earth and still not had it all.
But, oh how things are different now, traveling with kids in tow.
I quickly learned the rules were definitely in need of revision. What once was a sleep, eat, rest, eat vacation, is now laced with ever-snacking kids and non-stop action. With every snorkel experience, hair-braiding moment and extra vacation dessert, I find myself tallying up the day's events to assess the daily fiscal damage. I become all too consumed with the almighty bank account as I absorb the super inflated charges of the dreaded boogie board rentals.
When vacationing these days, I do favor traveling with the kids as opposed to without, but still long for some alone time with my husband. Throw in child care, a lavish meal, and after dinner drinks, and it quickly becomes as costly as a New York night out. This often puts me in an accountant type frenzy... so bye-bye relaxation!
It has been said that in every well-balanced partnership, it's healthy to have one budgeted person and one who knows how to splurge. But on holiday, it's extremely hard for the budget-minded to " financially let loose" for several consecutive days. This can lead to far more bickering than chill, moon-lit dining. And so it was exactly this that drove me to open my google browser and type, do I dare say it..."all-inclusive."
Now let me be clear, my better half and I were both on the same page about this. We had tried cruising early on, exactly once! We were left feeling slightly offended by the gross amounts of sub-par food, along with the obligatory socializing. We quickly ruled out any further participation in at sea vacationing. As I googled, I decided to challenge my pre-parenting mindset to see if there could be a different type of all-inclusive option out there. And so I keyed in a search for "top luxury all inclusive in the world, best food." A lofty search indeed. As I awaited the results, I wondered about the possibility of this even existing.
I quickly found that it did! There were only a handful of resorts listed, and only two were of the sun-drenched kind. Both were in Mexico and both owned by the same brand, Grand Velas, which I had never heard of. It's a Mexican brand, which online seemed to exude authenticity. I absorbed the details on the website, excited about the possibility that something like this might actually exist.
The accommodations looked heavenly with ocean front terraces and ultra-luxe bathrooms which included deep sinking tubs offering ocean views! As I perused further I learned more. Child care was included and with 8 international à la carte dining options, my gourmet palate had the distinct possibility of being delighted.
I spent close to a year pondering this vacation while also convincing my husband. We liked the idea of Mexico. It would provide a happy-medium, allowing us to provide our kids with some culture, while also staying within North America in an effort to continue to support businesses in this part of the world. And with Mexico being a hot topic currently in politics, it would give us an opportunity to further validate to our children, the positive attributes of Mexico and allow for us to try and remove some of the static they have read and heard here in the U.S. And so we finally pulled the trigger. We decided to take a chance on Grand Velas, to hopefully prove us wrong about the one-size-fits-all model of vacationing.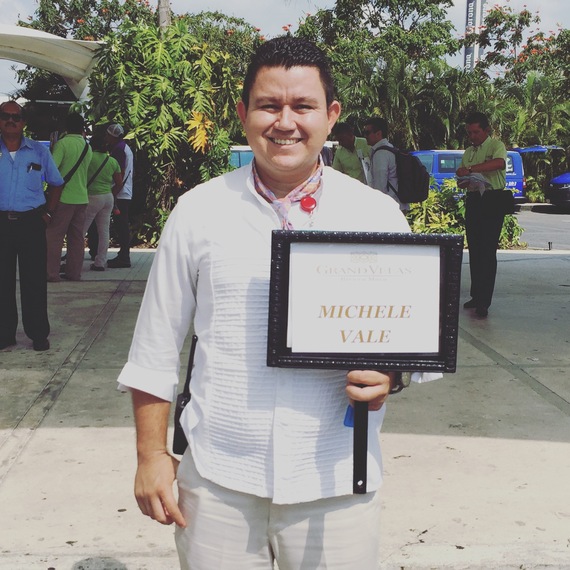 We arrived in Cancun early on a Monday morning. The sun was shining and the air was thick. In the distance we saw a gentleman holding a sign with our name on it. We entered into a air-conditioned Lincoln Navigator, where chilled-water and cool-drenched towels were on hand for the taking. I collected the iPhone's and encouraged our kids to take in the scenery and use the short travel time to Maya Riviera to practice their Spanish on our driver.

We arrived at the resort about 30 minutes later and were immediately transported into paradise.
We checked our bags, changed quickly, and headed to the pool for lunch... which happened to be the best poolside grub I have ever had! The torta, a simple roasted pork concoction of shredded meat, became my go to for the week ahead. The kids lunched daily on endless sushi,
quesadillas and chips and guacamole. So long to the limitations of one lunch entree due to exorbitant resort prices! These kids were satisfied, never longing for more. However, I did have to remind them not to over order. I wanted to be sure they were mindful not to waste, the same mindset I encourage at home.
What I was especially pleased to have experienced and share with my kids is the pride that the Mexican people have for their work. The customer service was unwavering. Gerardo and Wilburth, our poolside waiters, were delightful and spent time talking with my kids about family life in Mexico. They were kind and jovial and often made it clear that they were there to help us relax and enjoy our vacation. That mission was certainly accomplished!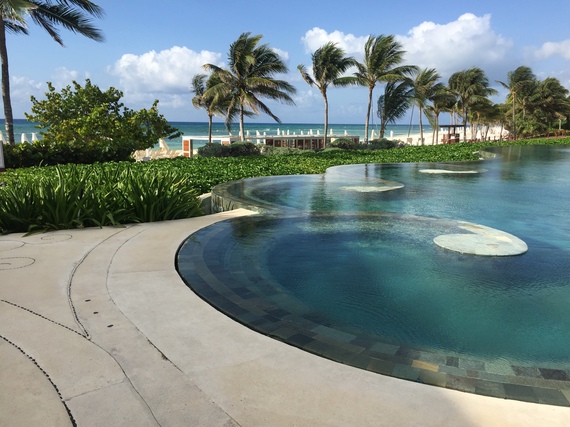 All but one day was spent at the resort. The kids never experienced a dull moment. When they weren't busy playing water polo, soccer or beach volleyball with the activities crew, they would take the occasional break from the sun and head over to the kids club where they would be tasked with making authentic Mexican crafts. My daughter made an outstanding piñata that we were able to take home. She spent 4 days making it. All the counselors were both attentive and loving. They played board games with the kids and braided my daughters' hair and this, plus tips, were all included. However, we felt so pleased with the service that we wanted to make sure we expressed our gratitude independently as well.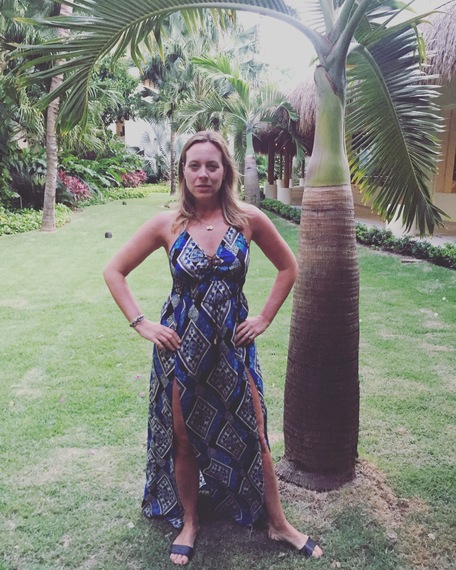 With 8 restaurant choices for dinner, each night granted a new experience. 2 of the restaurants were authentic Mexican with particular attention to the Yucatan region. These meals were by far our favorite. They were absolutely delectable and I am not sure Mexican cuisine back home will cut it going forward. After dinner the kids would often beg to go back to the kids club and a couple of the nights they even had dinner there, allowing for my husband and I to take advantage of some more intimate dining moments at five star restaurants that were also kid-free zones.
The kids loved the ocean front restaurant in the am, which offered a well-edited breakfast buffet of small tasting plate options as well as a variety of both typical American fare mixed in with more native options too. The fare presented was never over the top or grandiose. There were other à la carte restaurant choices in the morning available, but the kids loved this best, so only one morning my husband and I ordered room service for them, then dropped them at the kids club and decided to have a rare brunch moment. Our waiter had the chef prepare a special dish for my husband who was nursing a "headache" - from one too many tequilas the night before - which surprisingly did the trick.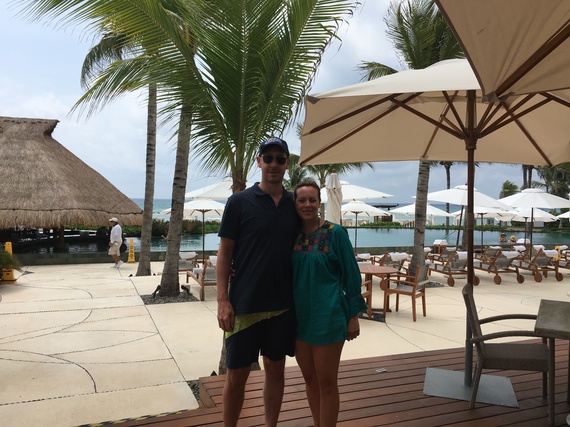 The one day we did go off site was to check out the highly regarded Xcaret, a natural and majestic park offering everything from butterflies and flamingos to chocolate making workshops and underground river swim exploration.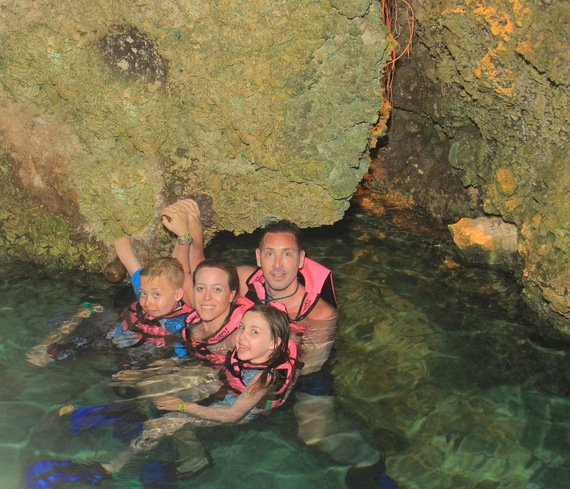 This definitely proved to be an all day and night excursion. It was recommended that we pack a bag with towels so we could shower and change come nightfall. We heeded to this advice. In the evening, there is a show that walks the audience through various Mexican traditions, including a game similar to hockey, swapping out ice and puck for a fire ball played on land. This is followed by a ritualistic ceremony of "flying men" and native song and dance. During the show we had the option to have dinner by simply purchasing something at the various concessions or opt for the in-show dining experience. With no expectations at all, having experienced the likes of Medieval Times, we went with the dine-in option. To my amazement, the food was not only good... it was stellar. It was several courses and each one was unbelievably tasty. It really was overall an incredible day and what my husband and I noticed most is that it wasn't touristy at all. What we expected to be like Disney, was so much more civilized with a mix of tourists and locals alike.
Overall, this was the most relaxing vacation we have had as a family to date. There happened to be a world-renowned spa onsite along with massage alcoves poolside too, but I never felt for a moment the need to take advantage. I was ecstatic just soaking up the sun, while watching my kids frolic in the pool, happily. And for once, instead of running numbers in my head as the day's events unfolded, I grabbed a cocktail and cracked a book open, without a care in the world.
P.S. A word of advice... do not dare underestimate Mexico's sun! Sunscreen is essential and must be applied religiously as my hubby regretfully learned :(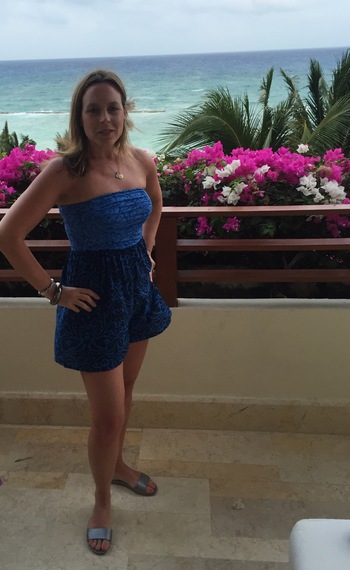 Thank goodness he had that amazing terrace to retreat to during his recovery!
Popular in the Community