The world we are living in has sped up.
Globalisation and technology has allowed us to work and produce at an exceptional pace. As a society, we have jumped on the hamster wheel of life and we are spinning along at an ever-increasing rate.
Down time is hard to come by and if we do get it, there is a propensity to spend it on technology -- checking Facebook, putting a photo up on Instagram or connecting via instant messaging. These ways to communicate also mean we are accessible 24/7 and the lines between personal and business life is blurred.
On one hand, we are living in exciting times.
However, as parents it is too easy to jump on the hamster wheel and to keep on running and it is not doing our family time or kids many favors. We have revved ourselves up to this pace in life and in work and we are taking our kids with us. We are living in a 'hurry up' culture trying just to get out the door and to the next appointment, extra curricular activity, school or work.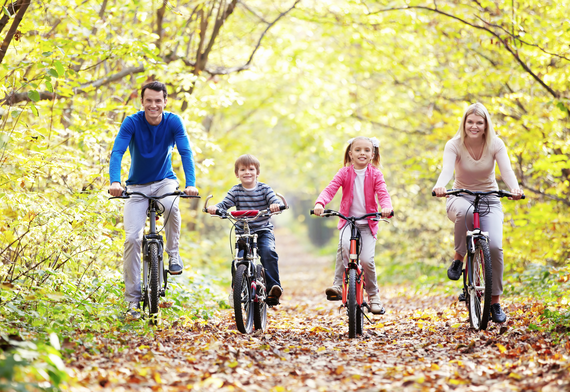 Hands up if you said any of these statements this morning;
'Hurry up and brush your teeth'.
'Hurry up and put your socks on'.
'Hurry up and get out the door'.
My hand is up because I am as guilty as the next parent in saying 'hurry up' so I can be at work at 7.30 a.m. or so we can get to drum practice at 5.45 p.m. or so we can make the swimming lessons every Thursday or even to get the kids to bed at a reasonable hour.
But actually what our kids need to thrive is for us to slow down the rush and let them grow and develop and be children.
They need time to be kids. Kids live in the moment and we need to meet them there. They need time to cuddle on the couch and read a book with us. Time to play and be together as a family. Time to just hang out with their parents. And time to climb trees.
Many children are doing huge days in their week - sometimes up to 12 hour days between going to before school care at 7am, doing a full day at school and attending an extra curricular activity or two in the afternoon. By the time they get to dinner, their brains and bodies are exhausted.
Can this pace last and at what cost?
The major shift in raising children is the opportunity cost of parents having together with our kids and time for our kids to be kids and live in the moment.
To build relationships, help them learn resilience and confidence and to allow children make sense of the world, we need to spend time with them and give them unscheduled time to just 'be'.
There are an abundance of opportunities for our children to do to fill their time -abseiling, surfing, learning the drums, rock climbing, tennis, extra tutoring, swimming club, diving, baseball - the list goes on and on. However, OUR time is what they crave to really feel that sense of significance and belonging and what they need to thrive as an individual.
Another shift contributing the lack of time is women in the workforce. Only 50-60 years ago, men went out to work and women stayed home. In most of the western world, the participation of women in the work force has climbed exponentially with more than 50 per cent of females now working. This is progression and as a working mum, this is important on so many levels. However, it also means there is less time in the day to be with our children and with a higher disposable income it is easy to fall into the trap of 'presents' being more important than 'presence'.
International Advocate for the Slow Movement, Carl Honore believes that we are lacking a balanced approach to family life.
In his recent ABC television documentary, Frantic Family Rescue, Carl Honore worked with three families in Australia to help them find ways to put the brakes on and slow down their frantic pace. He also helped them find more 'joy and serendipity' together as a family.
'We have stumbled into a unique moment in the history of parenting and childhood where families are finding themselves caught up in this virus of hurry and turning every moment of the day into a race against the clock,' Carl Honore said.
The families Carl worked with in his documentary were scheduled up to the hilt with one family having their child enrolled in 14 extra-curricular activities each week. Coming from a good place, the mom felt she didn't have any of the opportunities herself growing up and wanted to let her son experience these opportunities.
However, for this family there was no time in this house to cuddle on the couch, climb trees, walk freely on the beach after school together or have afternoon tea on a picnic rug. There was no time to go on a family bike ride or cuddle on the couch. There was no time to feed the ducks at the local pond or even to watch a movie together.
"We feel this immense pressure to push, polish and protect our kids with super human zeal. We feel like we have to be the best at everything and so do our kids. And the irony of course is, that by parenting so hard we end up backfiring on our kids,' Carl Honore said.
'We don't deliver the childhood that we all want for our children - which is to give them that space and time to explore the world on their own terms, to learn how to make mistakes, to be resilient, to get along with their peers, to work out who they are, rather than what everyone else wants them to be.'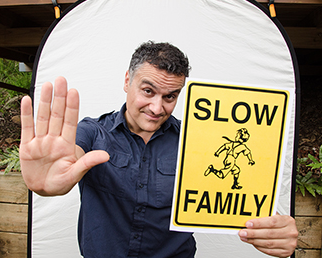 After the documentary, I interviewed Carl Honore on practical ways to slow down as a family, listen to it here.
Here are 5 ways to SLOW DOWN and find the balance again as a family;
Giving our kids time to explore, create and be with us is important for so many reasons. There is no hard and fast rule for over scheduling kids and it will be different for every family dependent on how many children are in the family, where the family lives, the energy levels or parents working status. It is about finding the balance to creating the right amount of down time for kids, along with the opportunities to develop skills and follow passions around sport, academics or music.
Create a regular family time each day to eat together -- dinner is usually the easiest. During this time, create conversation and fun memories together. Ban technology at the table and open up discussion. Children are curious by nature and ask 490 questions each day - so let this be a time for them ask away. Or create a 'Favorite part of the Day' ritual at the dinner table where everyone has a chance to speak and say what the best part of the day was. It can be a good way to generate conversation and share in what others have been doing. This is a regular family activity that is easy and the kids will know it happens each day.
3.Create micro-moments of connection
Our kids live in the moment. Rather than setting aside every second Sunday to spend 2 hours together as a family that might be missed or is onerous in some way, connect regularly and often during the day. Give a high five. Pull a funny face. Turn the music on and dance together with your kids. Have conversations in the car. Go for a spontaneous walk together. Kiss your kids on the head as you walk past. Read a book together. Cook a meal together. Tell them you love them many times in a day. You are connecting through micro moments of time that add up to a huge amount of time by the end of the day.
Technology can be a significant time waster. It sucks away precious time that we can spend with our children so have technology free time - both for you and the kids. At the park, put your phone away and play with your kids. Ban it from the dinner table. Limit it to a time when you know it won't work to be together or do it all together. Find the balance between technology and time spent with your kids.
5.Do family activities together often
Find things you love to do together as a family and do them. If you are an active family, rather than enrolling your child into another extra curricular activity, do a sport together as a family. Maybe it is a family bike riding together. Maybe you like to kayak together, go to the beach together, cook together, garden together, do a puzzle together or eat long lunches together. What ever it is, find something that you all love doing together as a family and do it often.
Anna Partridge is a parent educator, school teacher and mother to 3 children. She helps parents raise confident and resilient kids through the positive parenting philosophy. Anna writes parenting articles on her blog and is a regular contributor for The Huffington Post. Learn more about Anna and the projects she is currently working on here: www.annapartridge.com.
Support HuffPost
A No-B.S. Guide To Life
Related
Popular in the Community