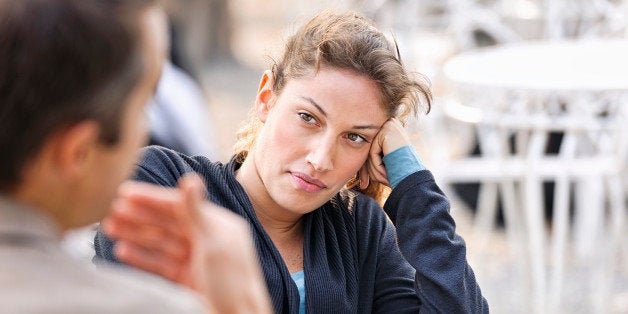 I was sitting at a bar late one night, sipping Baileys and coffee while writing about the perils of dating when the text came in from my adorable and single friend, Sarah.
"Just had another first date. He was great to talk to, but the attraction just wasn't there. It's so frustrating when you want to feel something and you just don't..."
I had to laugh because I have probably said the same thing about a thousand and one times. In a single day.
If you date as much as I do (and I'm honestly not sure anyone does), you meet LOTS of great men who just don't do it for you. Nice men. Attractive, successful and kind men who would be a great match for the right girl. Just not for me.
I've long given up trying to explain why -- most of them just don't. And I learned long ago the dangers of pursing a relationship with any man that I don't want to kiss.
"Honey, ya gotta wanna kiss him," were the wise words of an older, drunk woman at Blondie's Sportsbar over a decade ago. She was eavesdropping on a similar conversation between a me and girlfriend. And she was spot on. I'm sorry, but if I don't feel the strong desire to pull you into a dark alley and recreate that rain scene from 9 1/2 Weeks soon after meeting you, you're doomed.
Not that I'm gonna do that on the first or second date -- but I gotta wanna.
It's been MUCH too long since I've felt that unmistakeable desire to touch someone. And Sarah's not the only one to remind me that I'm not alone.
My friend Eve is a smart, sensual and beautiful physician's assistant, currently traveling the globe "chasing tango." She meets tons of men every night at these international milongas. When I asked her about a recent first date in Florence, Italy, her reply was familiar:
"It was fine. Very nice guy. No chemistry. The usual."
The truth is, I think if people are honest with themselves (and I realize this alone is a challenge for many people), this is how they feel most of the time. The real thing just isn't that common, which is why it's so exciting when it does happen.
Each time I'm out with one of you "doomed" nice guys and I come to the sad realization that a love story isn't in the cards for us, like Sarah and Eve, I am frustrated. But I am also aware of two things:
1. How grateful I am to feel wanted.
2. That I hope in some way to help you feel good about yourself as well.
Because I think that's why we're here -- to help each other move forward, in any way possible. And since real, lasting love is rare, I believe there is something else to learn from each person I meet. And that there is something I can share with them.
Sometimes it's as simple as a lesson in what NOT to do on a first date -- like tell me how you are completely comfortable killing an animal with your bare hands. Check, please. Or spend the entire date talking about your ex. Don't they know this is a big no no?
But other times, it's a much sweeter connection.
"You're the first woman I've been attracted to in a long time, which feels great. And -- you helped me get my confidence back." said Danny, a super nice guy I knew in high school and had a few dates with recently.
Apparently, he had gone through a pretty bad breakup earlier this year, and was very appreciative to have some nice company while I was in town. The time I spent with him was equally invaluable to me. It had been a while since someone had made me feel that wanted and special. I didn't realize how much I needed it.
"You have been wonderful for my self-esteem," I sincerely told him. "Thank you."
When I think about it, the truth is that I am so very grateful to many men like Danny, for so many things. And I want to thank them:
For reminding me that I'm funny, sexy and attractive, because I easily lose site of that. Often.
For admiring my passion and desire to make the world a better place.
For making me feel wanted and desirable.
For reinstating faith in me that nice guys DO exist.
For appreciating my company, conversation, and for making me feel beautiful. And smart.
For making me excited to find love (and great sex) again.
I was reminded of what a real connection feels like it on a recent British Airways flight home from Paris. Sadly, it wasn't due to some random Mile High Club adventure. Instead, it was while watching the pre-teen hit movie, "The Fault In Our Stars."
Maybe I was just overtired, but I cried my way through it. Which completely caught me off-guard, until I realized that it reminded me of what I've had in the past, what I'm waiting for and why I'm waiting for it.
The way Gus looks at Hazel when he first meets her in their cancer support group is the way I want to be looked at. It's the way I HAVE been looked at, and I will not, cannot, settle for less. It's a beautiful movie, not just about young love and loss, but also about the people we meet, whose lives we touch, and how we help them along their journey.
And as much as I hope to find great love soon, I find that the men that I am meeting along the way are gifts. And wonderful signs that something good this way comes...
REAL LIFE. REAL NEWS. REAL VOICES.
Help us tell more of the stories that matter from voices that too often remain unheard.