Seven days since the #WomensMarch shook the world and I still can't get out of my head images of women resisting - joyful and determined. I marched in New York City. I came home that day with a thrill I still haven't shaken. A good thing, because mass mobilization may be our most potent weapon against a new administration that has already shown itself to be grossly incompetent, hateful, and acutely dangerous to our health.
As a reported 3.3 to 4.6 million women and men marched on January 21st, I wanted to get a selection of stories - first drafts of history - so we can know what this day was really like for many. I sent out the call and received written narratives from 41 marchers (39 women and two men). Fifteen marches were represented: Washington, DC; New York City, Phoenix, AZ; Stamford, CT; Cincinnati, OH; Montpeiler, VT; Dayton, OH; Winchester, VA; Ithaca, NY; Indianapolis, IN; Houston, TX; Portland, ME; Jacksonville, FL; Austin, TX; Lansing, MI; and Des Moines, IA. Here is what they shared.
Some marchers hired buses. Some flew, some drove, others walked. Megean Weidman journeyed just "a few hundred feet" to the march site from her café job in Portland, Maine. Elisabeth Lehr traveled 500 miles each way. "We drove from Northern Vermont to Washington, DC," wrote Lehr. "Every rest top was filled with happy, excited, pussy-hatted women."
Instead of marching in NYC's sister march, several New York-based respondents headed to Washington. "I took a bus to DC from Manhattan with a diverse group of women and one righteous man," wrote Shari Berman. "The bus was arranged by moms from my son's school. We sang freedom songs along the way led by a 70 year-old grandmother who had clearly done this before."
"Our bus captains jokingly left Depend diapers on each seat," wrote New Yorker Leslie Cain. "We laughed about our ugly clear backpacks that carried water, granola bars, sharpies, battery packs, and tampons on full display. They had to be clear so we wouldn't be deemed 'dangerous' and detained."
Some marchers had a simpler journey. "I had a ten-minute drive," wrote Morgen Bermel in Des Moines. "Then a couple rides around the block to find an open parking space."
In Houston and Phoenix Uber-riders reported anxiety that their drivers in might be conservative and against the march, but were pleasantly surprised by their support--or at least, neutrality. "[Our Uber driver] was rather indifferent but we got him talking about music," said Beth Weinstein in Phoenix. "He was a big Lady Gaga fan, so we at least felt non-threatened at that point."
In Washington, Melissa Sullivan was struck by the journey through DC itself: "As we drove [in] we could see bands of men and women wearing pink hats and holding signs, on their way to the march. We honked at them in solidarity, waving a sign out of the window and cheering as we passed. The closer we got to the Capitol, the larger these groups became. Dozens of tour buses, filled to capacity, unloaded. Throngs of people ascended from the metro. It was amazing."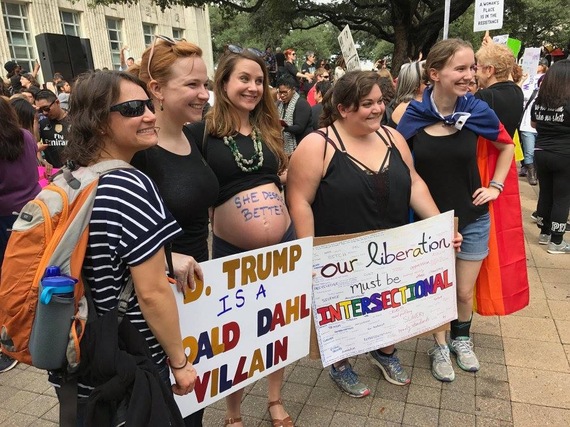 Fear ranked number one. Getting over one's fear that the march might get violent or out-of-control. "We had never protested or marched before," wrote Monica Chylla, an East Lansing mother who marched in DC. "I was nervous about potential violent outbursts at the march. I was so anxious I couldn't sleep the night before. But this experience was completely peaceful and people were courteous."
"Winchester (VA) is a fairly conservative place," wrote Tamara Haack. "I was worried about what the repercussions would be as far as counter-protests. While watching the Inauguration I realized I needed to overcome my fear because this just too damn important to stay home."
Fear of crowds was a major anxiety to overcome. "I feel incredibly claustrophobic and shy in huge crowds," wrote Addie Tsai, who attended the Houston march. "I have never been to any kind of protest or march such as this one, mainly for these reasons."
For Pam Hart, who attended the Stamford, CT, march, it was deciding whether to bring a mildly-feverish child who really wanted to go. They decided to bring her and it was fine. "Tylenol and snacks did the trick," wrote Hart.
Other obstacles involved logistics. A Maryland mother who prefers to remain anonymous arrived at the Shady Grove Metro at 8:00am and couldn't board until 9:30am. "It was so packed inside the station," she wrote, "we worried we wouldn't get to DC. But police came and staggered the traffic so people weren't crowded in the tunnel leading to the station. It could have been a disaster."
At the DC march, marchers struggled to access WI-FI. Marchers who promised to text and find each other were incommunicado. "My family was trying to reach me but they couldn't" said the Maryland mother. "No Internet seemed to be a problem," wrote Carolyn Ferrell. "But then it wasn't. We communicated with each other, shared stories, and enjoyed the signs."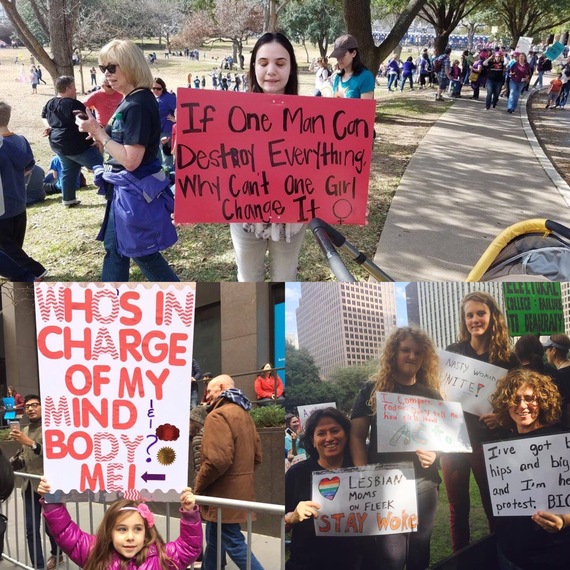 As the mother of a six year-old, I thought about bringing my son to the New York City march. But that thought last two minutes - I feared losing him in a large, unpredictable crowd. I feared bathroom asks at bad times. Many respondents reported worrying whether or not the march would be a safe and good place for their kids.
Yet many families brought their children and shared how profound it was to march together--with a little planning. "We had such a smooth, positive experience that could have easily turned difficult due to the children," wrote Dr. Christie Boxer, who attended the Lansing, MI march. "We studied the city layout so that we could move about effectively given any conditions - violent outbreak, road closings - and arrived early enough to get a kid-friendly spot."
In New York City, Dana Ostomel was proud of her daughter's poise, as were fellow marchers: "My five year-old stood with me in a two x two radius for almost three hours waiting to march. My daughter received a lot of positive reinforcement for coming out, standing with others, and using her voice." At the same march, Jenn Linstad felt her eleven year-old daughter had a profound consciousness expansion. "Her foundations in social justice have been strong," said Linstad. "But by being there, she was able to see, first-hand, the deafening truth in the Audre Lorde statement: 'I am not free while any woman is unfree, even when her shackles are very different from my own."
Two respondents noted the children as a highpoint. "Perhaps the most beautiful thing about the march were the children who marched alongside their parents," wrote Matt Jones, who marched in Cincinnati. Addie Tsai thought the most poignant aspect of the march experience was "seeing so many children holding signs." At the Houston march, Robin Reagler's 11 year-old daughter carried a sign that said "I compete in rodeos. Don't tell me how girls should ACT." A daughter in DC held the sign: "If One Man Can Destroy Everything Why Can't One Girl Change It?". And I'll never forget the young afroed teen boy I saw sitting above the crowd on NYC scaffolding with the sign "Thank you Obamas! You made us feel great again!"
"I'm not sure if my daughter will remember the actual day," added Ostomel, "but I hope it builds a visceral feeling within her memory bank that she can call upon."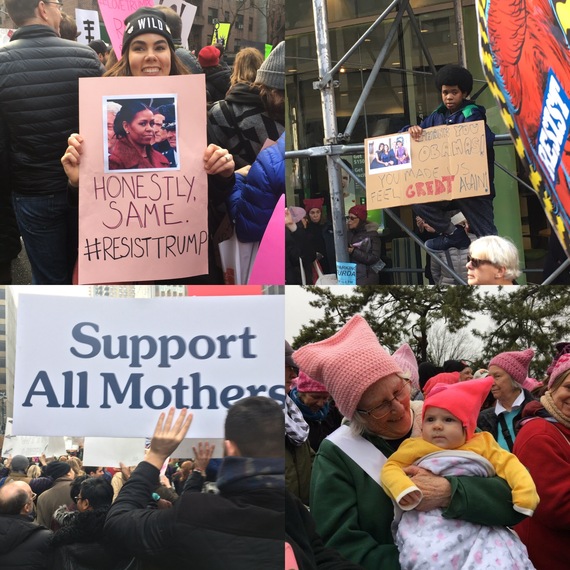 So how did it feel for the adults? "Transformative," wrote Lucy Vagnerova. "Uplifting and invigorating," wrote Pam Hart. "Empowering and transformative," wrote a Long Island mother. "A top ten highlight of my life," wrote the Maryland mother.
This may have been a trip of a lifetime, but it wasn't easy. "Cold, muddy, stuck in a crowd - we didn't really get to march or hear the speakers," wrote Nicole Cooley, who traveled to Washington from New Jersey. "But it was so inspiring! A lesson to girls that activism isn't always comfortable." Ami Novak wrote of the #PortaJohnStruggle. "We exchanged supplies with the ladies around us, because the porta-johns were disgusting and nearly overflowing," wrote Novak. "[The ladies in line] gave my friend's daughter an extra pussy hat. She loved it."
In Montpeiler, VT, Lea Belair was stunned by the crowd size - an estimated 20,000 in a town of 7500 - and who made a special appearance. "We had a high vantage point from the capitol steps and could see marchers arriving at the rally for literally hours. When Bernie Sanders showed up unexpectedly, the crowd--including me--went wild. When he told us there were so many cars on the interstate they had to shut it down, the crowd erupted."
For a New York mom traveling to Dayton, OH, on business, attending the local march was an "incredible" experience. "At first I felt out of place because I'm Black, and the crowd majority was definitely Caucasian. I was also wearing all-black and tall boots, something extremely common in New York City, but not in Dayton. But I loved my displaced experience. It proved to me how from the beginning this era is strong."
"At 62 years, it was my first march," wrote the Maryland mom. "It's the best I've felt this election because I realized that there was a sense of solidarity that day. I wasn't alone. I wasn't crazy. The marchers were predominantly white, but people of every hue participated. People were so nice. And that's not a word I use often. Though I would suggest inviting more women of color. It would have been nice to see more diversity."
Despite white majorities, marchers of color reported positive experiences. "Although I've heard valid points regarding issues of white privilege at the marches, that wasn't my experience," wrote Addie Tsai of the Houston march. "I found incredible solidarity among bodies of various positions - white, black queer, Asian, etc. Everyone felt very connected, and kind, and generous with their bodies in the space." Leslie Cain wore a placard that said "What a Patriot Looks Like". "The arrow pointed towards my melanin-skinned, afro-haloed self," wrote Cain. "Older white women in particular stopped to take pictures of me all day. Not in a unicorn siting way (I know that feeling), but possibly in agreement."
In New York City, marchers spoke of the thrill of marching up Fifth Avenue towards Trump Tower. "Beyond the barricades, non-marchers were cheering us on and holding their own signs," wrote Sirin Thada. "People were waving down from windows and balconies. We heard the sound of church bells along the breeze. As we got closer, 'We Shall Overcome' rang from the top of St. Thomas Church and we sang along. That was such a beautiful moment, to all be of one voice." Rosie Finizio wrote that the high point of marching was knowing "that we are all the heroes of this story, united against an evil Orange Menace." But Finizio had advice for next time around: "Once people get to Trump Tower, they must MOVE." After many hours waiting for a march to start, marchers want to keep it moving for sure.
Speakers captivated many of the marchers. National coverage showed the diverse Washington speaking program, featuring activists from Angela Davis to Linda Sarsour to Melissa Mays. Other marches had speakers, too. At the New York City march, Finizio noted Whoopi Goldberg and Cynthia Nixon. "I went early so I was near the platform and got to hear many of the speeches," wrote Michelle Valladeres. "The most poignant one came from a Latino activist who spoke about his mother's journey crossing the border to give him a chance at an education. He described the running, falling down, and fear, in detail. I felt the pain of all of our stories of immigration, discrimination for whatever difference we possess in that moment. I cried."
Star encounters were profound, too. Joan Lipkin had a primo spot next to the stage in DC. There she met Harry Potter film star and UN Goodwill Ambassador Emma Watson. Watson is best known for playing girl power heroine Hermione, a character often namedropped on many march signs (ex. "Without Hermione, Harry would have died in book one"). "I told her she was a wonderful actress but that her work as a human rights activist was as important," wrote Lipkin. "She seemed touched. And when I told her that she is the future, she teared up."
You can make the case that the real stars of the day were handmade signs--and the handmade hats. "We saw so many creative signs--people actively complimented each other on originality and execution," wrote Lucie Vagnerova, who attended the Washington march. She also met a woman who sculpts medical-grade silicone vaginas for surgical practice, and she had glued a few anatomically-diverse ones to signs staying "Stay out of my vagina," "Grabs back," and "Not Yours to Grab." And so many in the crowd wore hand-knit hats based on a pattern shared before the march. "There were thousands, maybe tens of thousands of pink pussy hats. This is what the patriarchy gets for committing women to arts and crafts for centuries: we really brought it!"
At her Phoenix march, Beth Weinstein was moved to see Canadian women marching. "To know that the world is concerned and wants to lend their voices is truly heartfelt," wrote Weinstein. "It also scares me. If they're as concerned as I am, then the administration must be as bad as I anticipate it to be."
In Jacksonville, Holly Masturzo simply wanted to listen. Part of their march day was at Suffragette Mary A. Nolan's gravesite. "People were greeted at the gates of the cemetery and given pledge cards for the local Democratic party - a practical gesture, yet not one that felt like the call I wanted to respond to most that moment," wrote Masturzo. "It wasn't a moment to sign for next actions in my view but rather for listening, for tending to the layers, intensely complex ones at that, of the journey of women's suffrage in this part of the world."
Take your broken heart and make it art! / These are not tears. This is the Sea. /Thinking Women Against Trump (TWAT) / RBG, stay alive!/Black Lives Matter (carried by more than Black people) / Cheeto in Chief / My daughter's more afraid of intolerance than cancer / Women are Literally the Best / Grumpy Cat saying "UGH" / So bad, even introverts are here / Build a wall between church and state / Do the Most Good/ Love trumps hate / They tried to bury us but they didn't know we were seeds / Women's rights are human rights (with the W on Women replaced with a pair of breasts) / RESIST / The revolution starts here (with a diagram of a uterus) / Make America Think Again / Did you assume that I'm wearing my dad's (Navy) hat? Or my brother's maybe? Then YOU are the reason I'm here /Less suffering, more grace / #FreeMelania / Can't believe I have to protest this shit forty years later / Toddlers Against Tyranny / Your guns will have no animals left to kill if you don't take care of the environment / [Signs in Russian] / Show us your taxes / (Caricature of a sad Paul Ryan) Paul Ryan Can't Find the Clit / Excerpt of June Jordan's 'Poem About My Rights' / We Shall Overcomb / America Is Already Great / Don't Forget: White Women Voted for Trump / I'd Call Him a Cunt But He Lacks Depth and Warmth / Never Underestimate the Power of a Fag with a Tambourine / Resistance is Fertile! / Lesbian Moms on Fleek. Stay Woke! / Thou Shalt Not Mess with a Woman's Reproductive Rights. Fallopians 1:21 / Hell hath no fury like 157 million women scorned / Viva la vulva / I will NOT go QUIETLY back into the 1950s / Respect existence or expect resistance / If you build a wall, I will grow up and tear it down / History has its eyes on you / Planned Parenthood saved my life / I'm NASTY AF / Bully Culprit / Oh Hell No
I asked the marchers what they will do next. "What won't I do now is the question," wrote Beth Weinstein. "I'm making calls every day to (Senators) McCain and Flake. Today's calls are regarding (Cabinet nominee) Betsy DeVos." Other marchers pledged phone calls and visits to elected, actions encouraged by the Indivisible guide and congressional staff advising constituents on most effective lobbying techniques. "We must call, email, and write our representatives relentlessly," wrote Dawn Tarney Brunner. "So they never forget what the majority wants."
"I'm getting involved with the local Democratic organization," wrote Dr. Boxer, "and using my position as a college professor to educate and guide others to effective actions." Laura Miller Tomaselli, a Brooklyn mother, is busier than ever: "Lots of conversations, social media posts, poster parties, fundraising dinners, rallies, picket lines, voter turnout efforts. Lots of listening, lots of comparing notes."
But Miller made a point about current political leadership. "The grassroots certainly showed its stuff last Saturday. Now we are waiting for the Democratic Party to do more than send us daily solicitations. Where are they, I wonder? Is there anything left of that billion we raised for Hillary?"
All respondents had some kind of action plan, though some marchers were focused more on personal interactions: "I want to be a force of positivity, to be everything Trump is not," wrote Sirin Thada. "To speak from the heart, but with wisdom, clarity, love and respect.
When Shari Berman shared her story, she wrote of her group's walk from their parked bus to the Washington march site. I thought it was beautiful. Please allow me to end this piece with a beginning:
"Our bus parked three miles from the staging area and, to our surprise, the Metro was at capacity. So we decided to walk the three miles - a sea of pink pussy hats making its way through the streets. And for a day that was filled with inspiration, the three-mile journey was perhaps the most inspiring experience of them all. All along the way we were greeted with lawn signs set in front of private homes not promoting a particular candidate or political agenda but instead featuring spiritually-lifting quotes from Dr. Martin Luther King. The DC police and the National Guard were kind, polite, and welcomed us to their city. A few even applauded us. We passed an African American church where several older people were leaving a religious service. They cheered us on and said that they were with us in spirit. We encountered neighbors handing out free water or playing music to spur us on. A beautiful little girl not more than seven years-old dressed in a Disney Princess stood on her porch and waved to us. It was her future we were marching for and we all waved back! All along the way people took a moment out of their day to thank us for being there and I couldn't have been prouder to be American."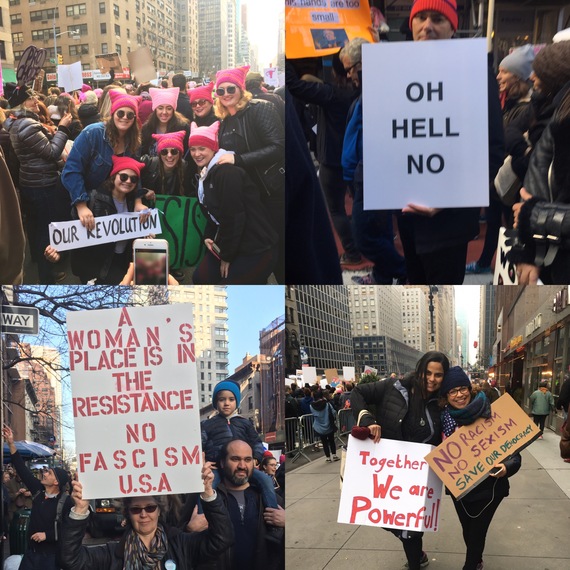 Popular in the Community