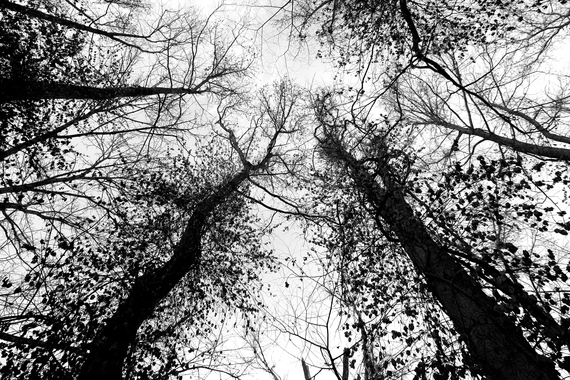 My friend Dave told me once that to be ok with loneliness, you have to be ok with the blank page. Most of us can't stop thinking or doing when we finally sit with our blank page; we just have to fill in the blanks spaces, the silences, and the quiet moments - covering their richness.
While looking back recently at how I ended up living in Los Angeles and working as an Associate Producer of the documentary film, In Pursuit of Silence, I'm able to see how I listened to myself in the quiet moments that I sat with the blank page.
In the midst of my career as a therapist in 2012, much of my time was spent talking to my clients about goals in their lives, encouraging them in their passions, learning what makes them come alive - while I sat on my own passions.
During that time I developed a growing fascination of monasteries, the lives of monks and nuns, and the words of various authors including Thomas Merton and Henri Nouwen. Little did I know I was beginning to not only sit with my blank page, but also engage with it's vast and often undisclosed mysteries. Less than a month after quitting my job in 2012 I set out to all of the Trappist Monasteries of the United States from the Nuns in the Redwoods of California to the beer-brewing Monks of Spencer, Massachusetts.
The loneliness and aloneness while traveling alone were some of the hardest and most rewarding mysteries of this journey. It's the blank page I found and still often find myself running from in order to do as opposed to be. It takes enormous practice and courage to be able to sit in front of that page and rewrite oneself, listen to the often terrifying truths of oneself and strip away the layers the world places on our senses.
My restlessness in these quiet and often silent monasteries was something I knew I needed to sit with and learn from. During these moments, I encountered many negative thoughts and feelings of which I had no desire to see, hear, or listen to. I once asked a nun if the inner noise ever goes away in these quiet times alone, and her response was that perhaps the more important question is why do I want to get rid of the noise in the first place? Even though they're dark and often gross parts of me, they are parts of me. Living in total hatred of these dark parts of me only creates an unnecessary act of self-violence, just as potentially getting rid of it or hating it might create an unnecessary form of violence in a direction away from myself.
There was nothing pleasurable about thoughts of hatred and sadness within myself, but it was still an opportunity for greater love of myself and ultimately others. There was nothing joyful about sitting through dreadful emotions of the finality of life, the certainty of death, the unattained dreams, the wars of all forms of violence in the world and within myself, my weaknesses in loving others, the forgetfulness of kindness, the inconvenience of gentleness and generosity. Yet, selfishly, as I grew to know more of myself and came to greater self-acceptance, my love for others was deepened alongside my deepening understanding of others.
I once viewed the monastery as a museum - an aesthetic location of a tradition that's been upheld for nearly thousands of years; a place where people can go to see monks or nuns as if they're some sort of monument to religion or life. I began all of this with that view in part but certainly ended with a great reverence of not only tradition but more importantly, relationship. Each person I spoke with seemed to provide a pure and humble space where the ground was level, a place where I was truly present with someone, a place where despite our differences we could speak of our darkness and understand one another's pains.
I used to just see silence as a place of recharging, breathing room, a quiet away from the noise, or even just a peaceful place. Silence has always served one of such feelings to me until I eventually end up getting to the anxieties of my every day life: the unending to do lists, the racing feelings of being unproductive, the worries and concerns of all I cannot control, etc. From my experiences at these various monasteries, I found that it wasn't until I sat through these things in silence and space that I could reach a much deeper and often darker place of self-discovery, which led and still leads me to more of my true self.
There are no resounding truths or revelations to my pilgrimage in 2012. There are no seeable results or clear-cut facts, and no healed anxieties or depressive states. Instead, I returned in 2012 and still sit in 2014 with more beautifully unanswered questions, more curiosities of mysteries and more reverence for this life that I am able to live.
Now, I no longer have to look friends, family, or clients in the face and encourage them to pursue their dreams and passions while sitting on my own. Now, I can sit with a blank page and be ok.
"...The rush and pressure of modern life are a form, perhaps the most common form, of its innate violence. To allow oneself to be carried away by a multitude of conflicting concerns, to surrender to too many demands, to commit oneself to too many projects, to want to help everyone and everything is to succumb to violence. More than that, it is cooperation in violence. The frenzy of the activist neutralizes his work for peace. It destroys his own inner capacity for peace. It destroys the fruitfulness of his own work, because it kills the root of inner wisdom which makes work fruitful...." Thomas Merton, Conjectures of a Guilty Bystander
Support HuffPost
The Stakes Have Never Been Higher
Related
Popular in the Community