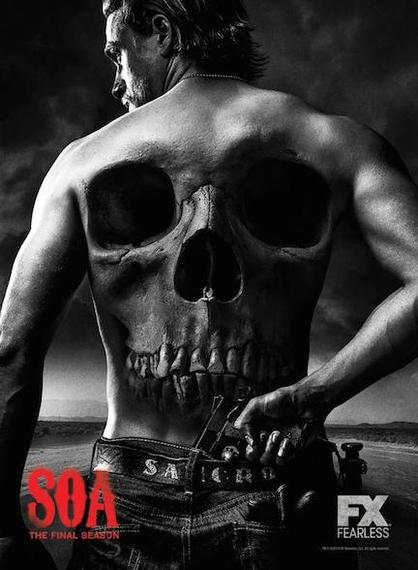 All things must pass, even for the oft-times bulletproof characters from the fictional California-based motorcycle crew on Sons of Anarchy, which airs its increasingly anticipated series finale on December 9 on FX. This final season's chaos has been driven by a Hamlet-like Jax Teller (Charlie Hunnam) bent on revenge for the murder of Tara, the mother of his children.
SOA's creator Kurt Sutter has suggested that the series owes its inspiration to Shakespeare's Hamlet. As Hamlet is essentially a bloodbath, and as the Bard's tragedies always end with the protagonist dying, as a result of his own bad choices, one doesn't hold out much hope for anti-hero Jax, and others like his Machiavellian mother Gemma (Katey Sagal), surviving the bloodletting.
We will all find out soon enough but a final season visit to the Los Angeles-based SOA set, whose basic interiors have been filmed in a relatively quiet NoHo residential/commercial community that doubles for fictional Charming, reveals the very real brotherhood ties that the series has built up among its actors.
Englishman Hunnam rode his own Harley Dyna daily to the soundstage that features SOA's clubhouse as well as their own auto shop, replete with gorgeous motorcycles with an array of SOA customized paint jobs and Grim Reaper illustrations. Of what he'll miss most about the series, Hunnam relates:
The relationship Jax has with club, and how that has bled into us actors becoming, through the experience of the show, a little club of our own. That real camaraderie has become a central dynamic for us guys who play these characters. As we had staggered calls, we would hang out on the set afterwards, and do a post mortem, decompress a little. And then ride home together. We've shot exteriors all over the place, sometimes f••king miles away, and we often had a long ride home, so it was fun to have someone to ride back with. Tommy Flanagan (as Chibs) and Mark Boone (as Munson) are the two guys I've become really close with, becoming like brothers. The three of us have ridden home a lot.
A very down to earth person, who wouldn't mind "slowing the pace down a little after a few really great years," Hunnam admits he likes to hang at home, cooking and hanging with his ladyfriend when not working. He's also become a huge fan of riding motorcycles since working on SOA, explaining:
I mainly ride my Harley-Davidson Dyna, the same one we ride in the show. Which is a little unfortunate when I get photographed, looking a little like a dickhead riding a similar bike as in the show, but it's just the best bike that Harley makes. There's a reason that so many ride it, particularly 'outlaws' because they're the fastest. A lot of Harleys are more for cruising and they look and feel great for that. But the Dyna is one bike they make that you can ride pretty aggressively and have some fun on.
Even though the SOA series is coming to an end, Hunnam doesn't believe the counter culture ethos of motorcycle clubs will fade, explaining, "The direction we're going with the controlling of society by ever nefarious means, is just fueling the rebellion that is at the heart of all counter cultures. And, just based on stuff I've read and talked to other bikers about from the 1960s and 1970s, when biker culture became really popular in America, it's always been about a separatist identity and rebellion, and so it has its place even more today."
As for his initial inspiration for Jax, Hunnam recalls:
I went up to Oakland and hung out with a very well known motorcycle club. One kid was amazing, a dream come true, because he was Jax. He was 22 and had 22 birthday parties right in their clubhouse. He was the heir apparent, like my character, being the history and the future of that Club. He was young, fearless and modern day, but also an old school, badass gunslinger. And sure enough he ends up getting killed the week after I left Oakland, just before we started shooting the series. People would say he'd put his gun in his belt before he put his shoes on. Like he was a straight, f••king outlaw. So based on the whole aesthetic of his character -- his jeans, running shoes, everything he wore -- I knew I'd never find anyone more prototypically perfect, so I based everything on him.
With the finale looming, will Jax go the way of the real young outlaw, like in a great Shakespearean tragedy? Or, will Jax ride off on his Harley into the sunset and overcome his seemingly pre-destined fate? Do not adjust your screen!
REAL LIFE. REAL NEWS. REAL VOICES.
Help us tell more of the stories that matter from voices that too often remain unheard.