With racialized state violence, transphobia, and homophobia on the rise, in wake of the #AltonSterling, #PhilandoCastile, and #Orlando shootings, three African-American LGBT+ individuals share how they navigate the intersections of race and sexual identity in their everyday lives.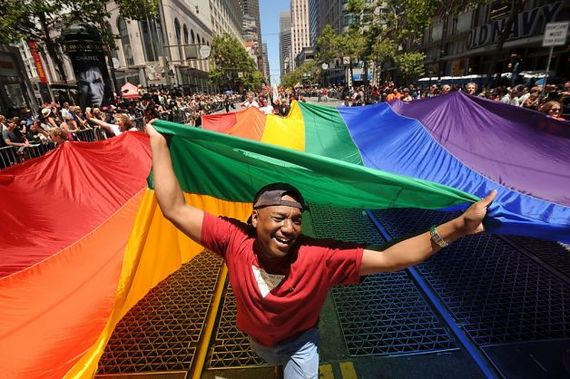 Last Tuesday, 37-year old Alton Sterling was viciously tackled and shot in the chest by two Baton Rouge police officers outside of a convenience store. Sterling, who was known in the community to sell CDs and DVDs outside of the store, was allegedly armed, however, was not holding or reaching for his gun during the altercation.
Two days later, 32-year old Philando Castile was also shot by an officer for reaching for his wallet in Falcon Heights, Minnesota. While he was armed, Castile's girlfriend, Diamond Reynolds, who recorded the aftermath of the police attack via Facebook Live, claims Castile informed the police officer about his handgun and never showed it during the traffic stop.
On Sunday, June 16, the nation reeled in sadness, anger and despair, as news emerged about the shooting at Pulse nightclub in Orlando, Florida. The shooter, Omar Mateen, 29, in a violent rampage, shot and killed 49 people and severely injured 53 others.
Mateen was later found dead, killed by Orlando police. He was able to purchase high-capacity weapons, despite being listed on two federal watch lists.
The horrific shooting-murders in Louisiana, Minnesota, and Orlando have spurred national conversations, vigils, and protests about racialized state violence, systematic racism, gun control, terrorism, and anti-LGBT+ sentiments in America. However, each shooting -- as well as many other fatal gun-related incidences -- have also brought to the forefront the interconnectedness of race, sexual identity, ethnicity, class and other societal constructs in regards to violence against marginalized communities. Kimberle Crenshaw, legal scholar and creator of the #SayHerName campaign, coined the term 'intersectionality' in the 1980s to address the complex interactions of social identities and how social constructs (i.e. race, gender, sexual identity) overlap. Furthermore, individuals who have multiple social identities and belong to minority groups, can face and have endured further onslaughts of oppression, prejudice and discrimination. Often times, their stories, successes, and struggles are ignored and rendered invisible by those within and without their communities.
According to a 2011 report by the Southern Poverty Law Center (SPLC), members of the LGBT+ community are more likely than any other minority group in the United States to be victimized by violent hate crimes. However, how do we assess the heightened magnitude of violence when persons of the LGBT+ community are also of color? This year, Alton Sterling became the 558th person and the 135th Black person killed by police in the United States, according to the Guardian's The Counted project. Countless Black women and girls have been victims of police brutality , like 28-year old Sandra Bland, who was mysteriously found hanged from her jail cell in Waller County, Texas in 2015 and 7-year old Aiyana Stanley-Jones, who was killed by a Detroit police officer in her sleep in 2010.
In 2015, 22 trans women of color were murdered. In the same year, findings from a Guardian study showed Black people were killed at twice the rate of white, Hispanic, and native Americans. According to the National Coalition of Anti-Violence Programs (NCAPV) report, "people of color and transgender, and gender nonconforming people made up the majority of victims of LGBTQ and HIV-related hate violence." The report also showed the majority of survivors of LGBT+ violence in 2015, identified as gay, youth and young adults, and people of color.
To address the intersections of violence against the Black and LGBT+ communities, three Black and gay individuals share how they navigate the intersectionalities of race, gender, and sexual identity, and how they overcome and address racism, homophobia, discrimination, and prejudice daily.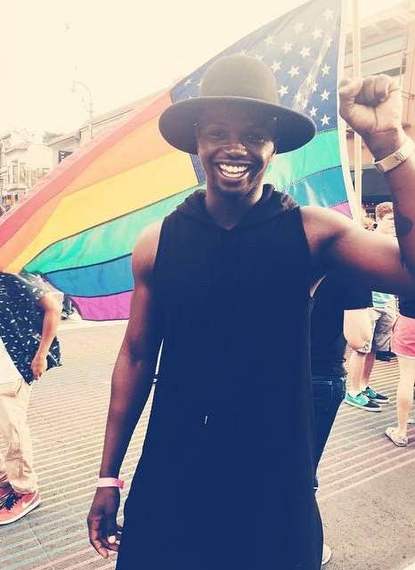 Thom Green, 25, San Francisco, California
"Before I came out of the closet, I navigated the intersections of being Black and gay by suffocating one, while breathing through the other. I was a "Black man", which came with "rules" and "expectations" of what was expected of a "man." I was expected to talk to as many girls as I could or have as many girlfriends as I wanted. Often times, when growing up, relatives would ask me "how many girlfriends you got now?" I was expected to be tough and aggressive. I was expected to negotiate my feelings, before sharing them and to handle my business as a
'man.'
"When I realized that I didn't want to fulfill those expectations, I came out as gay. Coming out as a gay, Black man destroyed my relationship with the Black community. I remembered all the church sermons and hateful discussions about homosexuality that made me shrink on the inside."
"When I came out as gay, for a while, I decided I wasn't black anymore. Since no one in the Black community teaches us how to embrace our sexuality, we don't [really] learn how to intersect the two. Now, I am learning how to fully be both. I still hear the sermons and I still suffocate one, but I'm learning to breathe."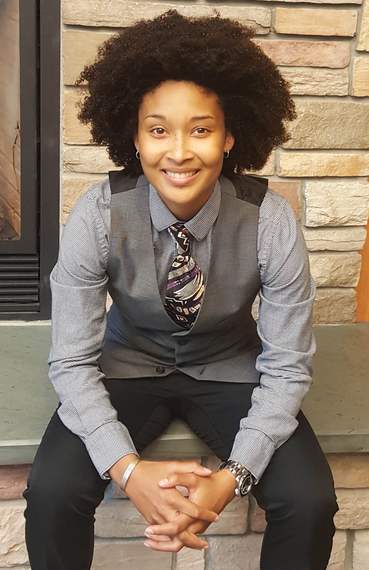 Brittani Brown, 23, Laurel, Maryland
"Society has taught us to be ashamed of our blackness and sexuality, as if it is something we have to make unnoticeable in order to be successful. I couldn't disagree more. Rather than deny these aspects of myself, I choose to present both confidently and authentically. With my bountiful, untamed curly hair, and masculine style, when a stranger looks at me, I do not feel it is a secret that I am Black or queer. I wear both unapologetically, as they are each important parts of who I am, and how I identify in this world. In doing so, I am aware of the risk I am taking by being myself. I may not land a job or be considered for an opportunity because of my audaciousness, but I try my hardest not to let that risk stop me from being me."
"My approach to overcome racism, homophobia, and anti-LGBT+ sentiments are to speak and live my truth whenever possible. I do not believe we can combat racism, homophobia, and anti-LGBT+ by silencing ourselves, and letting false perceptions manifest. I think the first and biggest step to overcome oppression is to have uncomfortable, constructive conversations which acknowledge the disparities between the oppressed and the oppressors."
Malcolm Kenyatta, 25, Philadelphia, Pennsylvania
"It is a difficult balance, for sure. On one end, LGBT+ people still have a difficult time being accepted writ-large in Black culture. On the other end, the LGBT+ community has yet to come to grips with some of the racism and discrimination that exists in our community (think: no fats, no femmes, no Blacks.) We have to be willing to have the tough conversations and do the hard work of "changing hearts and minds" and it'll take time - there's no substitute for it."
"[I see being Black and gay] as a gift. I have the ability to traverse so many groups and intersections, because my experience is so broad. I think the complexity actually helps me to be a convener for divergent groups to connect. I use these perspectives in my work and in my life [because] to be young, gifted, Black, and gay is amazing."
Calling all HuffPost superfans!
Sign up for membership to become a founding member and help shape HuffPost's next chapter