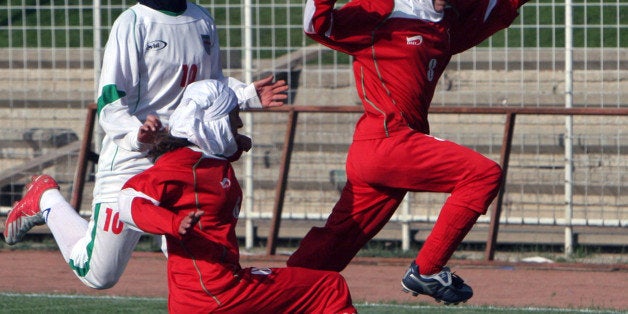 Iranian president Hassan Rouhani will visit France next month, where he will be received by President Hollande. In his address at the annual United Nations General Assembly, Rouhani spoke of Iran's growing role in the international community since the nuclear deal. But for 35 million Iranian women, Mr. Rouhani's speech failed to address how he intends to keep his promise to advance women's rights in the country.
Less than two weeks later, Niloufar Ardalan, the captain of the national women's soccer team, was banned from traveling to Malaysia, where she was supposed to play in an international tournament. Her husband, the sports journalist Mahdi Toutounchi, refused to let her renew her passport, to make sure that she stays in Iran to accompany their son on his first day of school. This incident was both unfair and, sadly, completely legal in Iran. In fact, an Iranian woman cannot leave the country without her husband's consent, according to a law that predates the 1979 Revolution.
Niloufar's case is particularly tragic because it concerns an athlete that is capable of competing at the highest level, but was unable to practice her talents and represent her country abroad due to an obscure and draconian law. In a touching act of solidarity, Niloufar's teammates chanted her name at the airport when she went to welcome and congratulate them on winning the championship.
"It seems that some Iranian leaders want to bolster the methodological discrimination targeting women and girls."
Iran can't claim to be a modern nation, and sit at the same table with the German Chancellor Angela Merkel or the Brazilian President Dilma Rousseff, while its laws still require women leaders to get their husbands' permissions (if they're married), in order to attend the UN General Assembly.
These laws are not only discriminatory, they are also completely out of line with the reality of Iranian women, who are among the most educated in the region. Women's literacy rates and girls' enrollment in primary schools are approximately 99 percent and 100 percent respectively, and there is almost no difference between the numbers of male and female enrollment in secondary level education.
Unfortunately, progress in the field of education is not accompanied by advancements in the realm of women's social status. In 2014, the World Economic Forum ranked Iran 137 out of 142 on its Global Gender Gap Index. Such inequality is a result of the social and cultural status quo, and it is being deliberately cultivated and reinforced.
Iranian legislation requires women to get their husbands' consent to travel, work and enroll in university classes. And when a husband physically abuses his wife, she must face a mountain of legal obstacles in order to get a divorce. Paradoxically, in the eyes of the law, adult women aren't capable of making these important decisions on their own, while girls, from the age of nine, are treated like adults in matters of criminal offenses.
"Approximately 50 Iranian women's rights activists are currently in prison."
It seems that some Iranian leaders want to bolster the methodological discrimination targeting women and girls. They propose laws that would require businesses to hire men rather than women, and married, rather than single, people. Furthermore, in some public universities, women are now banned from studying specific subjects, such as engineering and mathematics. This could have detrimental outcomes, considering that Iran has produced Maryam Mirzakhani, who became the first woman to win the Fields Medal, the most prestigious award in the field of mathematics, last year.
Of course, Iranian women, and many men, don't silently accept such oppressive laws. Both have worked together for decades to try to amend the law, often paying a heavy price for their activism. Approximately 50 Iranian women's rights activists are currently in prison. Among them is the 34 year-old activist Baharet Hedayat, who, has been behind bars for six years, and whose sentence has just been renewed for two more years. Baharet Hedayat is one of the founding members of the "One Million Signatures" Campaign, which is calling for the amendment of discriminatory laws.
Within the government, Iran's VP for Women and Family Affairs, Shahindokht Mowlaverdi, seems to share our concerns about this situation. Recently, she strongly criticized Iran's ban on women in public stadiums. But Mrs. Mowlaverdi has very little power. For her efforts, and those of the women's rights movement to be successful, they will need to be strongly supported by voices from inside and outside of Iran.
Starting with Mr. Rouhani, we must all fight more strongly to allow for the creation of a space for criticism, where discriminatory policies can be called into question. Iranian women are too educated, too talented and too ambitious to remain confined by an archaic legislative stranglehold. To make Iran a truly legitimate world player, Mr. Rouhani must now prioritize women's rights, and the international community must call for reform.
Leila Alikarami is an Iranian lawyer specializing in human rights. She is a member of the 'One Million Signatures' Campaign. In 2009, she received the Anna Politkovskaya Award on behalf of Iranian women and the 'One Million Signatures' Campaign. This post first appeared on HuffPost France and was translated into English.
Calling all HuffPost superfans!
Sign up for membership to become a founding member and help shape HuffPost's next chapter