Ladies Ladies Ladies. I don't know about you, but as far as I'm concerned, summer is almost OVER. As we venture into the steamy, humid, muggy, sweaty last dog days of August, what is the point of giving summer style advice when all we want to do is stay cool? You have all been wearing your summer linens and cottons, rocking your shorts and high heels, toting around that oversized straw bag and prancing around in your espadrilles. Enough said.
It goes like this: you've all relaxed in your easy breezy summer clothes and yet there is one small detail that you just can't seem to let go of....those of you with straight hair, this is not for you. Most of you are simply unable to give up those blow-dryers, flat irons and other contraptions devised to flatten your hair to a pulp. Your friends, husbands, boyfriends, friends and most of all, those of you who have kids -- THEY NEED YOU.
No matter where you are geographically you are missing out on swimming, biking, tennis, and any number of other outdoor activities due to the fact that you are a SLAVE to keeping your hair straight. How sad for the little ones who are left to teach themselves to swim.
I have a friend of mine who has to plan all of her children's activities around her next blowout. Can you imagine trying to explain to your poor child why mommy can't join you in the pool, until 4 days after next Tuesday's hair appointment? Or the boyfriend who doesn't understand why you won't go camping unless there is a hotel near by with a source of electricity? Or a 500-foot extension cord? Or going to the beach only to sit on the sidelines (what's the point) and if you are brave enough to even venture into the water, only going in up to your waist. I actually saw a mom yell at her son "watch my $&%# hair!!!" after he splashed her...truly unnerving.
Another friend of mine...this is the best -- we'll call her Martha -- actually will only have sex in certain positions (obviously on top) and only for a certain amount of time -- too not get sweaty and mess up her new blowout! She's insane and we are not friends anymore. Just kidding...
A lot of women have better relationships with their hairstylists (#1 on the speed dial) than anyone else and can be downright ruthless or completely depressed when they can't get an appointment. Yet another friend of mine, (I have lots of friends), took a bus all the way out to the Hamptons (the 2-hour Jitney ride) from Manhattan to get her hair blown out because that's where her stylist was spending his weekend. Nuts....completely NUTS.
Let me start by asking you to PLEASE PLEASE PLEASE don't even think about blow-drying at home, you can't see the back and you can't reach! People have to stand behind you at the bank, at the grocery store, and in line at the movies. Think nest...it's frightening.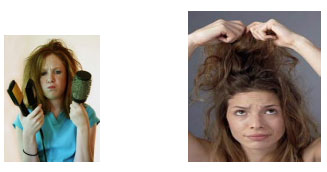 LADIES you need to free your mind and more importantly, YOUR HAIR. It's crying out to you. STOP THE MADNESS! I swear, no one will freak out about seeing you with your natural hair. Let me help you.
Here are a few suggestions:
Marcus Francis, a stylist from LA who is often in New York also, suggests that if you want to wear your hair curly, wavy, and even frizzy there are many products that you can use to tame your mane. Look at Oprah...fabulous in curls.
-L'anza strait line smoother and Jonathan IB shield humidity lock out shine spray.
Marcus Francis
Chris Chase Salon
182 9th Ave @ 21st
212.206.7991
Jacqueline Long, a tried and true blow drying addict, recently freed her mind by embracing her natural hair. She recommends after showering -- towel drying and twisting a bun at the nape of your neck, then going about your business, to work, to the store, wherever. By the time you get where your going and finish doing what your doing, untie and BRAVO! Wavy, controlled, sexy hair.
Lastly, there are many wonderful and useful hair accessories that can be used to control your tress's -- hair bands, covered elastics, hair clips. They come in assorted colors and styles depending on your needs -- daytime, nighttime and office. However, never ever, ever use a scrunchie or a banana clip -- those are just plain ugly and should be burnt.

You may be pleasantly surprised at how liberating it is, how cute you look, how much more time you have to spend enjoying the little things in life...a quick run through the sprinkler anyone?
Always remember; never forget...sunglasses -- even in the winter.
Related