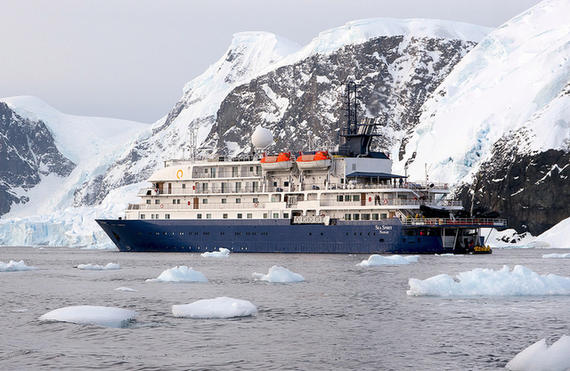 Ah, cruising... a relaxing, all-inclusive vacation where travelers hop effortlessly from one exciting port to the next, while gliding on a vast ocean in a massive ship -- right?
Well, all but one of these points is accurate; a common misnomer with cruising is there will be thousands of other guests onboard a floating Mall-of-America-sized vessel, surrounded by endless seas.
Much to the contrary, a plethora of renowned cruise lines have ships that hold only 300 passengers. For some perspective, you will find six times more people watching a Broadway play at New York City's Gershwin Theater.
Although large liners certainly have their perks, these small ships really stand out in some unique ways:
• Due to their smaller size, these ships can navigate their way into more niche, off-the-beaten path ports
• The service is personal -- the crew will get to know you
• Typical "a-la-carte" perks on larger vessels are usually included -- think unlimited premium beverages and shore excursions
• Travelers can be in a port almost every day (especially on river cruises) and ships even dock overnight
• On many small ships, cabin types start at oceanview -- no upgrade necessary
From bucket-list expeditions to sleek yachts
Antarctica is the ultimate bucket list destination and is easiest to see by ship. Lines such as Quark Expeditions boast vessels with less than 130 passengers, shore excursions with adventurous zodiac boat rides and cross-country skiing ... and did I forget to mention the helicopters? Yep, several ships have those too.
Head to warm, azure waters on a four-masted yacht, with lines such as Windstar and Star Clipper, or traipse to the British Virgin Islands on an intimate Festiva Cruises catamaran that holds no more than 10 guests.
Ditch the ocean ... make a break for the rivers
Small-ship cruising really made a name for itself with European river itineraries. Sail along the Danube or the Seine -- admire the opulent palaces in Vienna or the Mona Lisa at the Louvre in Paris. A port every day, locally sourced cuisine, calm waters and never-ending views of historic, beautiful cities are commonplace on river cruise brands such as Viking and Uniworld.
If you're looking to stay local, explore the waterways that inspired literary greats like Mark Twain onboard the American Queen, an authentic steamboat that sails along iconic U.S. rivers such as the Mississippi.
Indulge in the luxurious lifestyle
Often times travelers are inspired not by the destination, but by the ship in all its splendor. Small ships and luxury tend to be synonymous. Dive into a bed wrapped in Egyptian cotton sheets, ring your personal butler for assistance from your suite and don't fret about airfare or gratuities -- these are included -- on luxe lines like Regent Seven Seas.
Erin Oliveri is a producer at Travelzoo and based in New York. Travelzoo has 250 deal experts from around the world who rigorously research, evaluate and test thousands of deals to find those with true value.