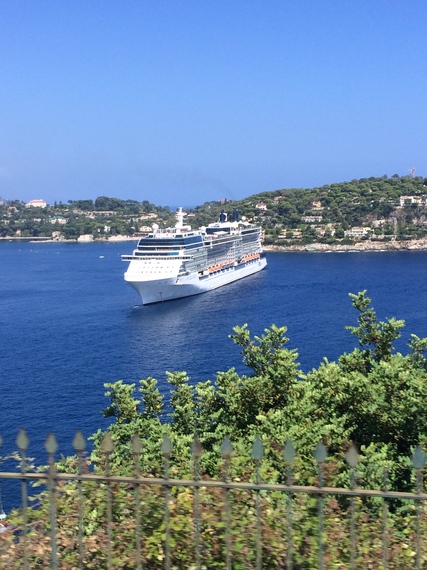 We're not what I would refer to as "professional cruisers" -- those couples or families who cruise frequently and know the ins and outs of everything that floats. In fact, we've only been on two cruises.
Our first was several years ago when we cruised to the Caribbean as part of a work-related event. While we enjoyed (hard not to ride the waves of a bit of sun and sea in the middle of winter), we couldn't shake the "Borscht Belt" circa 1960s feeling that a giant all-inclusive floating hotel evokes. Cruising felt contrived: The forced dress code for dinner, the games on deck four and the jewelry sale on deck five, the all-you-can-eat buffet, the constant crush of people... We would've preferred a more authentic experience at a smaller hotel, with lots of sightseeing opportunities, and evening walks into the nearest town for local food, people watching and cultural immersion. And no, the vats of Caribbean culinary delights on board didn't qualify as "authentic" local food.
Many vacations later, we discussed the possibility of a European trip with our kids and they raised the idea of cruising. My kids had fond memories of our Caribbean adventure, but my husband and I were on the fence. After a lot of research we agreed on a two-week vacation, which included a one-week cruise. While I'm still not a huge proponent of cruising, primarily because I prefer spending the majority of my time walking, sitting in cafes and pretending like I actually live elsewhere for a short time, this model worked for us.
We decided to give cruising a second chance for three convenient reasons:
1. You can sleep while traveling to your destination. Assuming you've done the research and have an interest in traveling to the cities on your cruising itinerary, there's nothing like sleeping through the travel hassle and waking up in a new port each day. Boating is a great way to cover lots of ground (well, water) in relative ease. But because the itinerary is preset, make certain that it suits your travel wish list.
2. You can have all your stuff in one place for the duration of the cruise. Not having to pack and unpack, and still get from country to country is a luxury. Knowing that even after a 12 hour hot and sweaty day, we were coming back to clean clothes neatly hung in a closet with our toiletries exactly where we last left them, helped us keep going and going. No digging through suitcases only to realize you left your moisturizer/deodorant/razor at last night's hotel.
3. They prearrange the excursions. While we're not usually big on group tours, prearranged shore excursions are an excellent way to sample and taste the local hot spots in an efficient way. Read the proposed itinerary carefully to account in advance for difficult terrain or special needs. Also note whether there is time allotted to explore on your own. While my husband and I have explored the villages in Southern France mostly on foot, it was all new to our teens. Disembarking in Villefranche and boarding an air conditioned bus to Eze and Nice, and then all the way to Monaco, was a surprisingly convenient way to introduce our teens to this region. Not having to navigate trains and automobiles during this portion of our trip was more refreshing than I had imagined.
Here's what we would do differently next time:
1. Research each actual port city. Cruise lines are either docked ("parked" on the dock at the port) or tendered (drop anchor off shore with tender-boat transport to and from the port). Certain ports are commercial in nature and are not walking distance from the nearest city, so unless you plan for a transfer or excursion, there is nothing to see or do right at the port. For example, Livorno, Italy is a commercial port, but planned excursions provide access to Tuscany, Florence, Pisa and more. On the other hand, a cruise tendered in the South of France, allows immediate walking access to some of the most beautiful towns in the world without the need for a formal planned shore excursion. Just walk off the ship and explore, but understand that you're limited by the boat's scheduled departure and the distance you can travel on land during the allotted time.
2. Research the particular cruise's clientele. An older couple or a family with older children may not enjoy being confined to a ship with lots of kid-friendly amenities, but younger families may welcome the onboard distractions and entertainment for this age group. Consult your travel agent or read online forums regarding particular ships, for specific information. While these cruise ships are large, you will be confined at sea with your fellow passengers. Make sure your interests align with theirs...
3. Understand embarkation and debarkation times. While this seems obvious, as novice cruisers, we didn't grasp the impact this would have on our travel style. If your cruise ship tends to leave port by 5 p.m., your time on shore is limited. On the other hand, much later departures allow for less stressful strolling and for us, the coveted local dinner and people watching...
Would we do it again? It depends on the itinerary. Cruising is an excellent way to see lots of places in a convenient, but somewhat cursory manner. If an overview of lots of highlights appeals to you, cruising is a great choice. And nothing beats solid research and planning.